Mise à jour du 21 mai 2014 : droits achetés par les Éditions de la Martinière
Après enchères, l'éditeur Abrams Books a obtenu les droits de publication d'un nouveau projet de série illustrée middle-grade : FRANK EINSTEIN, KID SCIENTIST de Jon Scieszka, illustrations de Brian Biggs.
Abrams Books a déjà planifié six titres pour cette série avec une publication tous les six mois (deux titres par an) !
Et voici le premier volet, annoncé sur Publisher's Weekly, qui sera publié le 26 août prochain avec un premier tirage de 300.000 exemplaires :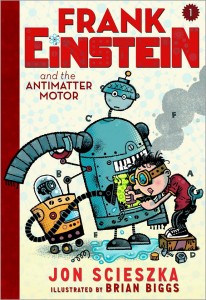 FRANK EINSTEIN AND THE ANTIMATTER MOTOR
Jon Scieszka, illustrations by Brian Biggs
Amulet Books, August 2014
Frank Einstein is an immediately loveable science nerd, who enjoys making contraptions that are one part real science, one part unfettered imagination, and one part time-saving household device.  After an apparent failure with trying to create artificial intelligence in his garage laboratory, a lighting storm and flash of electricity bring Frank's inventions – the robots Klink and Klank – to life.  Not exactly the ideal lab partners, the wise-cracking Klink and the overly-expressive Klank are a help nonetheless as Frank attempts to perfect his Dark Energy Drive.  However, no story like this would be complete without a pint-sized evil genius!  Frank's nemesis, T. Edison, has a Doomsday Plan that starts with a plot to steal with Klink and Klank, and it's up to Frank to try and stop him…!
FRANK EINSTEIN AND THE ANTIMATTER MOTOR is the first book of an ambitious new illustrated middle-grade project: FRANK EINSTEIN, KID SCIENTIST (6 titles planned for now).
Using real science, and his trademark sense of humor, Jon Scieszka, the highly acclaimed, award winning author of many books for children, has created an amazing world where adventure, science fiction, and learning combine to produce an irresistible chemical reaction!