Mise à jour du 26 Juin 2014 : droits achetés par les éditions Larousse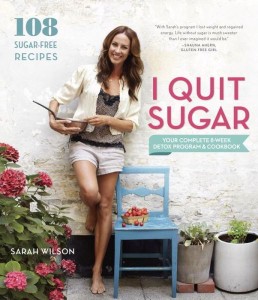 I QUIT SUGAR
Sarah Wilson
Clarkson Potter
I QUIT SUGAR (visit the blog here!) instantly became the bestselling non-fiction title of 2013 in Australia and New Zealand, selling a remarkable 90,000 copies and is still going strong. The book, as fun and easy as Hungry Girl and user friendly as Practical Paleo, is a simple 8-week program designed to end your sugar dependency and get you clean, clear and lighter. The plan is simple and the recipes are abundant and delicious. Sarah is indeed the perfect spokesperson for the topic, having lived without sugar for years. A journalist by trade—former editor of Australian Cosmopolitan and still well connected in the Hearst family of magazines—Sarah has spent several years building her brand. The success of her I Quit Sugar campaign is attributable to the attractive and practical nature of the book and program, and to Sarah's natural marketing prowess. Her blog has had 800,000 unique visitors since its inception and is receiving much well deserved attention in the global market. Iquitsugar.com received 35,000 unique visitors within the first few weeks of its Australian launch.
Rights sold: Australia (Macmillan) Finland (Pen & Paper) Poland (Pascal) UK (Macmillan)
Sarah Wilson is an Australian journalist, TV presenter, certified health coach, and blogger with an integrated voice across television, radio, magazines, newspapers, and online platforms. The former editor of Australian Cosmopolitan magazine, Sarah also hosted of the first series of MasterChef Australia and the health makeover show Eat Yourself Sexy.