Mise à jour du 30 septembre 2014 : droits achetés par les Éditions Rivages
A hundred years passes quickly, but a lot can happen
SOME LUCK
(The LAST HUNDRED YEARS Trilogy: Book 1)
Jane Smiley
Knopf, October 2014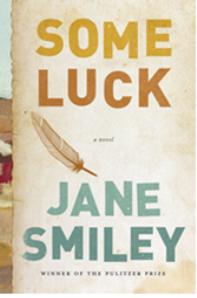 Life can change in an instant, and as those changes amass over the course of 100 years, something extraordinary happens, history is made. In this masterful novel, Jane Smiley explores the triumphs and tragedies of one family, while casting a panoramic eye on the first half of the twentieth century, a time of monumental change.
SOME LUCK opens on the humble, heavily indebted Langdon family farm in 1920. We meet Rosanna and Walter, their curious, brilliant newborn Frank. Soon the family grows to five children, all wildly different yet remarkable, with such potential to mark history in their own ways. Yet as time passes, as it must, some thrive as others fall victim to flaws and fate. Who will persevere? Who will simply, sadly, be forgotten? With shared joys and hushed secrets, through times of economic and political volatility, SOME LUCK examines the nature of family, character, and how we are all changed by circumstances unforeseen.
A trilogy is a literary feat few writers attempt and even fewer achieve, especially at this virtuosic level. Akin to her Pulitzer Prize-Winning A THOUSAND ACRES, SOME LUCK is brilliant, brave, and will leave you longing for books two and three. Happily, readers won't have to wait long between installments. Knopf will publish SOME LUCK in October 2014, the second book in March 2015, and the last of the trilogy in August 2015. With a whopping first printing of 75,000 hardcovers, SOME LUCK is certain to be a major literary event.
Jane Smiley is the author of numerous novels, including A THOUSAND ACRES, which was awarded the Pulitzer Prize, as well as four works of nonfiction. In 2001 she was inducted into the American Academy of Arts and Letters. She received the PEN USA Lifetime Achievement Award for Literature in 2006. She lives in Northern California.