Mise à jour du 9 mai 2016 : droits cédés aux éditions Gallmeister

The next great American novel from Jennifer Haigh, set in the small Northeastern town of her previous bestselling works, now a world of greedy drillers, oil tycoons, and farmers looking to preserve their way of life–a story of unchecked desire for power
HEAT AND LIGHT
by Jennifer Haigh
Ecco, May 2016
"Paragraph by paragraph, the prose is full of marvelous texture and material sensation.  Heat and Light is an intricate and ambitious novel, firmly grounded in history and our time. The narrator's encyclopedic knowledge and keen insights about the physical world and social life make the novel a thrilling page turner." – Ha Jin, National Book Award-winning author of Waiting
"Heat and Light is a stunning book, a grand book, a book of old-fashioned power and scale. Within its pitiless and wide-open sights it takes aim at power and greed, plunder and the profit motive, the rapacity inherent in the American Dream and the complicity of its victims. It works on a wide canvas and contains, before the final curtain closes, all the pleasures of the 19th-century social novel, but with a conspicuous lack of easy moralizing. Just as all politics is local, so Haigh knows that all good fiction is personal, with the texture of the specific, and she writes prose with the spine in mind. This is an unsparing book, and one that sings." – Joshua Ferris, author of Then We Came to the End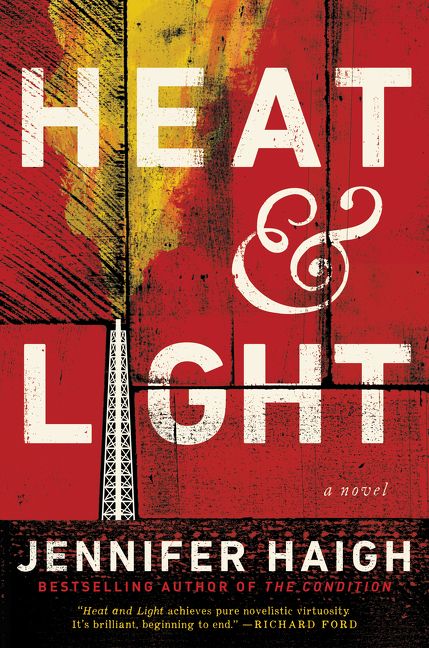 Forty years ago, Bakerton coal fueled the country. Then the mines closed, and the town wore away like a bar of soap. Now Bakerton has been granted a surprise third act: it sits squarely atop the Marcellus Shale, a massive deposit of natural gas.
To drill or not to drill? Prison guard Rich Devlin leases his mineral rights to finance his dream of farming. He doesn't count on the truck traffic and nonstop noise, his brother's skepticism or the paranoia of his wife, Shelby, who insists the water smells strange and is poisoning their frail daughter. Meanwhile his neighbors, organic dairy farmers Mack and Rena, hold out against the drilling—until a passionate environmental activist disrupts their lives.
Told through a cast of characters whose lives are increasingly bound by the opposing interests that underpin the national debate, Heat and Light depicts a community blessed and cursed by its natural resources. Soaring and ambitious, it zooms from drill rig to shareholders' meeting to the Three Mile Island nuclear reactor to the ruined landscape of the "strippins," haunting reminders of Pennsylvania's past energy booms. This is a dispatch from a forgotten America—a work of searing moral clarity from one of the finest writers of her generation, a courageous and necessary book.
Jennifer Haigh is the author of four critically acclaimed novels: FAITH, THE CONDITION, BAKER TOWERS, winner of the L.L. Winship/PEN New England Award for Fiction, and MRS. KIMBLE, for which she won the PEN/HEMINGWAY award. She grew up in a small town in Pennsylvania and later graduated from Dickinson College and the Iowa Writers' Workshop. Her short stories have been published in Good Housekeeping, Alaska Quarterly Review, the Idaho Review, Global City Review and elsewhere.