Mise à jour du 1/10/2016: droits cédés à Actes Sud

The lyricism and historical sweep of All the Light We Cannot See meet the psychological intensity of Room in this spellbinding story of survival and resilience about twin sisters facing the ultimate Nazi evil
MISCHLING
by Affinity Konar
Lee Boudreaux Books (Little, Brown), September 2016
Agent: Sterling Lord Literistic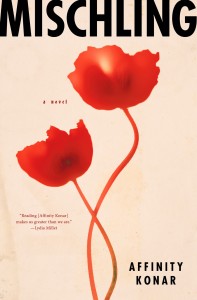 Pearl is in charge of:  the sad, the good, the past.
Stasha must care for:  the funny, the future, the bad.
It's the fall of 1944 when the twin sisters are sent to Auschwitz with their mother and grandfather. In their benighted new world, twelve-year-old Pearl and Stasha Zamorski take refuge in their identical natures, comforting themselves with the private language and shared games of their childhood.
As part of the experimental population of twins known as Mengele's Zoo, the girls experience privileges and horrors unknown to others, and they find themselves changed, stripped of the personalities they once shared, their identities altered by the burdens of guilt and pain.
That winter, at a concert orchestrated by Mengele, Pearl disappears. Stasha grieves for her twin, but clings to the possibility that Pearl remains alive. When the camp is liberated by the Red Army, she and her companion Feliks—a boy bent on vengeance for his own lost twin—travel through Poland's devastation. Undeterred by injury, starvation, or the chaos around them, motivated equally by danger and hope, they encounter hostile villagers, Jewish resistance fighters, and fellow refugees, their quest enabled by the notion that Mengele may be captured and brought to justice within the ruins of the Warsaw Zoo. Their hearts mapped with longing, the young survivors discover what has become of the world, and try to imagine a future within it.
A superbly crafted story, told in a voice as exquisite as it is boundlessly original, MISCHLING defies every expectation, traversing one of the darkest moments in human history to show us the way toward ethereal beauty, moral reckoning, and soaring hope.
Affinity Konar is the author THE ILLUSTRATED VERSION OF THINGS (FC2, 2009).
Right sold in:
Brazil / Rocco
Czech Republic / Euromedia
Canada / PRH Canada
Denmark / Gad Forlag
Germany / Hanser Verlag
Hungary / Libri
Israel / Kinneret Zmora
Italy / Longanesi
Latin America / Oceano
The Netherlands / Signatuur
Poland / Proszynski
Portugal / Bertrand
Serbia / Laguna
Slovakia / Ikar
Spain / Galaxia
Turkey / Pegasus
UK / Atlantic Books