A collection of dramatic, fast-moving nonfiction narratives for upper middle-grade readers. Each book tells the story of a journey gone wrong
THE LOST SERIES
by Tod Olson
Scholastic
Each book tells the story of a journey gone wrong: eight men stranded on rafts in the middle of the Pacific with nothing but four oranges to eat; the crew of Apollo 13 forced into a race against asphyxiation 100,000 miles from Earth; a 17-year-old girl lost in the rainforest after miraculously surviving a 10,000-foot fall from a plane. Who will survive and who will die? What kind of ingenuity will it take to come out alive? How do people react when pushed to extremes? These are well-researched, meticulously sourced stories that are rich in historical context, yet written with the storytelling momentum of a gripping novel. They are books designed to get fiction lovers reading nonfiction.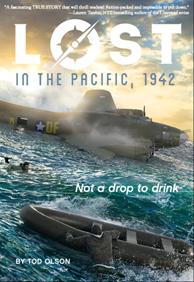 LOST IN THE PACIFIC, 1942 (#1)
November 2016
October, 1942. A B-17 bomber drones high over the Pacific Ocean on a top secret mission: Deliver Eddie Rickenbacker, America's greatest living war hero, deep into the war zone. Canton Island, a tiny refueling stop, should be just below. But when the plane angles toward a landing, there is nothing but water.
The bomber is lost, sending a desperate SOS into the empty air. There is one choice left. Fifteen tons of metal are headed for a vast tarmac of rolling swells, twice the height of a man. If the crew survives the impact, they will be left adrift hundreds of miles from nowhere.
Eight men. Three inflatable rafts. Sixty-eight million square miles of ocean. A story of survival that would captivate a nation at war.
Tod Olson is author of the historical fiction series, How to Get Rich (Booklist Best Series Nonfiction for Youth), as well as numerous books for the school/library and classroom market.
Next titles in this series: LOST IN SPACE (Spring 2017) and LOST IN THE AMAZON (Fall 2017)