Powerfully written and layered with guilt and secrets,  the second novel by Paul Read, following the critically acclaimed THE ART TEACHER
BLAME
by Paul Read
Legend Press, April 2017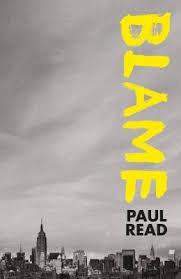 It is the summer of 1989 when Lucas witnesses an event that will tear his family apart. Over a decade later, his estranged father succumbs to a suspected heart attack.
Lucas shuns grief and escapes to New York with his colleague Mariana. However, a dark secret from his past threatens to re-emerge and destroy the burgeoning relationship before it has even begun.
When his father's girlfriend fails to reappear after reporting his death, the true cause of his demise falls under scrutiny. And as the startling truth comes to light, Lucas must confront the fact that father and son may not have been so different after all.
After gaining a first in Fine Art at the Kent Institute of Art and Design at Canterbury, Paul Read found employment at Foyles bookshop on Charing Cross Road before becoming a teacher. He has taught at several inner city schools as an Art and English teacher, both in England and Italy, where he currently lives with his partner and two children. He received a distinction in creative writing for his MA at City University London. "The Art Teacher" was published in 2016 by Legend Press.