Fans of Because of Winn-Dixie will adore this heart-wrenching story of the friendship between a boy and a pig who thinks it's a dog
SAVING MARTY
by Paul Griffin
Dial, September 2017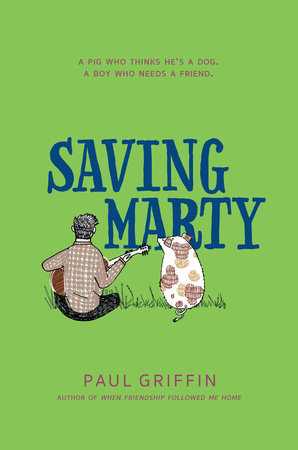 Eleven-year-old Lorenzo would never describe himself as a hero. No, a hero is someone rare—like his father, who died in the war, or his friend Paloma Lee, who fearlessly pursues her dream of being a famous musician. But Renzo's chance comes when he adopts Marty, a runt piglet.Marty is extraordinary—he thinks he's a dog and acts like one too—and his bond with Renzo is truly one of a kind.
But as Marty approaches 350 pounds, it becomes harder for Renzo to convince his mother that a giant pig makes a good pet…especially after Marty causes a dangerous (and expensive) accident. Renzo knows Marty's time is up. He'd do anything and everything for his best friend, but will everything be enough to save Marty?
Paul Griffin is the award-winning author of several young adult novels, including "Ten Mile River", B"urning Blue" and "Adrift". "When Friendship Followed Me Home", published by Text in 2016, was his first book for younger readers.