From Caldecott and Printz Honor-winning illustrator Jillian Tamaki, a playful and poetic exploration of color and point of view that, in its depiction of a child pondering her world, invites comparisons with such classics as A Snowy Day and Owl Moon
THEY SAY BLUE
by Jillian Tamaki
Abrams Books For Your Readers, March 2018
Hardcover format with jacket; full color illustrations throughout, 40 pages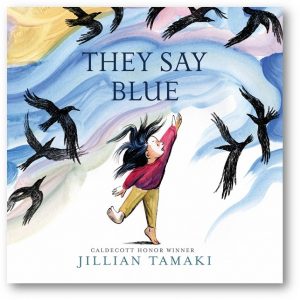 Playful and philosophical, THEY SAY BLUE is a book about color as well as perspective, about the things we can see and the things we can only imagine.
In detailed paintings full of movement, Tamaki follows a young girl through a year or a day, depending on your perspective, as she examines the colors in the world around her. Egg yolks are sunny orange as expected, yet water cupped in her hands isn't blue like they say. But maybe a blue whale is blue. She doesn't know, she hasn't seen one.
Lushly painted and full of wonder, this first picture book from celebrated illustrator Jillian Tamaki will find equal appreciation among kids and collectors.
Jillian Tamaki is an illustrator and comics artist best known for her graphic novels "Skim", which was named a New York Times Best Illustrated, and "This One Summer", which was awarded a Caldecott Honor, Printz Honor, and Eisner Award.