Brilliant and beguiling, the Wife and the Widow takes you to a cliff edge and asks the question: how well do we really know the people we love?
The Wife and the Widow
by Christian White
Affirm Press, August 2019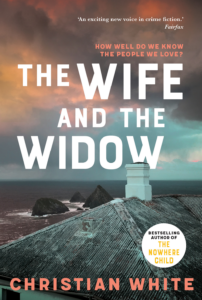 Set against the backdrop of an eerie island town in the dead of winter, The Wife and the Widow is a mystery/thriller told from two perspectives: Kate, a widow whose grief is compounded by what she learns about her dead husband's secret life; and Abby, an island local whose world is turned upside down when she's forced to confront the evidence that her husband is a murderer. But nothing on this island is quite as it seems, and only when these women come together can they discover the whole story about the men in their lives.
Christian White is an Australian author and screenwriter whose projects include feature film Relic. The Nowhere Child is his first book and one of Australia's bestselling debut novels ever. Rights to The Nowhere Child have been sold in 16 territories around the world, and were acquired in a major screen deal by Anonymous Content (US) and Carver Films (Australia).