This fascinating graphic true crime series investigates real FBI cases through comic panels, photos and reproductions of real unsolved case files—a truly propulsive read for sleuths of all ages!
UNSOLVED FBI CASE FILES SERIES #1: ESCAPE AT 10,000 FEET
by Tom Sullivan
Balzer + Bray/HarperCollins, March 2021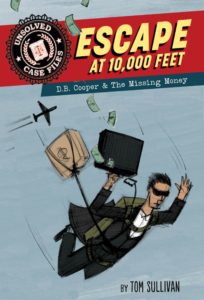 CASE NO. 001: NORJAK. NOVEMBER 24, 1971. PORTLAND, OREGON
2:00 P.M. A man in his mid-forties, wearing a suit and overcoat, buys a ticket for Northwest Orient Airlines flight 305 bound for Seattle.
3:07 P.M. The plane takes off. The man gives a note to the flight attendant with his demands: $200,000 in cash and two parachutes. If they are not met, he threatens to detonate the explosive device in his briefcase. So begins the astonishing true story of the man known as D.B. Cooper, the only unsolved airplane hijacking case in the United States. The events of the day, the FBI manhunt that followed, and the surprise discovery nine years later has captured the public imagination for decades.
Tom Sullivan is an author, illustrator, and graphic designer based in Boston, Massachusetts. He studied at the New England Institute of Art where he earned a Bachelor's degree in Graphic Design. After spending the first ten years of his career as a freelance Art Director and Designer, Tom switched gears to pursue his love of storytelling. He is the author and illustrator of the Balzer + Bray/HarperCollins picture books I Used To Be A Fish, BLUE vs. YELLOW, and Out There.