This New York Times bestselling novel from acclaimed author Walter Dean Myers tells the story of Steve Harmon, a teenage boy in juvenile detention and on trial. Presented as a screenplay of Steve's own imagination, and peppered with journal entries, the book shows how one single decision can change our whole lives. Originally published in 1999, MONSTER has sold more than 2 million copies in the U.S.
MONSTER
by Walter Dean Myers
Amistad/HarperCollins, 1999
(chez DeFiore and Co. – voir catalogue)
Sixteen-year-old Steve Harmon is on trial for murder. A Harlem drugstore owner was shot and killed in his store, and the word is that Steve served as the lookout. Guilty or innocent, Steve becomes a pawn in the hands of « the system, » cluttered with cynical authority figures and unscrupulous inmates, who will turn in anyone to shorten their own sentences. For the first time, Steve is forced to think about who he is as he faces prison, where he may spend all the tomorrows of his life. As a way of coping with the horrific events that entangle him, Steve, an amateur filmmaker, decides to transcribe his trial into a script, just like in the movies. He writes it all down, scene by scene, the story of how his whole life was turned around in an instant. But despite his efforts, reality is blurred and his vision obscured until he can no longer tell who he is or what is the truth. This compelling novel is a multi-award-winning, provocative coming-of-age story that was the first-ever Michael L. Printz Award recipient, an ALA Best Book, a Coretta Scott King Honor selection, and a National Book Award finalist.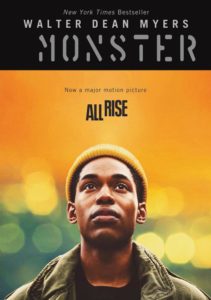 After the 2018 premiere at Sundance, the film adaptation of the Walter Dean Myers novel has been acquired, and renamed: now titled All Rise, Byron Allen's Entertainment Studios Motion Pictures has acquired the worldwide rights to the film from BRON Studios.
Walter Dean Myers (1937 – 2014) was the winner of the first Michael L. Printz Award; a former National Ambassador for Young People's Literature; and an inaugural NYC Literary Honoree. Myers received every single major award in the field of children's literature. He was the author of two Newbery Honor Books and six Coretta Scott King Awardees. He was the recipient of the Margaret A. Edwards Award for lifetime achievement in writing for young adults, a three-time National Book Award Finalist, as well as the first-ever recipient of the Coretta Scott King-Virginia Hamilton Award for Lifetime Achievement.