Notting Hill meets Crazy Rich Asians in this standalone YA romcom about the exclusive, elite world of K-Pop—and one girl determined to defy that world for her soul mate.
XOXO
by Axie Oh
HarperTeen, July 2021
Ages 13 +
Les droits en langue française pour XOXO ont été vendus à K! World.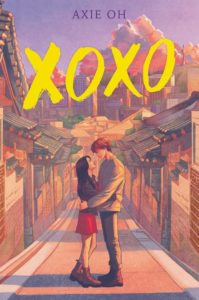 Jenny knows that she'll never forget Jaewoo, the mysterious boy she met at her uncle's karaoke bar and with whom she spent an unforgettable night roaming LA. She also knows that she will probably never see him again considering he lives in South Korea. Which is why she is so surprised to see him almost immediately after she and her mother arrive in Seoul to take care of her ailing grandmother…on a billboard. Not only does it turn out that Jaewooa is a member of one of the biggest K-pop bands in the world, he also attends the same arts academy where Jenny enrolled in Seoul. Like most K-pop idols, Jaewoois strictly forbidden from dating anyone, however the connection that he and Jenny have is undeniable. As they try to navigate a secret relationship Jenny must figure out how much she's willing to sacrifice for love.
Axie Oh is a first-generation Korean-American, born in NYC and raised in New Jersey. She studied Korean history and creative writing as an undergrad at the University of California – San Diego and holds an MFA from Lesley University in Writing for Young People. Her passions include K-pop, anime, stationery supplies, and milk tea. She currently resides in Las Vegas, Nevada with her puppy, Toro.