Cliquez ici pour accéder à la page de notre backlist

The unspoken rules for how women should behave in the workplace are as numerous as they are confusing
HOW TO BE SUCCESSFUL WITHOUT HURTING MEN'S FEELINGS
Non-threatening Leadership Strategies for Women
by Sarah Cooper
Andrew McMeel, octobre 2018
Ask for a pay rise? Pushy.
Take credit for an idea? Arrogant.
Admit a mistake? Weak.
Successfully juggle work and family? Unpromotable. In HOW TO BE SUCCESSFUL WITHOUT HURTING MEN'S FEELINGS, Sarah Cooper, author of the bestselling "100 Tricks to Appear Smart in Meetings", illustrates how women can achieve their dreams, succeed in their careers and become leaders, without harming the fragile male ego. This wickedly funny tongue-in-cheek guide includes chapters on 'How to Ace Your Job Interview Without Over-acing It', '9 Non-threatening Leadership Strategies for Women', and 'Choose Your Own Adventure: Do You Want to Be Likeable or Successful?' It even includes several pages to doodle on while men finish explaining things.
When all else fails, there is a set of cut-outable moustaches inside to allow women to seem more man-like, which will probably lead to a quick promotion!
Sarah Cooper is a writer, comedian, speaker, and author of the bestselling book "100 Tricks to Appear Smart in Meetings". She built her comedy career in between working for companies like Yahoo! and Google, where as a user experience designer, she was fed free lunches and lots of material. She is the creator of the satirical blog TheCooperReview.com, which attracts over 100,000 readers per month and has been featured in the Washington Post, Forbes, and countless other publications.
PLATFORM is an indispensable guide to developing a personal brand, finding an audience, and nurturing followers, by marketing expert Cynthia Johnson
PLATFORM
The Art and Science of Personal Branding
by Cynthia Johnson
Lorena Jones Books, January 2019
In the modern world, influence is everything and personal branding equals influence. PLATFORM is the why-to, how-to handbook  for everyone who wants to develop and manage a personal brand. In nine succinct lessons, Johnson explains the process of going from unknown to influencer by achieving personal proof, social proof, recognition, and association. Johnson herself went from an on-staff social media manager to social media influencer, entrepreneur, and marketing thought-leader for Levi's, Vans, and Fortune 500 companies in just three years using her process of accelerated brand development, continuous brand management, strategic growth and pivoting, and monetization. Today, she is one of the most followed marketing excerpts in the world with 1.5 million followers on Twitter, 20% of which originate in the UK and British Commonwealth.
Cynthia Johnson is the cofounder of the Los Angeles-based branding agency Bell + Ivy. She was named one of the top five personal branding experts in 2017 by Entrepreneur magazine, Inc. listed her as one of the 20 digital marketing people to follow, and Mashable named her the third most important marketer to follow on SnapChat (#CyninLA). Johnson sits on the advisory board for The Millennium Alliance, a leading technology, business, and educational advisory firm serving Fortune 1000 C-Level executives. Cynthia is a global keynote speaker and has addressed companies and events such as Alibaba in China, World Government Summit in Dubai, and Global Ventures Summit in Indonesia and Mexico, as well as USC's Marshall School of Business and Stanford's Igniter program. Her work has been featured in Inc., Forbes, and TIME and she has advised on the social media, branding, and viral campaigns for companies such as Vans, Levi's, and the Susan B. Komen Foundation.

The co-authors of the bestselling "Peak Performance" dive into the science behind passion, revealing the ways in which passion is a double-edged sword and offering a plan for following your passion without ruining your life
THE PASSION PARADOX
The Counterintuitive Guide To Achieving Success Without Ruining Your Life
by Brad Stulberg and Steve Magness
Rodale, March 2019
Common advice is to find and follow your passion. A life of passion is a good life, or so we are told. But it's not that simple. The same drive that fuels breakthroughs−whether they're athletic, scientific, entrepreneurial, or artistic−can be every bit as destructive as they are productive. Yes, passion can be a wonderful gift, but only if you know how to use it. If you're not careful, passion can become an awful curse, leading to suffering and burnout.
Brad Stulberg and Steve Magness once again team up, this time to demystify passion, showing readers how they can find their passion, sustainably harness its power, and avoid its dangers. They ultimately argue that passion and balance−that other virtue touted by our culture−are incompatible, and that to find your passion, you must lose balance. And they show how to develop the right kind of passion, the kind that lets you achieve great things without ruining your life.
Swift, compact, and powerful, this thought-provoking book combines captivating stories of extraordinarily passionate individuals with the latest science on the biological and psychological factors that give rise to passion.
Brad Stulberg writes for Outside magazine, New York magazine, Forbes, NPR, the Los Angeles Times, Runner's World, and the Huffington Post. Previously, Brad worked as a consultant for McKinsey & Company.
Steve Magness is a coach to some of the top distance runners in the world. He has been a featured expert in Runner's World, the New York Times, the New Yorker, BBC, the Wall Street Journal, and ESPN The Magazine.


Persuasion is all around us, and every day we are persuaded myriad times to act in very specific ways. ALLURE will illuminate for readers how the exterior world around us interacts with our interior, biological world, giving readers a new level of understanding both of how our brains are wired and the world we live in
ALLURE
The Neuroscience and Business of Persuasion
by Matt Johnson and Prince Ghuman
Benbella, April 2020
Our attention is for sale and it is worth billions. A greater understanding of how we communicate, how we are persuaded − and persuade in turn − and how we form connections, will improve our self-awareness and better help us navigate this ever-changing world.
Persuasion lies directly at the intersection of psychology and business, so to have two experts, a neuroscientist (Johnson) and a marketing director (Ghuman) is what gives ALLURE its unique power. Their relative youth (they are both 32) is an asset in a world where neuromarketing and data-driven marketing are still in their infancy and the fast-growing tech industry is particularly focused on psychology and cognitive sciences due to the importance of the user experience. In addition, they are both incredibly articulate and media-genic, and poised to be at the forefront of their respective fields for decades to come.
Matt A Johnson received his BA in Cognitive Psychology from UC San Diego in 2008, and his PhD in Cognitive Psychology / Neuroscience from Princeton University in 2013. He currently serves as the Associate Dean of Undergraduate Programs at Hult International Business School in San Francisco, teaching a range of courses in Neuroscience, Behavioral Economics, and Neuromarketing.  Matt was selected as one of ten Hult Research Fellows globally. Additionally, he is also an active researcher in the field of Behavioral Sciences and Neuromarketing, and based on his own primary research, produces a range of intellectual contributions (non-academic articles, peer-reviewed articles, etc.).
Prince Ghuman's journey into entrepreneurship and marketing started during his undergraduate studies at UC San Diego. His first startup, Potenza, marketed a brand of caffeinated water. He went on to be the founding Head of Marketing at BAP, one of the first digital automotive platforms and current leader in the automotive ecommerce space. During his tenure at BAP, the company's revenues outpaced expectations through the exponential growth in web traffic and web sales, and BAP was awarded the title of one of the fastest growing companies in America for three consecutive years by Inc. Magazine. He was the founding Chief Marketing Officer of ZipZap, a cryptocurrency based tech startup in San Francisco. Most recently, he held dual roles as the U.S. Director of Consumer Marketing and the Global Director of B2B Marketing for OFX, a publicly-traded fintech company handling over $100B in international payments. He was named as one of the Shakers and Movers by the San Francisco Chronicle in December 2015. He is currently the Professor of Marketing, Entrepreneurship and Communications at Hult International Business School in San Francisco, California.

What if the real key to a richer and more fulfilling career was not to create and scale a new start-up, but rather, to be able to work for yourself, determine your own hours, and become a (highly profitable) and sustainable company of one? Suppose the better—and smarter—solution is simply to remain small? This book explains how to do just that
COMPANY OF ONE
by Paul Jarvis
Houghton Mifflin Harcourt, January 2019 
Here is a refreshingly new approach centered on staying small and avoiding growth, for any size business. Not as a freelancer who only gets paid on a per piece basis, and not as an entrepreneurial start-up that wants to scale as soon as possible, but as a small business that is deliberately committed to staying that way. By staying small, one can have freedom to pursue more meaningful pleasures in life, and avoid the headaches that result from dealing with employees, long meetings, or worrying about expansion. COMPANY OF ONE introduces this unique business strategy and explains how to make it work for you, including how to generate cash flow on an ongoing basis.
Paul Jarvis left the corporate world when he realized that working in a high-pressure, high profile world was not his idea of success. Instead, he now works for himself out of his home on a small, lush island off of Vancouver, and lives a much more rewarding and productive life. He no longer has to contend with an environment that constantly demands more productivity, more output, and more growth.
In COMPANY OF ONE, Jarvis explains how you can find the right pathway to do the same, including planning how to set up your shop, determining your desired revenues, dealing with unexpected crises, keeping your key clients happy, and of course, doing all of this on your own.
Paul Jarvis, as a corporate tech designer and internet consultant, spent years working with professional athletes like Warren Sapp, Steve Nash and Shaquille O'Neal with their online presence, and with large companies like Yahoo, Microsoft, Mercedes-Benz and Warner Music. He then migrated to working with online entrepreneurs like Marie Forleo, Danielle LaPorte, and Kris Carr to help build their brands. Since becoming a company of one, he spends his time writing, podcasting, and creating online courses for more than 10,000 students.

Look around your office. Turn on the TV. Incompetent leadership is everywhere, and there's no denying it. There's also no denying that women make up only a tiny handful of senior leaders worldwide
WHY DO SO MANY INCOMPETENT BECOME LEADERS?
(and how to fix it)
by Tomas Chamorro-Premuzic
Harvard Business Review Press, January 2018
 
In this provocative book, author Tomas Chamorro-Premuzic connects the dots and asks a powerful question: what if the reason for the lack of women at the top−and the presence of so many incompetent leaders who also happen to be men−is not that there are too many obstacles slowing women's advancement, but that there aren't enough career-testing obstacles for men?
Marshalling decades of rigorous research on leadership to build his case, Chamorro-Premuzic points out that although women make up a minority of leaders, female leaders are often rated by both bosses and subordinates as more competent than their male peers. At the same time, most organizations continue to equate leadership potential with a handful of personality traits, like overconfidence and narcissism, that don't correlate with success. In other words, these traits may help people get nominated to leadership roles, but they backfire once the individual has the job. When competent women−and men who don't fit the stereotype−are unfairly overlooked, we all suffer the consequences. The result is a deeply flawed system that rewards arrogance rather than humility, and loudness rather than wisdom.
There is a better way. With clarity and verve, the author helps us navigate the latest research showing what it really takes to lead and how new systems and processes can help us put the right people in charge.
Tomas Chamorro-Premuzic, Ph.D. is a professor of business psychology at University College London (UCL) and Vice-President of Research and Innovation at Hogan Assessment Systems. He is also a visiting professor at Columbia University London School of Economics. He is one of the most prolific and widely cited social scientists of his generation. He is a sought-after consultant, and he is a regular contributor to Harvard Business Review, The Guardian, Huffington Post, Psychology Today and Fast Company.
The full-time job is disappearing―is landing the right gig the new American Dream?
GIGGED
The Gig Economy, the End of the Job, and the Future of Work
by Sarah Kessler
Saint Martin's Press, June 2018
Over the past five years, digital technology has created a revolutionary new way to work – one that might just make traditional jobs obsolete. A generation of freelancers are building their working lives around small tasks sourced online: from driving taxis to cleaning houses, developing software to consulting for investment banks. They are at the front line of the gig economy.  GIGGED uncovers a world of dizzying contrasts, where the best-off have unprecedented professional freedom, while the worst-off lose out on job security, holidays and benefits. It might just change the way you think about the future of work.
Sarah Kessler is a reporter at Quartz, where she writes about the future of work. Before joining Quartz in 2016, she covered the gig economy as a senior writer at Fast Company and managed startup coverage at Mashable. Her reporting has been cited by The Washington Post, New York Magazine, and NPR.
If you have ever felt like you just don't fit, this book will change your life
DARK HORSE
Achieving Success Through the Pursuit of Fulfillment
by Rose Todd and Ogi Ogas
HarperOne, October 2018
Know your long-term goals, work hard (very, very hard), and stay the course in the face of all obstacles until you reach your goal. This is the commonly accepted formula for fulfilling goals and dreams. But what if we have it exactly backwards? While this standard formula works for some it fails for far too many. Then there are those who buck the formula and triumph on their own terms. They are called dark horses. Researchers Todd Rose and Ogi Ogas have studied these dark horses, and in this groundbreaking book, use the experiences of these mavericks to demonstrate that there is a different and better formula for success. The Dark Horse Project was born at the Harvard Graduate School of Education to research alternative paths to excellence. Dark horses demonstrate that the secret to personal accomplishment is not dependent on connections, money, or standardized test scores. The secret is a special mindset that empowers them to consistently make the right choices to fit their circumstances and complement their unique interests and abilities. The philosophy behind this mindset is simple: it is not the pursuit of excellence that leads to fulfillment but rather the pursuit of fulfillment that leads to excellence. Dark Horse reveals the five elements of this mindset that have been road-tested by a wide array of individuals nurturing every manner of aspiration. No matter where you are in your career, Rose and Ogas show how the dark horse mindset can guide you to a life of purpose, authenticity, and achievement.
Dr. Todd Rose is the director of the Mind, Brain, and Education program at the Harvard Graduate School of Education, where he leads the Laboratory for the Science of the Individual. The Lab's flagship program is the Harvard Dark Horse Project. Todd is also the co-founder of The Center for Individual Opportunity, a non-profit organization that promotes the principles of individuality in work, school, and society, funded in part by Mark Zuckerberg and Priscilla Chan. Todd is the author of "The End of Average" and "Square Peg". His talks have been featured at TedX, the Aspen Ideas Festival, SXSW, Google, Microsoft, Pixar, Costco, JP Morgan, Chevron, and Colin Powell's America's Promise.
Dr. Ogi Ogas is Project Head for the Dark Horse Project at Harvard, where he is a visiting scholar in the Harvard Graduate School of Education. He received his PhD in computational neuroscience from Boston University and was a Department of Homeland Security Fellow, conducting biodefense research at the MIT Lincoln Laboratory. He is the co-author of "A Billion Wicked Thoughts" and "Shrinks: The Untold Story of Psychiatry", and worked with Todd on "The End of Average". His science writing has been published in the Boston Globe, Wall Street Journal, Glamour, Wired, The Guardian, Fortune, The Chronicle of Higher Education, Fast Company, and Seed.

Building on the message of his New York Times bestselling "Ninja Innovation", Gary Shapiro, the CEO of the Consumer Technology Association, casts his eye toward the future, charting how the innovative technologies of today will transform not only the way business is done but society itself—and how we can use them to remain competitive in a rapidly evolving world
NINJA FUTURE
Secrets to Success in the New World of Innovation
by Gary Shapiro
William Morrow, January 2019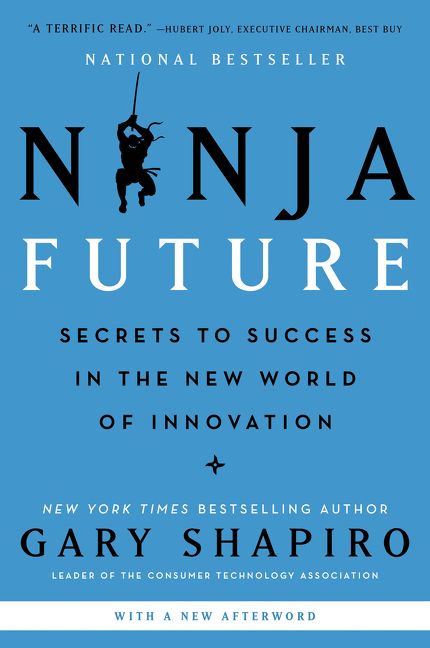 In NINJA FUTURE, Gary Shapiro explains how to understand the evolving technological landscape, both breakthroughs currently happening and those that are coming. Longtime economic mainstays from cash to traditional cars are on the way out, he makes clear. They will be eclipsed by a diversity of "new" products consumers actually want.
Shapiro uses case studies to identify companies and countries that are addressing today's challenges particularly well—and draws lessons from those who have stumbled. Drawing on the insights he has gleaned as a martial arts black belt, he shows how businesses can only thrive in today's turbulent environment by adopting the mindset of "ninjas"—they must be able to adapt to change—to capitalize on positive opportunities or overcoming challenging obstacles—at lightning speed.
Gary Shapiro is the president and CEO of the Consumer Technology Association, the U.S. trade association that represents more than 2,000 consumer electronics companies, and owns and produces the annual International CES, the most important innovation-oriented trade show in the world. He is the author of the New York Times bestsellers "Ninja Innovation: The Ten Killer Strategies of the World's Most Successful Businesses and The Comeback: How Innovation Will Restore the American Dream".

What if the answer to one question could improve everything: your job, your company, your life? The only thing stopping you is that you haven't asked it yet
QUESTIONS ARE THE ANSWER
A Breakthrough Approach to Your Most Vexing Problems at Work and in Life
by Hal Gregersen
HarperBusiness, November 2018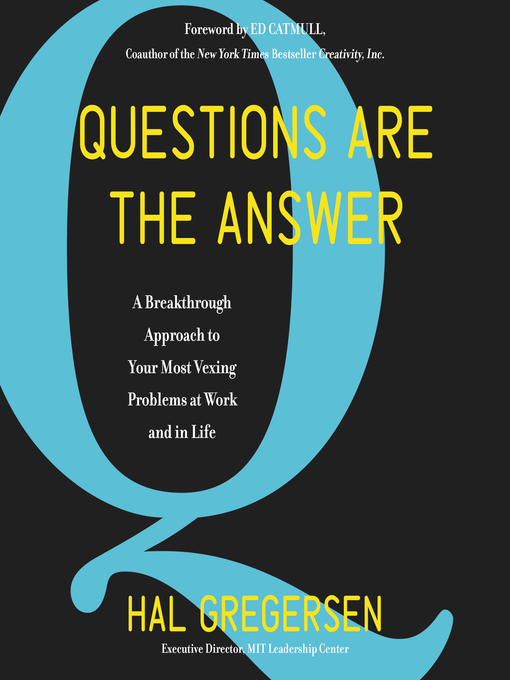 What if you could unlock a better answer to your most vexing problem—in your workplace, community, or home life—just by changing the question?
Talk to creative problem-solvers and they will often tell you, the key to their success is asking a different question. Take Debbie Sterling, the social entrepreneur who created GoldieBlox. The idea came when a friend complained about too few women in engineering and Sterling wondered aloud: « why are all the great building toys made for boys? » Or consider Nobel laureate Richard Thaler, who asked: « would it change economic theory if we stopped pretending people were rational? » Or listen to technologist Elon Musk, who routinely challenges assumptions with questions like: « What are people accepting as an industry standard when there's room for significant improvement? » Great questions like these have a catalytic quality—that is, they dissolve barriers to creative thinking and channel the pursuit of solutions into new, accelerated pathways. Often, the moment they are voiced, they have the paradoxical effect of being utterly surprising yet instantly obvious. For innovation and leadership guru Hal Gregersen, the power of questions has always been clear—but it took some years for the follow-on question to hit him: If so much depends on fresh questions, shouldn't we know more about how to arrive at them? That sent him on a research quest ultimately including over two hundred interviews with creative thinkers. QUESTIONS ARE THE ANSWER delivers the insights Gregersen gained about the conditions that give rise to catalytic questions—and breakthrough insights—and how anyone can create them.
Hal Gregersen is the Executive Director of the Leadership Center as MIT, a prolific author and motivational speaker, recognized by Thinkers50 as one of the world's fifty most innovative minds. He has authored or coauthored ten books, and his most recent bestselling book is "The Innovator's DNA", coauthored with Jeff Dyer and Clayton Christensen.

Why is lasting change so hard for so many? Why is weight loss almost never permanent? Why is it so hard for leaders to coach employees who are struggling? Why do we repeat the same patterns of behavior again and again? Stephen and Mara Klemich spent years seeking out those answers—to recognize why we do the things we do
THE FOUR UNIVERSAL PRINCIPLES OF LIFE
Understanding Why We Do the Things We Do
 – For Better or Worse –
And How to Live and Lead Above the Line
by Stephen and Mara Klemich
HarperBusiness, March 2020 
They looked at how the heart and brain work together to shape our behavior, and how those behaviors shape our lives. Together they built a unique model, Heartstyles, along with a validated tool (the Hearstyles Indicator), backed by extensive research and data, that measures our lives as either effective—above the line—or ineffective—below the line. In testing and refining their model, Stephen and Mara arrived at the conclusion that the quality of our lives comes from the attitudes of the heart. They explored the deeper, fundamental drivers of human behavior that exist within the heart, the seat of our character, and discovered that all of these behaviors can be distilled into something they call the four universal principles of life. These four heart-based principles—humility, love, pride and fear—influence every facet of our lives, for better or worse. Once we fully understand that these four principles are at the root of our behavior, we can begin the journey to become our best selves more often and navigate life more effectively and successfully. Filled with proven learnings and strategies, THE FOUR UNIVERSAL PRINCIPLES OF LIFE will create lasting behavior change, and strengthen our lives and the lives of those around us.
Stephen Klemich began an odyssey—with his wife, Mara—to build a model and a tool that would help people recognize their effective and ineffective heart attitudes, thinking styles, and thus behaviors. Twenty-three years later, the Heartstyles Indicator, based on the four universal principles of humility, love, pride, and fear, is the only psychometric tool of its kind on the market.
Mara Klemich, PhD, is a consulting psychologist, with degrees in clinical psychology and neuropsychology from the University of Sydney and the University of Paris. As co-inventor of the Heartstyles Indicator and a founder of Heartstyles, her passion is to bring the knowledge of neuroscience to leadership and management.

An inspiring guide from Dolly Chugh, an award-winning social psychologist at the New York University Stern School of Business, on how to confront difficult issues including sexism, racism, inequality, and injustice so that you can make the world (and yourself) better
THE PERSON YOU MEAN TO BE
How Good People Fight Bias
by Dolly Chugh
HarperBusiness, September 2018 
Many of us believe in equality, diversity, and inclusion. But how do we stand up for those values in our turbulent world? The Person You Mean to Be is the smart, « semi-bold » person's guide to fighting for what you believe in. Dolly reveals the surprising causes of inequality, grounded in the « psychology of good people ». Using her research findings in unconscious bias as well as work across psychology, sociology, economics, political science, and other disciplines, she offers practical tools to respectfully and effectively talk politics with family, to be a better colleague to people who don't look like you, and to avoid being a well-intentioned barrier to equality. Being the person we mean to be starts with a look at ourselves. She argues that the only way to be on the right side of history is to be a good-ish— rather than good—person. Good-ish people are always growing. Second, she helps you find your « ordinary privilege »—the part of your everyday identity you take for granted, such as race for a white person, sexual orientation for a straight person, gender for a man, or education for a college graduate. This part of your identity may bring blind spots, but it is your best tool for influencing change. Third, Dolly introduces the psychological reasons that make it hard for us to see the bias in and around us. She leads you from willful ignorance to willful awareness. Finally, she guides you on how, when, and whom, to engage (and not engage) in your workplaces, homes, and communities. Her science-based approach is a method any of us can put to use in all parts of our life.
Whether you are a long-time activist or new to the fight, you can start from where you are. Through the compelling stories Dolly shares and the surprising science she reports, Dolly guides each of us closer to being the person we mean to be.
Dr. Dolly Chugh is a Harvard educated, award-winning social psychologist at the NYU Stern School of Business, where she is an expert in the unconscious biases and unethical behavior of ordinary, good people.

Clayton M. Christensen, the author of such business classics as "The Innovator's Dilemma" and the New York Times bestseller "How Will You Measure Your Life", and co-authors Efosa Ojomo and Karen Dillon reveal why so many investments in economic development fail to generate sustainable prosperity, and offers a groundbreaking solution for true and lasting change
THE PROSPERITY PARADOX
How Innovation Can Lift Nations Out of Poverty
by Clayton Christensen
HarperBusiness, January 2019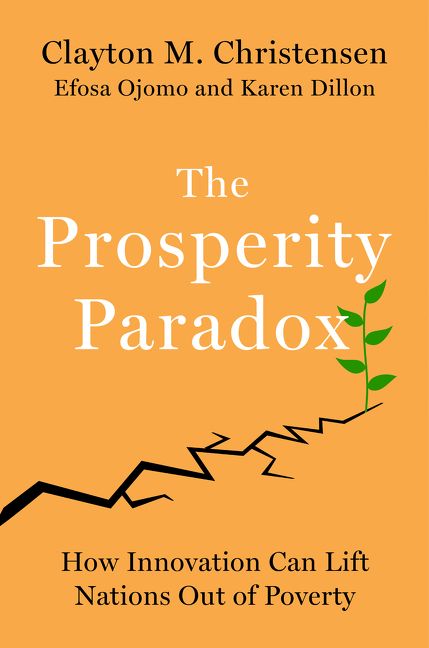 Global poverty is one of the world's most vexing problems. For decades, we've assumed smart, well-intentioned people will eventually be able to change the economic trajectory of poor countries. From education to healthcare, infrastructure to eradicating corruption, too many solutions rely on trial and error. Essentially, the plan is often to identify areas that need help, flood them with resources, and hope to see change over time.
But hope is not an effective strategy.
Clayton M. Christensen and his co-authors reveal a paradox at the heart of our approach to solving poverty. While noble, our current solutions are not producing consistent results, and in some cases, have exacerbated the problem. At least twenty countries that have received billions of dollars' worth of aid are poorer now. Applying the rigorous and theory-driven analysis he is known for, Christensen suggests a better way. The right kind of innovation not only builds companies—but also builds countries. The Prosperity Paradox identifies the limits of common economic development models, which tend to be top-down efforts, and offers a new framework for economic growth based on entrepreneurship and market-creating innovation. Christensen, Ojomo, and Dillon use successful examples from America's own economic development, including Ford, Eastman Kodak, and Singer Sewing Machines, and shows how similar models have worked in other regions such as Japan, South Korea, Nigeria, Rwanda, India, Argentina, and Mexico. The ideas in this book will help companies desperate for real, long-term growth see actual, sustainable progress where they've failed before. But THE PROSPERITY PARADOX is more than a business book; it is a call to action for anyone who wants a fresh take for making the world a better and more prosperous place.
Clayton M. Christensen is Professor at Harvard Business School, the author of eight books including "The Innovator's Dilemma" and "How Will You Measure Your Life?", and a five-time recipient of the McKinsey Award for the Harvard Business Review's best article. In 2011 he was named the world's most influential business thinker by Thinkers 50.
A clever and compulsively readable book about the invisible forces that influence our lives at work
INVISIBLE FORCES AT WORK
What the Psychology Lab Teaches Us About Your Office And Your Happiest Productivity
by Thalma Lobel
Benbella, 2020
Thalma Lobel take on all of the "invisible forces" that influence our lives at work—from windows and light, to order and creativity, to clean smells that promote moral behavior and the effects of language, music, and more.  While you might know intuitively that nature is good for you, this book shares hundreds of studies—both the author's own and the latest research—that really will nudge you to shape your work environment.  You'll understand what best sets you up for success.
Thalma's first book "Sensation: The New Science Of Physical Intelligence", was published by Atria in 2014, was translated into 15 languages, and was a bestseller in Israel, where the author is based. 
Dr. Thalma Lobel is an internationally recognized psychologist, with a long tenured career at Tel Aviv University who has also been a visiting scholar at Harvard, Tufts, UC San Diego, and NYU.  She has taught and mentored a distinguished list of scientists, including behavioral economist Dan Ariely and Guy Winch, who blurbed her first book in addition to Tal-Ben Shahar, and Adam Alter.

The Nobel laureate Phil Anderson once captured the essence of phase transitions in physics with the phrase "more is different." Loonshots shows how "more is different" shapes the spread of ideas, the survival of companies, and even the fate of empires
LOONSHOTS
How to Nurture the Crazy Ideas that Win Wars, Cure Diseases, and Transform Industries
by Safi Bahcall
Saint Martin's Press, March 2019 
Every year, glossy magazines describe the winning cultures of innovative companies. Smiling employees raise gleaming new products like runners raising the Olympic torch. Leaders reveal their secrets. And then, so often, those companies crash and burn. Bahcall, a physicist and entrepreneur, finds answers in the science of phase transitions. The Nobel laureate Phil Anderson once captured the essence of phase transitions with the phrase "more is different." The collective behaviors of liquids and solids—water flows, ice shatters—are more than the sum of their parts. They are something new: phases of matter.
Bahcall shows why the collective behaviors of teams and companies are something new: phases of organization. Small changes in structure can transform teams from nurturing breakthroughs to inhibiting them, just like small changes in temperature can transform flowing water to rigid ice. Structure can matter more than culture. Drawing on examples from Aristotle to Star Wars, from Isaac Newton to Steve Jobs, Bahcall distills these ideas into practical rules that creatives, entrepreneurs, and managers can use to innovate faster and better. Along the way, readers will learn what James Bond and Lipitor have in common; why traffic jams appear out of nowhere on highways; and how these ideas and rules underlie the most consistently innovative organization in the world. The breakthroughs that change the course of science, business, and history are due in some part to the influence of geniuses and in some part to serendipity. LOONSHOTS is about engineering the forces of genius and serendipity to work for you rather than against you.
Safi Bahcall received his BA in physics from Harvard University and his PhD from Stanford University and was a Miller Postdoctoral Fellow at U.C. Berkeley. In 1998, Bahcall joined McKinsey & Company, where he advised investment banks and pharmaceutical companies on strategy, technology, and operations. Bahcall co-founded Synta with Lan Bo Chen in 2001. In 2008, Dr. Bahcall was named Ernst & Young New England Biotechnology/ Pharmaceutical Entrepreneur of the Year. He and his work was featured in a Malcolm Gladwell profile in The New Yorker magazine in 2010.



A tested step-by-step approach to leveraging the unique power of relationships to your business advantage
SUCCESS IS IN YOUR SPHERE
Leverage the Power of Relationships to Achieve Your Business Goals
by Band Zvi
Mcgraw Hill, April 2019 
Our professional relationships are the most important asset we have when it comes to growing and sustaining a successful business. Most people think of this as "networking." But in today's hyperconnected market, the most cost-effective and high-return route to new, repeat, and referral business is through our existing networks, not through adding more Facebook "friends" and LinkedIn "connections." In this transformative guide, relationship marketing expert Zvi Band shows us how to deepen our personal connections to achieve our professional goals―using his proven program of daily habits and relationship-enhancing strategies.
The basic idea is simple: Effective relationship building is not about acquiring new contacts, it's about strengthening your connections with the key people who will help you drive your business forward. It's about building a database, collecting intelligence, setting priorities, adding value, and engaging with the right people at the right time. Through a combination of personal research, best practices, and case studies, Band provides a prescriptive strategy you can customize and follow every day. In business, as in life, it all comes down to the quality of your relationships. When the right people are on your side, SUCCESS IS IN YOUR SPHERE.
Zvi Band is the cofounder and CEO of Contactually, an intelligent CRM platform for relationship-oriented businesses. A cofounder and coorganizer of DC Tech Meetup, with more than 20,000 members and 700+ in attendance at monthly meetings, Zvi also created DC Tech Summer, a program placing interns with startups every summer. He is a proud mentor to Acceleprise, an enterprise technology accelerator. Zvi has been listed as one of Washingtonian magazine's Tech Titans, along with such luminaries as Steve Case, the cofounder and former CEO and chairman of America Online. He was a finalist for Ernst and Young's 2016 Entrepreneur of the Year award. An active speaker, writer, and podcaster on the topic of relationship marketing, Zvi has been on Forbes's 25 Professional Networking Experts to Watch list.

A must-have guide for anyone who writes at work, with practical applications to get you writing quickly, coherently, and efficiently
THE ONLY BUSINESS WRITING BOOK YOU'LL EVER NEED
by Laura Brown
Norton, January 2019  
A winning combination of how-to guide and reference book, THE ONLY BUSINESS WRITING BOOK YOU'LL EVER NEED addresses a wide-ranging spectrum of business communication with its straightforward seven-step method. Designed to save time and boost confidence, these easy to follow steps will teach you how to make your ask clear, write for your reader, start strong and specific, and fix your mistakes. With a helpful checklist to keep you on track, you'll learn to promote yourself and your ideas clearly and concisely, whether writing a persuasive project proposal or dealing with daily email.
Laura Brown's supportive, no-nonsense approach to business writing is thoughtfully adapted to the increasingly digital corporate landscape. Complete with insightful sidebars from experts in various fields and easy-to-use resources on style, grammar, and punctuation, THE ONLY BUSINESS WRITING BOOK YOU'LL EVER NEED offers essential tools for success in the rapidly changing world of communicating at work.
Laura Brown, PhD, has taught writing to just about everyone—from corporate executives to college students—in her thirty years as a business writing coach. Also the author of "How to Write Anything: A Complete Guide".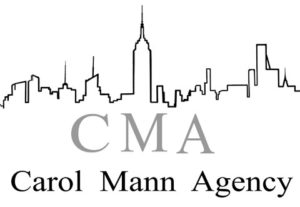 From an engineer and entrepreneur, a conversation-changing parenting book about how to engage young women in science, technology, engineering, and math, filled with practical advice for both parents and educators
VENTURE GIRLS
Raising Entrepreneurial Girls to Be Tomorrow's Leaders
by Cristal Glangchai
Editeur, May 2018 
As the female CEO of a tech startup, Dr. Cristal Glangchai was outnumbered twenty to one. At Google, Twitter, and Facebook, women currently fill just ten to twenty percent of technical jobs. While career opportunities in science, technology, engineering, and math have increased dramatically in the past twenty years, the achievement gap between men and women has only grown wider.
In VENTURE GIRLS, Glangchai offers a unique solution based on her own experience as an engineer and entrepreneur as well as the founder of the VentureLab, an academy of entrepreneurship and technology for girls. Practical, accessible, and filled with success stories, VENTURE GIRLS argues that a key part of raising strong, confident young women is giving them the tools of entrepreneurship to engage in STEM.  Entrepreneurship isn't just about starting companies, Glangchai writes, it is a skillset and a way of thinking that is particularly useful in the fields of science, mathematics, engineering, and technology. Entrepreneurship involves identifying needs, brainstorming creative solutions, innovating, and taking calculated risks. In short, it's about having a vision and making it a reality. The true value in learning and practicing entrepreneurship, Glangchai argues, lies in nurturing and growing an overall mindset—the ability to learn from failure and to work well with others to bring your ideas to life. Deeply informative, warm, and grounded in real-world experience, VENTURE GIRLS includes a plethora of activities and lessons that focus on strengthening kids' ingenuity and resilience. VENTURE GIRLS is essential reading for anyone who wants to raise girls and young women who realize their strength, engage in the world, and feel empowered to make a positive impact.
Dr. Cristal Glangchai is the founder and CEO of VentureLab, a nonprofit that engages young girls in entrepreneurship, science and technology. Her work there has been featured on NBC's The Today Show, on NPR's The Takeaway and in the Wall Street Journal, Mashable, Medium, Silicon Hills News, the Rivard Report, the San Antonio Express-News, and other publications. She is currently the Director of the Texas Entrepreneurial Exchange at the University of Texas at Austin, previously she served as the Director of the Center for Entrepreneurship at Trinity University. She starred in the AOL Jeep Documercial, "Side Streets," which highlighted VentureLab, and was also a selected speaker at TEDx San Antonio, as well as SXSWInteractive and SXSWEdu. VentureLab recently expanded to a global reach by providing teacher training in Central America through the TeachHer initiative, a partnership with UNESCO, the US State Dept., and the Institute for International Education.


In this explosive new book, Matt Hart tells an unputdownable story of corporate greed and athletic glory, lifting the lid on corruption at the very highest levels of one of the world's most iconic brands
BEHIND THE SWOOSH
by Matt Hart
Dey Street Books, 2020
Olympic runners Adam and Kara Goucher were two of the world's most promising young athletes—the "first couple" of long distance running—and when they signed professional contracts with Nike and legendary coach Alberto Salazar, it seemed like a dream come true. But over time evidence of Salazar's reliance on gray-area techniques and performance-enhancing drugs became impossible to ignore. Soon everything unraveled, and the star athletes blew the whistle on their coach, who is now being investigated by both the US anti-doping authority and the FBI.
But the Gouchers' story is only one in a larger ongoing saga of conspiracy, betrayal, intrigue, and coercion that reaches the highest ranks at Nike. BEHIND THE SWOOSH will reveal for the first time the unsettling details of Nike's secretive running program, the Nike Oregon Project. It will also uncover a win-at-all-costs culture of deceit and drug misuse at the Nike corporation, as well as abuse of power, gender discrimination, medical malpractice, and systemic cheating at the highest levels of professional athletics.
Character-driven and sure to be controversial, BEHIND THE SWOOSH will pick up where the 1991 bestseller "Swoosh: The Unauthorized Story of Nike and the Men Who Played There" left off and will offer a darker counter-narrative to Phil Knight's #1 New York Times bestselling memoir "Shoe Dog". With a core audience of runners and athletics enthusiasts, it will also target readers interested in business tactics and how companies like Nike become institutions. Above all, BEHIND THE SWOOSH will be a nuanced portrait of life at the highest levels of elite sports and an exploration of the place where individual ambition, corporate interest, and integrity of sport collide.
Matt Hart is an independent journalist. Over the past ten years his work has been featured on the front page of The New York Times and in other large national publications, such as The Atlantic, National Geographic, Outside, and Men's Journal magazines. Prior to becoming a journalist, Matt worked as a software engineer for the Microsoft Corporation before becoming a professional ultra-distance runner.

Droits cédés depuis le 1er janvier 2017 :
PREDICTABLY IRRATIONAL de Dan Ariely aux Éditions AB Publishing
ONE MINUTE MENTORING (LE MENTORING MINUTE) de Kenneth Blanchard aux Éditions Nouveaux Horizons
PRE-SUASION de Robert Cialdini aux Éditions AB Publishing
100 TRICKS TO APPEAR SMART IN MEETINGS (100 TRUCS INFAILLIBLES POUR AVOIR L'AIR INTELLIGENT EN REUNION) de Sarah Cooper aux Éditions Dunod
PRINCIPLES (LES PRINCIPES DU SUCCES) de Ray Dalio aux Éditions Valor
REWORK (REINVENTER LE TRAVAIL) de Jason Fried aux Éditions Maxima
THE FOUR de Scott Galloway aux Presses polytechniques et universitaires romandes
THE E-MYTH REVISITED (E-MYTH: LE MYTHE DE L'ENTREPRENEUR REVISITE) de Michael E. Gerber aux Éditions Leduc.S
THE DISCOVERY OF GROUNDED THEORY (LA DECOUVERTE DE LA THEORIE ANCREE) de Barney G. Glaser aux Éditions Dunod
BLITZSCALING de Reid Hoffman aux Éditions J. C. Lattès
THE MIND OF THE LEADER de Rasmus Hougaard aux Éditions Leduc.S
ESSENTIALISM (L'ESSENTIALISME) de Greg McKeown aux Éditions de La Maisnie – Guy Trédaniel
THE END OF BANKING (POURQUOI LES BANQUES VONT DISPARAITRE) de Jonathan McMillan aux Éditions J.C. Lattès
THE END OF JOBS (IL EST TEMPS D'ENTREPRENDRE !) de Taylor Pearson aux Éditions Pearson France
THE SNOWBALL (L'EFFET BOULE DE NEIGE) d'Alice Schroeder aux Éditions Valor
THE NEW MARKET WIZARDS (LES SECRETS DES GRANDS TRADERS) de Jack Schwager aux Éditons Valor
CRUSHING IT (CASSEZ LA BARAQUE !) de Gary Vaynerchuck aux Éditions Pearson France
EXTREME OWNERSHIP (RESPONSABILITE ABSOLUE) de Jocko Willink aux Éditions Ring