The ingenious, twisty, emotionally absorbing story of a father who goes missing and his family's desperate search to find him—a novel as suspenseful as it is moving—by the Edgar and International Thriller Writers Award-winning author of Miracle Creek.
HAPPINESS FALLS
by Angie Kim
Random House, Fall 2023
(via Writers House)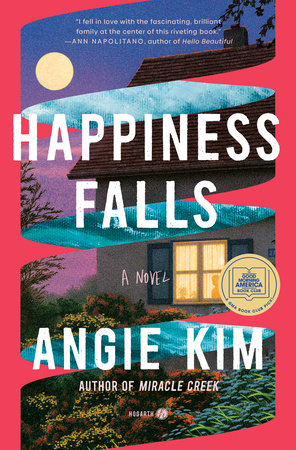 We didn't call the police right away. When Adam Parkson doesn't come home from a walk in the local nature reserve, his family doesn't think much of it. He must've turned off his phone. Or his battery died. Or he probably stopped for an errand—but doing what exactly? Soon more questions arise and it becomes clear to Adam's wife and children that he is missing. Or is he?
What follows is a ticking-clock story of shocking twists and fascinating questions about what defines us and who we really are. A mystery, a family drama, a novel of profound philosophical inquiry, HAPPINESS FALLS updates and expands the missing person story, turning inside out our expectations of the crime novel.
"Angie Kim has written that rare book that can change your entire outlook on the world. Part page-turning mystery, part meditation on the power of expectation, HAPPINESS FALLS will both open your eyes and tear your heart apart." —Janelle Brown, bestselling author of I'll Be You, Pretty Things, and Watch Me Disappear
"Angie Kim's HAPPINESS FALLS is an exhilarating literary tour de force—one part mystery, one part family drama, one part interrogation of the meaning of happiness, it will introduce you to extraordinary characters whose lives will leave you forever changed. An incredible achievement." —Danielle Trussoni, bestselling author of Angelology
"Angie Kim's HAPPINESS FALLS is a sublime literary mystery that is a mesmerizing update to the missing person story, a layered and innovative exploration of family, love, happiness and race. With dazzling intellectual range and tremendous warmth, Kim makes us fall in love with this close-knit family while spinning her suspenseful and twisty tale. A gorgeous read that grips both heart and mind." —Jean Kwok, bestselling author of Girl in Translation, Mambo in Chinatown, and Searching for Sylvie Lee
Angie Kim is a Korean immigrant, former editor of the Harvard Law Review, and debut author of the international bestseller and Edgar winner Miracle Creek, named a "Best Book of the Year" by Time, The Washington Post, Kirkus, and The Today Show, among others. She has written for The New York Times Book Review, The Washington Post, Vogue, Glamour, and numerous literary journals.