An utterly addictive new YA novel from debut author Allyson Dahlin! Set in an alternate future Versailles, social influencer Marie Antoinette and her shy new husband Louis Auguste must right the wrongs of generations, amid rampant misinformation and capitalist propaganda.
CAKE EATER
by Allyson Dahlin
HarperTeen, August 2022
(via Writers House)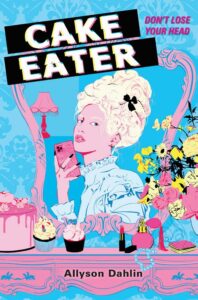 The year is 3070, and Marie Antoinette has just arrived at Versailles. Marie is an App sensation, a style icon and a maven of social influence with millions of followers—but here, in the glamorous Franc Kingdom, her job is simply to marry Louis August. Unfortunately, Louis doesn't seem interested in Marie, making her feel lonelier than ever in this new country. Luckily, Marie has a distraction: opulent soirées and decadent after-parties abound in Versailles.
But beneath the luxurious world lies a sinister underbelly, and a storm hits Versailles that reveals to Marie and Louis the gilded world around them for the cracked facade it truly is—a hideaway for the rich and powerful, while the people outside suffer and starve. Determined to set things right, Louis and Marie must devise a way to right the wrongs of generations past—and outwit those who want to keep them pawns in a deadly game.
CAKE EATER will take readers to a glittering world full of breathless luxuries, deadly secrets, and a thrilling romance that attempts to rewrite history itself.
Allyson Dahlin grew up on a farm in central New York, where she had little to do but read loads of library books and make up magical and slightly creepy stories about the woods and farm animals while pretending to be a witch/homesteader. She studied psychology in college while working as a housekeeper at a motel in Cooperstown. That job involved a lot of boring hours to think up backstories for the guests whose rooms she cleaned. A shawl left on a chair by an aging opera soprano, a stack of old baseball cards left by a Hall of Fame inductee, and the legend of a monster in the lake were all fodder for stories. It was during that time she transformed from a reader and a daydreamer to a writer.