The first behind-the-scenes look at the life of the most enigmatic First Lady in United States History
FREE, MELANIA: The Unauthorized Biography
by Kate Bennett
Flatiron, December 2019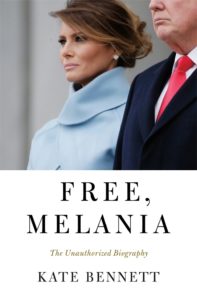 Melania Trump is an extremely fascinating subject.  In many ways, she is the most modern and groundbreaking First Lady in recent history. A former model whose beauty in person leaves people breathless, a woman whose upbringing in a communist country spurred a relentless drive for stability, both for herself and for her family. A reluctant pillar in a controversial presidential administration who speaks five languages and runs the East Wing like none of her predecessors ever could—underestimate her at your own peril (as a former government official did and was summarily fired). But who is she really?
In Free, Melania we get an insider look at Melania Trump, from her childhood in Slovenia to her days in the White House, and everything in between. We see the Trump family dynamics that Melania has had to navigate, including her strained relationship with Ivanka. We get a rare glimpse into what goes into her famous and sometimes infamous clothing choices (including perhaps the real message behind Melania's controversial jacket, "I Really Don't Care, Do U?", which she wore while visiting the U.S.-Mexico border), and how a publicly quiet Melania actually speaks very loudly—if you just know where, and how, to listen. And we get a behind-the-scenes look at her often eyebrow-raising relationship with Donald Trump, from their beginnings to becoming the most unusual First Family in modern history.
The author, Kate Bennett is the perfect person to write this book.  Currently a reporter for CNN, she is the only journalist in the White House press corps to cover solely First Lady Melania Trump and the Trump Family.
The book will have an 8-page color photo insert.