Seven friends throw a 1920s–themed party, where it's all pretend—until one of them is murdered. One of Us Is Lying meets Knives Out in this glamorous locked-room mystery.
SUDDENLY A MURDER
by Lauren Muñoz
Putnam, September 2023
(via Writers House)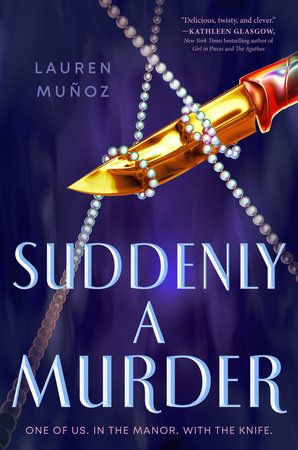 Izzy Morales has spent four long years at Marian Academy ignoring whispers about her scholarship status and over-washed uniform while suffering the humiliation of waving to her math teacher-mum in the hallways. So when her best-friend Kassidy surprises her by inviting five of their friends to celebrate graduation by living like 1920s socialites at Ashwood Manor on Bartleby Island, Izzy is ecstatic about the escape and delighted about a week of fancy cocktails and even fancier dresses. But when Kassidy's boyfriend turns up dead, the sparkling young socialites quickly become the prime suspects in his murder. Before they can flee back to the mainland, a raging storm traps them on the island with the criminal investigators including Pilar de León, a famous consulting detective whose quirky demeanour belies her killer instinct for sniffing out murderers. Everyone has a secret. Everyone has a motive. But only Izzy brought a knife to the party.
Lauren Muñoz is a writer, lawyer, and former teacher living in Southern California. She received her J.D. from Northwestern University in Chicago, where she frequently skipped class to commune with her sun lamp. When she's not reading, she can be found knitting, crocheting, and collecting recipes for things she'll never bake.