Lively plotting and unforgettable characters that make Anh Australia's best-loved children's author

WOLF GIRL: Into the Wild # 1
by Ahn Do
Allen & Unwin, July 2019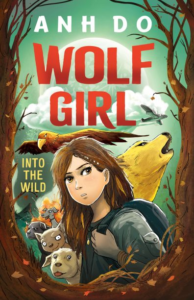 Wolf Girl' is the first of three new series aimed at a readership of 8-14-year-olds. The first instalment of the series, Into the Wild, follows a young girl who is separated from her family and must fend for herself, supported by a pack of dogs she befriends in the wilderness.
When disaster separates Gwen from her family, she must fend for herself, all alone in the wilderness. Luckily, she's not alone for long. . . When a wolf puppy, a Labrador, a Chihuahua, and a greyhound want to make friends, Gwen discovers talents she didn't know she possessed. It will take all her new skills and strength just to survive. Does Gwen have what it takes to be leader of the pack?
Anh has created an irresistible new female lead in Gwen. Do is an actor, comedian, painter and the author of midde-grade series 'WeirDo', 'Hotdog!' and 'Ninja Kid' (all Scholastic).