Scary Stories to Tell in the Dark meets Black Mirror. From wicked dolls to demanding crows to zombies that just can't stand string cheese, this new contemporary collection of original scary short stories by Anica Mrose Rissi is sure to elicit chills, laughs, and screams.
HIDE AND DON'T SEEK
by Anica Mrose Rissi
Quill Tree Books/HarperCollins, May 2021
Ages 8 – 12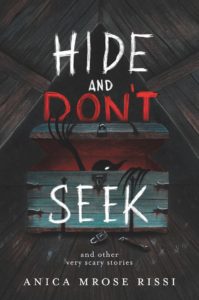 If you're feeling brave, turn the page. A game of hide-and-seek goes on far too long… A look-alike doll makes itself right at home… A school talent-show act leaves the audience aghast… And a summer at camp takes a turn for the braaaains… This collection of all-new spooky stories is sure to keep readers up past their bedtimes—laughing, gasping, and looking over their shoulders to see what goes bump in the night. Anica Mrose Rissi's collection of tales feels both classic and immediate, bone-chillingly scary and somehow incredibly funny at the same time.
Anica Mrose Rissi grew up on an island off the coast of Maine, where she read a lot of books and loved a lot of pets. She now tells and collects stories, makes up songs on her violin, and eats cheese with her friends in Princeton, New Jersey, where she lives with her dog, Arugula. Anica is the author of more than a dozen other books for kids and teens, including the Anna, Banana chapter-book series and Nobody Knows But You.