Diets don't just fail to make us healthy. They take up unnecessary space in our minds and prevent us from living life to the fullest. By understanding why we eat, and bringing awareness to our food, we can rebuild the damage caused by diets and eat freely, without guilt, and set ourselves on a course to lifelong health. FOOD THERAPY will literally change your mind about eating well.
FOOD THERAPY:
Understand and Repair Your Relationship with What You Eat
by Pixie Turner
Piatkus/Little, Brown UK, January 2023
(via Northbank Talent Management)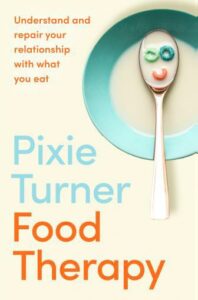 In FOOD THERAPY, Pixie Turner presents a fresh new approach to rehabilitating our relationship with food. Instead of focusing on rules, reduction and restriction, this practical book will help you uncover the roots and psychology of your relationship with food – how your experiences and feelings affect what you eat – and introduce you to a lifelong practice that will free you from a destructive relationship with food and dieting.
Healthy eating begins in the mind. As a registered nutritionist and qualified ACT therapist, Pixie has a wealth of experience with clients who come to her for help with disordered eating and body image problems. This book will help you understand why diets don't work, and will empower you to rebuild your relationship with food by using psychological tools to identify your unique problematic points, and counter those with healthy eating habits. Including:
– How to reset and understand your relationship with hunger and feeling full
– Overcoming shame and defence mechanisms
– Fostering self-compassion to help you recover from setbacks
– Guidance on making better choices and creating a more positive environment
Pixie Turner is a registered nutritionist (RNutr) and science communicator, and she also has qualifications in psychotherapy, which makes her uniquely positioned to write this book. Alongside her degrees in biochemistry and nutrition and her qualifications in psychotherapy, she has over 130,000 followers on her 'Pixie Nutrition' social media accounts. Her science communication work extends across mainstream media, social media, and her popular podcast In Bad Taste. Pixie has been featured as a nutrition expert on the BBC, Sky and Channel 5, and in publications such as Red magazine, the Evening Standard, Grazia, the Telegraph and more. She is the author of three books: The Wellness Rebel (2018), The No Need to Diet Book (2019) and The Insta-Food Diet (August 2020), all published by Head of Zeus.