___________________________________________
TOUS LES ÂGES
___________________________________________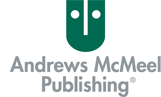 Dilbert is the cartoon world's Office Space: a cubicle-eye-view of the real workplace!
DILBERT GETS RE-ACCOMMODATED
by Scott Adams
October 2017
When confronted by unjust systems of corporate domination, whenever and wherever they may be, Dilbert boldly . . . gets "re-accommodated."
The legendary gang of coworkers is back for more unprofessional development, jargon freestyle, and elaborate work-avoidance schemes. Management fudges the line between stupidity and illegality. Promising new coffee warmer/phone charger technologies abound. And the circle of blame goes ever onward.
In this fresh collection, Dilbert lampoons cubicle culture with strips that are sometimes recognizable, sometimes absurd—but always hilarious.
What started as a doodle has turned Scott Adams into a superstar of the cartoon world. Dilbert debuted on the comics page in 1989, while Adams was in the tech department at Pacific Bell. Adams continued to work at Pacific Bell until he was voluntarily downsized in 1995.

A collection of Loryn Brantz's vibrant and relatable Jellybean Comics about the everyday experiences of being a lady in the world
LADY STUFF
Secrets to Being a Woman
by Loryn Brantz
September 2017
Home manicure tips, awkward seduction techniques, scoping out the snack table, and—most importantly—prioritizing naps: Lady Stuff reveals these womanly secrets and more. In sections like « Grooming and Habitat Maintenance, » « Mating Habits, » and others, these brightly colored, adorable comics find the humor in the awkwardness of simply existing.
Like the work of Sarah Andersen, Gemma Correll, and Allie Brosh, Loryn Brantz's Jellybean Comics are accessible and funny; lighthearted takes on the author's everyday experiences and struggles being a woman.
Loryn Brantz is a two-time Emmy Award winner and the author of "Feminist Baby". She is a senior writer at BuzzFeed and her work can be seen on Sesame Street, PBS, Sprout Network, and in numerous children's publications.

Explore the daily struggles and humor of family life with Lunarbaboon. He's just like any other dad–but vaguely hairier because he's half man/half moon monkey
LUNARBABOON
The Daily Life of Parenthood
by Christopher Grady
April 2017
LUNARBABOON shares life's parenting moments from the perspective of a 30-something dad/husband/chaos survivor. Together with the savvy, laid back Mom, wild child Moishe, baby Matilda, and a former Julliard student (their cat), Lunarbaboon must navigate the family and social dynamics of everyday life. Ranging from the hilarious (defeating closet monsters with a "stun" blaster that offers surprising facts about bears, Mars, and cats) to the sweet (the gray scale-to color transition out of depression at the touch of a loved one), this collection explores the bonds within a family and all the characters who bring both order and chaos to life. LUNARBABOON's perfect meld of crabby humor and moments of impactful honesty give these comics a wide range and distinctive voice that's both comical and sincere.
Christopher Grady is an elementary school teacher by day and cartoonist by night. He is the creator of the wildly popular Web comic Lunarbaboon.

Two new charmingly absurd gift books from the Eisner Award-winning creator of The Oatmeal and #1 New York Times bestselling author of "How to Tell If Your Cat Is Plotting to Kill You" 
TheOatmeal.com
(Matthew Inman)
TheOatmeal.com is an entertainment website full of comics, quizzes, and stories. The site gets more than 7 million unique visitors and 30 million page views a month, and 250,000 blogs and websites have linked to it. TheOatmeal.com is written, drawn, and coded by Matthew Inman, a king of all trades when it comes to the Web.
HOW TO BE PERFECTLY UNHAPPY
October 2017
 Inman explores the surprising benefits of forgetting about "happiness," and embracing instead the meaningful activities that keep us busy and interested and fascinated.
 __________________________________
IF MY DOGS WERE A PAIR OF MIDDLE-AGED MEN
September 2017
 Matthew Inman imagines, to hilarious effect, what life would be like if his dogs were a couple of old men running around his house. The result is a pitch-perfect gift for any dog owner.
Walter Moers
Walter Moers has with his fantasy novels written his way into the hearts of readers and critics alike far beyond the borders of the German-speaking parts of the world. All his novels, such as The 13 ½ Lives of Captain Bluebear and The City of Dreaming Books, were bestsellers and have been translated into numerous languages. Apart from the continent of Zamonia, Walter Moers has also created such popular characters as Optimus Yarnspinner and the cartoon character Adolf.
The international bestseller as a sumptuous graphic novel 
DIE STADT DER TRÄUMENDEN BÜCHER
(The City of Dreaming Books)
with illustrations of Florian Biege
Knaus
Bookholm is the « City of Dreaming Books », where books are not only gripping or funny but can also make people go crazy or kill them. Walter Moers' fantastic adventure story featuring the young poet Hildegunst von Mythenmetz, who gets to the bottom of the secret of a perfect manuscript, has been capturing the imagination of readers all over the world. This tale from the realm of adventure that is literature is now available as a sumptuous graphic novel. Walter Moers has spent years adapting the text of his novel and sketched out hundreds of pictures, which Florian Biege has congenially transformed into a brilliant and vividly colourful comic. The result is two amazing volumes, a film-like version of the original novel, complete with a glossary and fold-out panorama tableau (volume 1) and a « Making of » (volume 2).
Bookholm #1
November 2017
BOOKHOLM tells how Hildegunst gets to the City of Dreaming Books, how he ends up in the catacombs, where book hunters threaten his life and he comes across the mysterious tribe of Booklings.
The Catacombs #2
January 2018
THE CATACOMBS tells of how Hildegunst has to flee from the Bookling community to escape the wicked book hunters, finally meets the shadow king and sets off back to the surface of Zamonia.
A coming-of-age graphic novel about expression, rebellion, ambition and acceptance painted against the backdrop of Mumbai's ever changing and evolving street-culture
GRAFITY'S WALL
by Ram Venkatesan
Unbound, November 2018
When an aspiring street artists by the name of Grafitywatches the tenements outside his home being razed, he finds an unlikely canvas at the one wall still leg standing in the debris. Over the next weeks, he begins creating a mural on the wall, one that chronicles the lives of his friends. A local low-level fixer named Jay who harbors dreams of being a rapperti a brilliant and awkward boy named Chasma who writes love letters in his breaks between waiting tables at a local Chinese restaurant; and Saira, an aspiring actress with ambitions so fierce that they threaten to consume her and all those around her. As the mural progresses, the story gives us glimpses into these incandescent lives, their hopes and dreams both inspired and impeded by their circumstances, and the impossible city that they live in.
Ram V, is an author and comic book writer from Mumbai. He makes up stories. Sometimes, they have pictures. His short stories and comics have appeared in several anthologies and e-zines. In 2012, he began writing AGHORI which is now  an award nominated series in India. He's since created the graphic novels, BLACK MUMBA and GRAFITY'S WALL. He writes the new QUAKE CHAMPIONS series from Titan Comics and authors the fantasy adventure series BRIGANDS and RUIN OF THIEVES at Action Lab.
A raucous family comedy, a quest saga with a shocking ending, and a penetrating satire of Israeli culture and society
TUNNELS
A Graphic Novel
by Rutu Modan
TBA
In 1987, famed archeologist Yisrael Shebsa thinks he's discovered the burial site of the legendary Ark of the Covenant, containing the original tablets of Moses, and begins digging a tunnel near a Palestinian village to find it, but is forced to abandon the project when the first Palestinian Intifada brings fighting nearby. Many years later, in 2015, Yisrael's daughter Shebsa decides to look for the site and begin digging again.  She hopes to redeem her father's ruined reputation, show up the charlatan who had pushed him out of the university, and win fame and fortune for herself.   She finds the site near the "Separation Wall," and assembles a motley team to help with the excavation.  But as word spreads of her mission, Shebsa begins to lose control of it.  Meanwhile, the Palestinians are digging a tunnel of their own right near by, with different goals.
Rutu Modan first graphic novel, "Exit Wounds", won the prestigious Eisner Award for best graphic novel in 2008.  She has done comic strips for the Israeli newspapers Yedioth Aharonot and Ma'ariv and illustrations for The New Yorker, Le Monde, The New York Times and many other publications.
JABberwocky 2017 London Rights Guide
A New York Times-bestselling paranormal mystery series from blockbuster author Charlaine Harris
THE HARPER CONNELLY GRAPHIC NOVELS
by Charlaine Harris
Dynamite
[slideshow_deploy id='5168′]
When Harper Connelly was child, she was struck by lightning, and ever since she's been able to find the dead and to see the final moments of the dead person's life. She scrapes together a living solving mysterious deaths for anyone who can pay, but the strangeness of her gift makes for a lonely life. Her step-brother and travel companion, Tolliver, helps to lighten the load. But when they show up in Sarne, Arkansas with a mandate to find a missing girl, things get personal—and Tolliver, for the first time, can't help. Charlaine Harris originally wrote this series as regular novels, and then Dynamite picked it up to adapt to graphic novels. The first novel was adapted into three parts, and the second is just one graphic novel.
Charlaine Harris is the author of more than twenty novels, including the #1 New York Times bestselling "Sookie Stackhouse" books, which are the basis for the Emmy Award-winning HBO series "True Blood". Harris's books have sold more than 36 million copies worldwide and are available in more then 35 languages. Her "Aurora Teagarden" mysteries have also been turned into TV movies by Hallmark, and her "Midnight, Texas" series is set to debut soon on NBC.

From the creator of Cat vs. Human comes this adorable, clever journal for the cat lady in all of us
THE CAT LADY'S CREATIVE JOURNAL
by Yasmine Surovec
Andrews McMeel, February 2018  
A cat-themed journal packed with humorous illustrations, doodle pages, activities, checklists, charts, and more.
What badges did your cat earn today—Alarm Clock, Stress Reliever, Hide and Seek Expert, Stealth Swiper?  Fill in the blanks: Describe your most favorite part of having your cat in your life; List the things that scare your cat; Write down your favorite quote about felines.
Charmingly illustrated with the whimsical art of Yasmine Surovec, The Cat Lady's Creative Journal is an irresistible gift for the cat lady in your life!
Yasmine Surovec is the illustrator and designer behind a number of popular online ventures, including https://catversushuman.blogspot.com. Her work has been featured on popular sites such as Apartment Therapy, Craft Magazine, Decor8, I Can Has Cheezburger, and more. She lives in Phoenix, AZ, with her husband, three cats, and puppy.

___________________________________________________________
JEUNESSE
___________________________________________

The Newbery Honor-winning author of Roller Girl is back with a heartwarming graphic novel about starting middle school, surviving your embarrassing family, and the Renaissance Faire
ALL'S FAIRE IN MIDDLE SCHOOL
by Victoria Jamieson
Dial Books for Young Readers, September 2017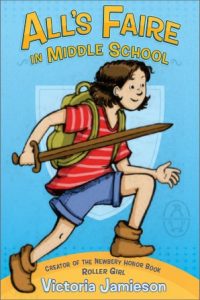 Eleven-year-old Imogene (Impy) has grown up with two parents working at the Renaissance Faire, and she's eager to begin her own training as a squire. First, though, she'll need to prove her bravery. Luckily Impy has just the quest in mind—she'll go to public school after a life of being homeschooled! But it's not easy to act like a noble knight-in-training in middle school. Impy falls in with a group of girls who seem really nice (until they don't) and starts to be embarrassed of her thrift shop apparel, her family's unusual lifestyle, and their small, messy apartment. Impy has always thought of herself as a heroic knight, but when she does something really mean in order to fit in, she begins to wonder whether she might be more of a dragon after all.
Victoria Jamieson is the creator of the Newbery Honor winner "Roller Girl". She received her BFA in Illustration from the Rhode Island School of Design and worked as a children's book designer before becoming a freelance illustrator.
« The graphics are simultaneously menacing and exquisitely clean, superbly honed in a shiny palette of jet, ash, and crimson…a dark yet digestible visual delight with an endearing investigative trio. » — Kirkus
SUEE AND THE SHADOW
by Ginger Ly
illustrated by Molly Park
Amulet Books, September 2017
Meet Suee: Twelve years old, wears her hair to the left in a point, favors a black dress, has no friends—and she likes it that way! When Suee transfers to the dull and ordinary Outskirts Elementary, she doesn't expect to hear a strange voice speaking to her from the darkness of the school's exhibit room, and she certainly doesn't expect to see her shadow come to life. Then things start to get really weird: One by one, her classmates at school turn into zombie-like, hollow-eyed Zeroes. While Suee investigates why this is happening, her shadow gains power. Soon, Suee must confront a stunning secret that her shadow has been hiding under her own two feet—something very dark and sinister that could put Suee and her newfound friends at risk!
Ginger Ly studied design at Seoul Women's University and worked as a designer before earning her master's degree in filmmaking from the Art Institute of Chicago. She lives in the suburbs of Seoul, South Korea.
Molly Park lives in Seoul, South Korea, with two black cats and a mouse, and they all get along very well. SUEE AND THE SHADOW is their debut graphic novel.