COOKBOOKS
Backlist
_______________________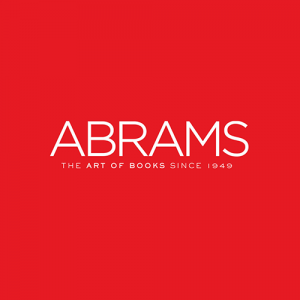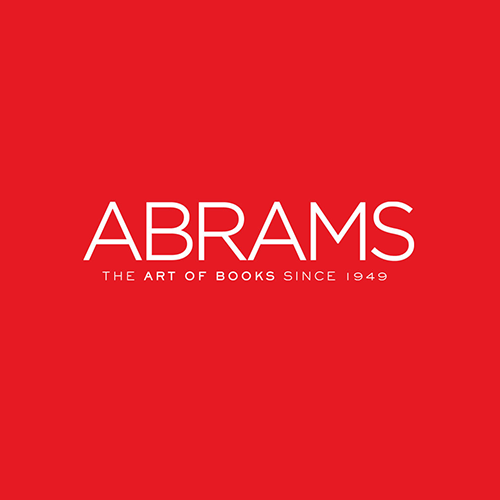 It's time to venture beyond vanilla and chocolate and take your baking skills up a notch. We're talking layers—two, three, four, or more!
LAYERED:
Baking, Building, and Styling Spectacular Cakes
by Tessa Huff
Stewart, Tabori & Chang, April 2016
Create sky-high, bakery-quality treats at home with Tessa Huff's 150 innovative recipes, which combine new and exciting flavors of cake, fillings, and frostings—everything from pink peppercorn cherry to bourbon butterscotch, and pumpkin vanilla chai to riesling rhubarb and raspberry chocolate stout. Including contemporary baking methods and industry tips and tricks, Layered covers every decorating technique you'll ever need with simple instructions and gorgeous step-by-step photos that speak to bakers of every skill level—and to anyone who wants to transform dessert into layer upon layer of edible art.
Tessa Huff is a trained pastry chef, recipe developer, and food stylist and photographer for brands including Better Homes and Gardens, The Kitchn, Brit + Co, and The Cake Blog. Her work has appeared online and in print at Food52, Pottery Barn Kids, Cooking Channel TV, Cake Masters Magazine, BuzzFeed, Yahoo Food, and Babble. Huff was named one of Better Homes and Gardens' 2014 Best Baking Bloggers for her blog, Style Sweet CA.
——————–
Sixty-five recipes, divided by breakfast, lunch, dinner, snacks, dessert, and drinks, each from a character on the show. But don't worry: these dishes are way better than the food the inmates actually eat on the show
ORANGE IS THE NEW BLACK PRESENTS: THE COOKBOOK
by Jenji Kohan, Tara Hermann, Hartley Voss and Alex Regnery
Abrams Image, October 2014
Staffed and run by a band of misfit inmates, the kitchen at Litchfield is in many ways the center of the popular show Orange Is the New Black—a setting for camaraderie, drug smuggling, power struggles, and plot twists. And then there is the food. With 65 recipes, 12 sidebars that expand upon the fiction of the show, and 60 photographs from the show featuring favorite characters and memorable moments, Orange Is the New Black Presents: The Cookbook adds new dimensions to any fan's obsession.
The recipes cover three square meals a day, plus snacks/sides, desserts, and drinks. They include Red's Chicken Kiev, Miss Claudette's Coconut Cake, and Prison Punch. The sidebars include Taystee's sug­gested prison reading list, the recipe for Red's Homemade Homeopathic Remedies, and a prison glossary.
Chock full of in-depth information about the show, including recipe headnotes by the characters, DIY projects that emulate notable props, and prison factoids that help bring the show to life, this cookbook will bring a little piece of Litchfield right into your very own kitchen.
——————–
With a little bit of history and a lot of flavor, The Cocktail Club is a guide for connecting with your friends over the best-tasting therapy around—cock­tails!
THE COCKTAIL CLUB
A Year of Recipes and Tips for Spirited Tasting Parties
by Maureen Christian Petrosky
Stewart, Tabori & Chang, May 2014
Using a format reminiscent of your favorite book club, Maureen Christian Petrosky highlights one specific spirit or drink type each month. Classic favorites like the Martini and the Old-Fashioned, as well as new sips like the Mason Jar Basil Pisco Sour and Blueberry Lavender Vodka Spritzer, will inspire novices and enthusiasts alike to build up their bar vocabulary and taste outside their comfort zone. The book also offers a delicious selection of hors d'oeuvres pairings like Grilled Figs with Prosciutto and Rosemary Lemon Bars. So whether you've been curious about absinthe rinses or want to bone up on your bitters, The Cocktail Club gives you the perfect excuse to pull out your shaker and dip into the art of at-home mixology.
Maureen Christian Petrosky, author of The Wine Club and a popular columnist for TheKitchn.com, regularly appears as a lifestyle expert on NBC's TODAY show. She lives in Bucks County, Pennsylvania, with her husband, Michael, and boys, Christopher and Elliot.



Téléchargez ici la dernière liste des livres illustrés de Crown Publishing
A cozy collection of heirloom-quality recipes for pies, cakes, tarts, ice cream, preserves, and other sweet treats that cherishes the fruit of every season
SWEETER OFF THE VINE:
Fruit Desserts for Every Season
by Yossy Arefi
Ten Speed Press, March 2016
"In Sweeter off the Vine, Yossy Arefi has reimagined fruit desserts in her unmistakable style. These seasonal recipes are rustic and bold, often with an inventive use of whole grains or a thoughtful twist on the familiar. For instance, the Simplest Strawberry Tart is nothing short of a showstopper, while the Blueberry Skillet Cobbler with Whole Wheat Biscuits is easy enough to be a weeknight treat, and the spelt shortcakes make for wonderfully textured partners to roasted stone fruits. This is a vibrant debut.˝ — Tara O'Brady, author of Seven Spoons
"Sweeter off the Vine is ripe with fresh ideas, from fruit-filled fall galettes to summertime cobblers bursting with blueberries. Yossy's book is full of tempting recipes for using the best of the season…all year round!" — David Lebovitz, author of My Paris Kitchen
It's rare to find a cookbook that hits the mark with writing, visuals, and recipes. Sweeter off the Vine manages to captivate in equal measures via seemingly effortless prose, gorgeous imagery,
and most of all, Yossy's fresh take on cooking with the fruits of the season." — Merrill Stubbs, co-founder and president of Food52
"Sweeter off the Vine is a beautiful articulation of gorgeous, seasonal desserts. The recipes are both accessible and nuanced—offering a balance of sweet and savory at all levels. Told with care and charm, this book is warm and inspiring, and invites you to reinvent the common dessert." — Karen Mordechai, author and founder of Sunday Suppers
Celebrate the luscious fruits of every season with this stunning collection of heirloom-quality recipes for pies, cakes, tarts, ice cream, preserves, and other sweet treats. Summer's wild raspberries become Raspberry Pink Peppercorn Sorbet, ruby red rhubarb is roasted to adorn a pavlova, juicy apricots and berries are baked into galettes with saffron sugar, and winter's bright citrus fruits shine in Blood Orange Donuts and Tangerine Cream Pie. Yossy Arefi's recipes showcase what's fresh and vibrant any time of year by enhancing the enticing sweetness of fruits with bold flavors like rose and orange flower water inspired by her Iranian heritage, bittersweet chocolate and cacao nibs, and whole-grain flours like rye and spelt. Accompanied by gorgeous, evocative photography, Sweeter off the Vine is a must-have for aspiring bakers and home cooks of all abilities.
Yossy Arefi is a food photographer, food stylist, former professional baker, and the creator of the award-winning blog Apt. 2B Baking Co. She also runs the Project Dessert column on Food52. Her work has been featured in T Magazine, Bon Appétit,Saveur, Modern Farmer, and Pure Green Magazine, among others.
——————–
A smart, inspiring cookbook showing how to plan, shop, and cook for dinners (and lunches and desserts) all through the week. The secret? Cooking ahead
FOOD52 A NEW WAY TO DINNER:
A Playbook of Recipes and Strategies for the Week Ahead
by Amanda Hesser and Merrill Stubbs
Ten Speed Press, October 2016
A New Way to Dinner teaches readers how to maximize (and enjoy) time in the kitchen. Food52 founders Amanda Hesser and Merrill Stubbs start with flexible base dishes made on the weekend, which are then used in multiple ways for quick weekday meals—just as they cook for themselves and their families. Each author gives menus for every season of the year, providing dependable recipes and clever tips and strategies that yield delicious results. A New Way to Dinner lays out the building blocks of modern meal planning, encouraging readers to be creative, confident, and resourceful in the kitchen all year-round.
Amanda Hesser is the co-founder of Food52 and was previously a writer and editor at the New York Times. She wrote the award-winning books Cooking for Mr. Latte and The Cook and the Gardener. Her last book, a Times bestseller and the winner of a James Beard Award, is The Essential New York Times Cookbook.
Merrill Stubbs is the co-founder of Food52 and has written for many food and lifestyle publications, including the New York Times. She cut her teeth in the test kitchen at Cook's Illustrated and behind the counter at Flour Bakery in Boston before she worked with Amanda Hesser on The Essential New York Times Cookbook.
Also available in the Food52 collection:

——————–
From the New York Times Bestselling author of "Inspiralized" comes…
INSPIRALIZE EVERYTHING
An Apples-to-Zucchini Bible for Spiralizing
by Ali Maffucci
Clarkson Potter, August 2016
Price: $21.99 – Trim: 189 x 234 mm – Approx. word count: 59,484
The spiralizer, a countertop tool that turns vegetables and fruits into noodles (and rice and buns), has revolutionized healthy cooking. Spiralized foods are popping up everywhere from restaurant menus, to morning television segments, to blogs and cookbooks from people like Gwyneth Paltrow, Gina Homolka, Danielle Walker, and Ella Woodward.
Inspiralized, was the first major cookbook to introducing spiralizing to home cooks everywhere. Now, INSPIRALIZE EVERYTHING presents 125 brand new recipes with 100 full-color photographs cataloged in an Apples-to-Zucchini encyclopedia, making it easy for readers to find the perfect recipe for their latest farmer's market haul.
The recipes are simple, versatile, and varied, with special attention paid not only to health categories, but also to no-cook, good-for-leftovers, and make-ahead options. Dishes like Shakshuka with Bell Pepper Noodles and Zucchini Ravioli with Basil are sure to excite those who already spiralize and charm those who've been waiting for the right moment to try it.
Ali's site, Inspiralized.com, is the online destination for spiralized recipes. It receives over 2.4 million monthly page views, nearly 12,000 unique daily views, and has over 100,000 Instagram followers. Ali Maffucci is the undisputed leader of the spiralizing movement and with INSPIRALIZE EVERYTHING she makes it even easier to spiralize every meal.
Ali Maffucci combined her deep-rooted love for pasta with her desire for a healthy lifestyle to launch Inspiralized.com in 2013. She recently launched her own spiralizing tool, which is currently available online and from US and UK retailers.

——————–
A love letter showcasing modern dishes influenced by tradition, as well as the rich culture of their surroundings
TASTING ROME
Fresh Flavors and Forgotten Recipes from an Ancient City
by Katie Parla and Kristina Gill
Clarkson Potter, March 2016
"A vivid portrayal of Roman food culture, both traditional and contemporary." —T Magazine
"A fantastically detailed look into Rome's most remarkable dishes… a new classic in the Italian food library." —Saveur
"The survey of Roman food culture [in Tasting Rome] highlights traditional and contemporary dishes alike, proving that you don't need to parlare italiano to master classics like cacio e pepe." —InStyle
Even 150 years after unification, Italy is still a divided nation where individual regions are defined by their local cuisine– mirrors of their culture, history, and geography. But the cucina romana is the country's greatest standout. In TASTING ROME, journalist Katie Parla and photographer Kristina Gill capture Rome's unique character and truly evolved food culture– a culimation of two thousand years of history.
The recipes here, each selected for the story it tells, acknowledge the foundations of the cuisine and demonstrate how it has transitioned to the variations found today: cacio e pepe is not only a peppery condiment for pasta, but also a filling for suppli, fried rice balls; pollo alla romana is served as a summer platter of peppers stewed with chicken, but also deboned and on hearty sandwiches. Parla and Gill focus, too, on cucina ebraica to highlight the role Rome's Jewish communities have had, bringing dishes such as hraimi con couscous, which incorporates spicy amberjack, and matzoh fritters, pizzarelle, with honey and pine nuts; celebrate the authentic quinto quarto ("the fifth quarter") offal, and luscious verdure, which grow all over; acknowledge the baked pizzas and breads that anchor everyday eating; and explore the ever-changing culture of sweets and cocktails.
With its forgotten recipes, beloved favorites, and street food innovations, the book transports all the flavors of Rome into your kitchen. Narrative features revealing bits of history and gorgeous photography that highlight both the food and its hidden city will immediately inspire you to start Tasting Rome.
Katie Parla is a Rome-base food and beverage journalist, culinary guide and educator. She is the author of the blog ParlaFood.com. She moved in Italy in 2003 and has written or contributed to more than twenty food and travel guides.
——————–
MARTHA STEWART
Martha Stewart is an American business magnate, author, editor and homemaking advocate. She is also a former stockbroker and fashion model. Over the last two decades Stewart has held a prominent position in the American publishing industry; as the author of several books, hundreds of articles on the domestic arts, editor of a national homekeeping magazine, host for two popular daytime television programs, and commercial spokeswoman for K-Mart. In 2001 she was named the third most powerful woman in America by Ladies Home Journal.
An essential resource for every cook
MARTHA STEWART'S VEGETABLES:
Inspired Recipes and Tips for Choosing, Cooking, and Enjoying the Freshest Seasonal Flavors
Clarkson Potter, September 2016
In this beautiful book, Martha Stewart—one of America's best-known cooks, gardeners, and all-around vegetable lovers—provides home cooks with an indispensable resource for selecting, storing, preparing, and cooking from the garden and the market. The 150 recipes, many of which are vegetarian, highlight the flavors and textures of everyday favorites and uncommon varieties alike. The recipes include:
• Roasted Carrots and Red Quinoa with Miso Dressing
• Swiss Chard Lasagna
• Endive and Fennel Salad with Pomegranate Seeds
• Asparagus and Watercress Pizza
• Smoky Brussels Sprouts Gratin
• Spiced Parsnip Cupcakes with Cream Cheese Frosting
Martha Stewart's Vegetables makes eating your greens (and reds and yellows and oranges) more delicious than ever.
——————–
Using just one pan, you can stew, steam, sauté, simmer, braise, or roast your way to a fuss-free meal—and minimal cleanup to boot

ONE POT
120+ Easy Meals from Your Skillet, Slow Cooker, Stockpot, and More
Clarckson Potter, September 2014

At the end of a busy day, you want to serve a delicious home-cooked dinner, a complete, all-in-one meal that can be prepared with little effort and few pans to wash. The editors of Martha Stewart Living present a brand-new collection of 120 recipes—organized by vessel—to help you do just that, all while adding savory new dishes to your weekly rotation.
One Pot is an exciting new way to approach everyday cooking: Imagine perfect pasta dishes for which everything goes in the pot at once (yes, that's pasta, tomato, garlic, basil, and water all cooked together), dinner-party ready roasts with tender vegetables, and down-home casseroles, along with wholesome fish, chicken, and vegetarian dishes. You'll get incredible flavor payoff from dishes such as comforting Chicken and Dumplings, easy Baked Risotto with Carrots and Squash, healthy Broiled Striped Bass with Tomatoes, hearty Pork Chops with Bacon and Cabbage, and the delectable Skillet Chocolate-Chip Cookie—each of which takes less than an hour from start to finish. Here, too, are a dozen outstanding recipes for surprising and simple desserts that can be ready when you are.
——————–
It's time to hit the reset button

CLEAN SLATE
A Cookbook and Guide: Reset Your Health, Detox Your Body, and Feel Your Best
from the editors of Martha Stewart Living
Clarckson Potter, December 2014
This book emphasizes eating clean, whole, unprocessed foods as part of a primarily plant-based diet, with delicious and healthy recipes that make it easy to do just that. Refreshing juices and smoothies, savory snacks, protein-packed main dishes, and even delectable desserts will keep you satisfied all day long; among them are plenty of vegan, vegetarian, gluten-free, and allergen-free options, each identified by helpful icons. Comprehensive, informative, and utterly satisfying, Clean Slate is the complete go-to guide for boosting your energy and feeling your best.
More than just a cookbook, Clean Slate, from the editors of Martha Stewart Living, provides you with the nutritionally sound information you need to shop for and prepare food that nourishes body and mind. You'll find guidelines for restocking your pantry with whole grains, beans and legumes, lean proteins, and healthy fats; glossaries of the best sources of detoxifiers, antioxidants, and other health-boosting nutrients; and menus for a simple 3-day cleanse and a 21-day whole-body detox, with easy-to-follow tips and strategies for staying on track.



From the founders of Bare Bones Broth Company, 125 delicious recipes for making and cooking with the latest food trend that's taking the culinary and wellness communities
THE BARE BONES BROTH COOKBOOK
by Katherine & Ryan Harvey
HarperWave, January 2016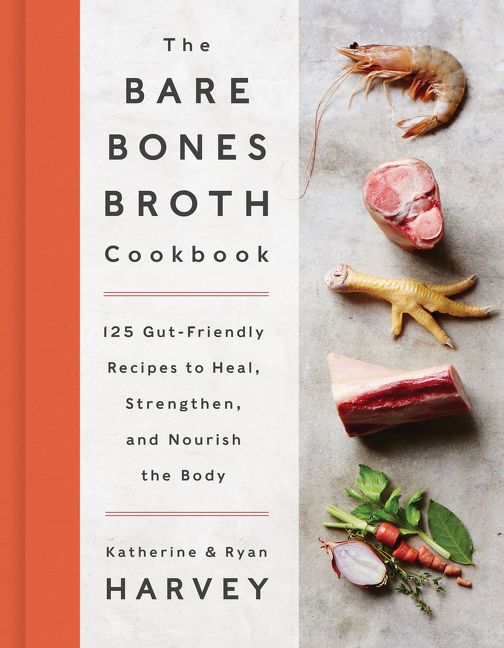 Bone broth is one of mankind's oldest foods—and healthiest, boasting one of the most complete nutritional profiles of any food on earth. The collagen, bone, skin, marrow, and fat that is extracted when animal bones simmer in water for hours (or days) are the building blocks of life, containing proteins that help to combat inflammation; boost immunity; strengthen bones; improve hair, skin, and nails; and help a host of digestive issues by promoting optimum gut health.
In THE BARE BONES BROTH COOKBOOK, Kate and Ryan Harvey show readers how simple, inexpensive, and delicious it is to make their own nutrient-rich broth at home. With foolproof directions for slow-cooking your own broth and more than 100 inventive ideas for incorporating it into everyday meals in delicious new ways, The Bare Bones Broth Cookbook includes:
• 10 signature broth recipes, from beef and chicken to fish and vegetable recipes
• Soups and stews such as Coconut Chicken Curry and a Classic Pho
• Eggs and breakfast, including a Root Veggie Hash and Paleo Eggs Benedict
• Meat and seafood entrees, from Pan-Roasted Fish Tacos to Lamb Apple Mint Burgers
• Sides and salads, such as the Braised Baby Beet Salad with Kale or Glazed Plantain Fries
• Sauces and spreads, including Chimichurri sauce, bacon jam, and cilantro salsa
Discover the amazing health benefits of bone broth—the power of delicious food is only a stockpot away with The Bare Bones Broth Cookbook.
Kate and Ryan Harvey are the founders of Bare Bones Broth Co. Ryan is a former Navy serviceman who went to culinary school and learned how to make delicious and nutritious food that fueled his grueling athletic pursuits. Kate is a journalist with an interest in diet and nutrition.
——————–
A revered Iron Chef shows us how to make flavorful, exciting traditional Japanese dishes at home
MASTERING THE ART OF JAPANESE COOKING
by Masahuru Morimoto
Ecco, November 2016
304 pages + 177 color images throughout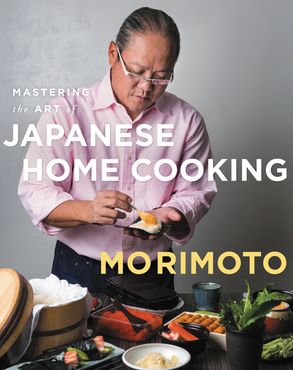 Japanese cooking has a reputation for complexity, a cuisine best left to experts who have devoted their lives to their craft. In MASTERING THE ART OF JAPANESE HOME COOKING, master chef Masahuru Morimoto, owner of the wildly popular Morimoto restaurants, demystifies this art for the everyday chef, revealing surprisingly easy and satisfying techniques for creating the light, healthful, and simple dishes that characterize Japanese cuisine. From sauces, soups, and stocks to rice bowls, teriyaki, and yakitori, Morimoto offers sophisticated, playful riffs on traditional Japanese dishes that also incorporate Western flavors and techniques to create a unique fusion. As he concentrates on one ingredient or one method, Morimoto shows us the magic of Japanese food-the way that building a pantry of half a dozen flavorful ingredients allows home cooks access to hundreds of delicious dishes, and empowers them to create their own.
From recipes for beef-wrapped scallions to mackerel simmered with miso, Japanese potato croquettes to udon and miso soup, Mastering the Art of Japanese Home Cooking brings home cooks closer to the authentic experience of Japanese cuisine, all while unveiling the little details that anyone can employ-the right ratios of ingredients in sauces, the proper order for adding seasonings-that make the difference in building dishes that merge simplicity with exquisite flavor and visual impact and create truly memorable meals.
Masahuru Morimoto, born and raised in Hiroshima, Japan, learned the art of sushi and traditional Kaiseki cuisine by training under several of his country's esteemed master chefs. After being the chef-owner of a restaurant in Japan for five years, Morimoto joined the highly acclaimed Nobu restaurant in New York City. Morimoto opened his own restaurant, Morimoto, in Philadelphia in 2002 and a second one in New York City in 2006, and is the executive chef at Wasabi by Morimoto in Mumbai and New Delhi and Morimoto Sushi Bar in Boca Raton, Florida. He also has restaurants in Napa, Chicago, Mexico City, Maui, and Waikiki. Morimoto has competed on the Japanese television show Iron Chef and also appears on the Food Network's Iron Chef America.

Janis Donnaud & Associates

A complete first-of-its-kind guide to healthy, flavorful Korean cuisine for the home cook by the YouTube star and the world's foremost authority on Korean cooking
MAANGCHI'S REAL KOREAN COOKING:
Authentic Dishes for the Home Cook
by Maangchi
Rux Martin Books – Houghton Mifflin Harcourt, May 2015
Her millions of fans compare her to Julia Child. An Internet sensation, Maangchi has won the admiration of home cooks and chefs alike with her trademark combination of good technique and good cheer as she demonstrates the vast and delicious cuisine of Korea. In Maangchi's Real Korean Cooking, she shows how to cook all the country's best dishes, from few-ingredient dishes (Spicy Napa Cabbage) to those made familiar by Korean restaurants (L.A. Galbi, Bulgogi, Korean Fried Chicken) to homey one-pots like Bibimbap.
With her step-by-step photos—800 in all—Maangchi makes every dish a snap. A full glossary, complete with photos, explains ingredients. Throughout, Maangchi suggests substitutions where appropriate and provides tips based on her readers' questions.
Korean cuisine is inherently healthy, flavorful and easy to prepare and has been growing rapidly in international popularity, yet amazingly there is no there is no definitive, accessible guide to authentic Korean cuisine currently available for the home cook. Maangchi to the rescue!
Maangchi's incredibly popular Website and YouTube Channel have each received millions of views, and her name has become synonymous worldwide with accessible Korean cooking. Her devoted fans flock to her cheerful sites for in-depth knowledge, approachability and her sense of cooking fun and adventure.



The ultimate dessert pairing guide: sixty desserts and sixty ice creams that simply have to go on top!
A LA MODE:
120 Recipes in 60 Pairings: Pies, Tarts, Cakes, Crisps, and More Topped with Ice Cream, Gelato, Frozen Custard, and More
by Bruce Weinstein and Mark Scarbrough
St. Martin's Griffin, June 2016
Are you ready to take your baking over the top? Here are sixty decadent and delightful ice creams and the sixty desserts that are their vehicles. A la Mode offers not just solid dessert recipes, from raspberry oat bars to bear claws, from chocolate pecan pie to a white chocolate pavlova, but also gives you the unforgettable pairings that make these desserts smash hits: apple cranberry pie with Camembert ice cream, chocolate sheet cake with salt caramel frozen custard, and espresso cream jelly roll with mascarpone ice cream.
Let's face it: vanilla can sometimes be so… vanilla. A great a-la-mode pairing should be as decadent as finding the perfect wine to go with your cheese plate. With A la Mode, IACP winners and cookbook dynamos Bruce Weinstein and Mark Scarbrough show you how to create innovative delights such as creamy hazelnut gelato atop coffee-poached pears, or maple frozen custard with a mouthwatering cinnamon roll cake, alongside simpler classics like confetti ice cream with layered vanilla birthday cake. You haven't lived until you've had peanut brittle pie with popcorn ice cream, a Cracker Jack fantasy!
Because what's a warm pie without ice cream? With A la Mode, you won't have to answer that question!
Bruce Weinstein and Mark Scarbrough are QVC favorites with five sell-out appearances. They've appeared on everything from the Today show to corporate-sponsored events making ice cream, gelati, sherbets, and sorbets. They're also experts on the desserts that pair with these frozen treats, having written bestselling brownie and cookie books and all-purpose cookbooks with desserts aplenty and countless features for Fine Cooking, Eating Well and The Washington Post. Their cooking podcast, "Cooking with Bruce and Mark," is available on iTunes.