Debut author Ella Bordeaux brings you a very heartwarming and emotional first book in her new series
BEAUTIFUL
by Ella Bordeaux
Digital Edition, June 2016
Skylar Woods unknowingly drew Wyatt Smith toward her. He wanted … needed to learn everything about her. Though he sensed her beauty was more than just skin deep, Wyatt struggled to understand the sadness she attempted to mask with an amazing smile. When Skylar's eyes met Wyatt's for the first time, her breath caught and she couldn't look away from the new guy standing in the school office smiling at her. The connection only grew when Wyatt sat next to her in English class, allowing Skylar to dare to believe he might actually be interested in getting to know her. For the first time in months, she felt alive.
The moment Wyatt expressed an interest, the notes started again … the ones that reminded her of a past she could never move beyond—the event that changed her life forever and robbed her of any chance of happiness. Never believing the rumors being spread around school about Skylar, Wyatt made sure he went out of his way to prove how much he cared about her. But when the past resurfaces, will Wyatt stand by her side? Or will he turn against her like everyone else?
Writing young adult fiction under the pen name of Ella Bordeaux, Kelly Elliott is a New York Times and USA Today bestselling contemporary romance author. Under the name Kelly Elliott, she has sold more than 1.5 million copies.
——————–
An interconnected group of friends hook up, break up, and much, much more…
THE SEA BREEZE SERIES
by Abbi Glines
Simon Pulse
MISBEHAVING
December 2013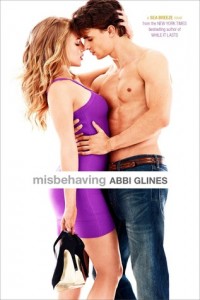 Jason is sick of living in his rock star brother's shadow. So when he ships off to Sea Breeze, Alabama, he's looking for a much deserved escape and a chance to blow off some envious steam.
Falling for the local bad girl was definitely not the plan. But as the new duo enjoys some naughty fun in the Alabama sun, Jason learns that even though Jax is the musician in the family, he's not the only brother who can rock someone's world.
1d
1
1
——————–
SOMETIMES IT LASTS
August 2013
Cage York has to choose between a love of the game and a love of the girl. After waiting for his big break, bad boy Cage York is finally called up to prove his worth in the college baseball arena.
But when Cage's girlfriend, Eva, mourns the sudden loss of her father, it's not Cage's comforting arms she runs to, but those of her former fiancé's twin brother, Jeremy. Torn between his baseball dream and the girl of his dreams, Cage must prove he's worthy of Eva's love, or risk losing her to Jeremy forever.
1
1
1
——————–
WHILE IT LASTS
August 2012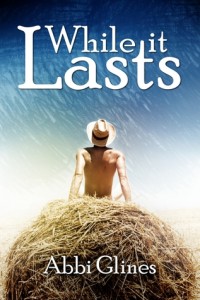 Maybe driving home after a few (or more) shots of tequila had been a bad idea. Cage has a free ride to the local junior college for baseball – or he did. Now, Cage has to give in to his coach's demands and spend his summer baling hay.
Cage isn't real happy with his closet-sized bedroom in the back of a foul smelling barn, or his daily interactions with cows, but he knows that if he doesn't make his coach happy then he can kiss his scholarship goodbye. Just him and the damned cows. And an uptight, snarky brunette with the biggest blue eyes he's every seen. But she doesn't count, because as hard as he's tried to charm her out of her panties – he's pretty sure she'd rather see him hung from the rafters than let him get a taste of her pretty little lips.
1
——————–
BECAUSE OF LOW
February 2012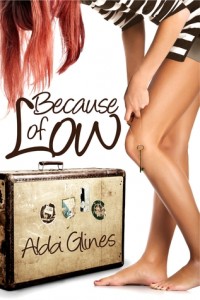 Willow "Low" Foster needs a place to live. Running to Cage's apartment every time her sister kicks her out isn't exactly a long term solution. But Cage has a new roommate and suddenly sleeping over at her best friend's apartment isn't such a bad thing. Not when she gets to see those sexy green eyes of Marcus Hardy's twinkle when he smiles at her like he wants her there.
Cage may use his small college baseball star persona to sleep with every hot female in his path but he's still under the disillusion that when he's through sowing his wild oats, he's going to marry Low. Marcus intends to change that assumption for both Cage and Low. Until his carefully laid plans come crashing down with a revelation he never expected. He'll have to choose between Low or his family. Because once the truth comes out…. there's no other choice.
——————–
BREATHE
May 2011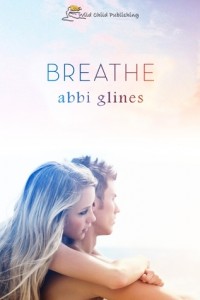 Sadie White's summer job isn't going to be on the beach life-guarding or working at rental booths like most kids her age. With her single mother's increasing pregnancy and refusal to work, Sadie has to take over her mother's job as a domestic servant for one of the wealthy summer families on a nearby island. When the family arrives at their summer getaway, Sadie is surprised to learn that the owner of the house is Jax Stone, one of the hottest teen rockers in the world.
Even though Sadie isn't impressed by Jax's fame, he is drawn to her. Everything about Sadie fascinates Jax but he fights his attraction. Relationships never work in his world and as badly as he wants Sadie, he believes she deserves more. By the end of the summer, Jax discovers he can't breathe without Sadie.
——————–
Will Scarlett find the happiness she's looking for, or will she be caught in Tucker's aftermath?
THE OFF THE SUBJECT SERIES
by Denise Grover Swank
REDESIGNED
digital edition, April 2013

BUSINESS AS USUAL
digital edition, June 2014
In AFTERMATH, Scarlett Goodwin's world is divided into Before and After. Before she agreed to tutor Tucker Price, college junior Scarlett was introvert, struggling with her social anxiety and determined to not end up living in a trailer park like her mother and her younger sister. After junior Tucker Price, Southern University's star soccer player enters the equation, her carefully plotted life is thrown off its axis. But from her first encounter, she realizes Tucker isn't the person everyone else sees… In REDESIGNED, fashion design major Caroline Hunter meets mathematics grad student Reed Pendergraft. Reed is everything she's not looking for. Serious. Boring. But an encounter with Reed in a club proves she might have pegged him wrong. In BUSINESS AS USUAL, Ben is falling in love with Lexi Pendergraft. The only problem is his boss: Reed Pendergraft, Lexi's overprotective brother.
——————–
 Sometimes letting someone go is the ultimate act of love
THE SHATTERED HEARTS SERIES
by Leo Cassia
Claire Nixon is a college student with a past full of secrets and heartbreak. When Claire encourages her first love Chris to leave town to pursue his dreams of musical stardom, both Claire and Chris don't realize this will be the biggest mistake of their lives. One year after Chris leaves on tour, Claire has carved out a new life for herself in a new city far away from the life she left behind with Chris. On a fateful morning, she meets sexy surfer Adam Parker…
Also available: ABANDON (digital edition, January 2014). This full-length novel is a spin-off of the Shattered Hearts Series but it can be read as a stand-alone. A steady stream of meaningless sex is all Tristan has left when he discovers the grandmother who raised him is dying and his best friend is getting married. He is lost; and the dark secrets in his past keep coming back to remind him of this. Until Tristan has an idea that will change his life and fulfill his dying grandmother's wishes: abandon his playboy ways and settle down. And who better to do it with than Senia, the only girl who makes him laugh and feel like a kid again?
But when his world begins to crumble around him, the pain Tristan is hiding finds its way to the surface. Will Tristan finally learn to trust again? Or will he abandon his chance at real love?
An epic love story about rewriting destiny
BLACK BOX
Cassia Leo
digital edition, March 2014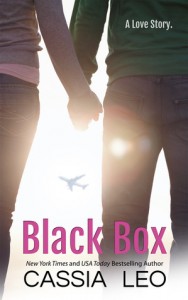 Over the course of five years, Mikki and Crush cross paths on three separate occasions. Their first encounter changes Mikki's life forever, but their second meeting leaves them both buried beneath the emotional wreckage of a violent attack. Mikki is left with more questions and grief than she can handle, while Crush is forced to forget the girl who saved his life.
When Mikki and Crush cross paths for the third time in Terminal B, neither has any idea who the other person is; until they slowly piece together their history and realize that fate has more in store for them than just another love story.
1
1
——————–
The first of a new series
TAKE ME FOR GRANTED
by K.A. Linde
digital edition, April 2014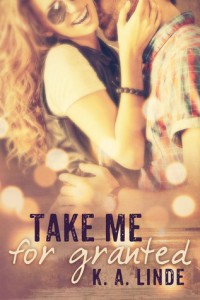 Grant: Manwhore. Adrenaline junkie. Lead singer of ContraBand. What you see is what you get. He makes no apologies for his actions, and by now no one expects any from him. He lives his life the way he wants and as long as it pushes the demons back, then he's solid. He's never needed a chick for more than a good lay. Why would he need just one when he can have a different one every night? Until she walks into his world.
Aribel: Mouthy. Perfectionist. Princeton student. Chemistry major. Oh, and virgin. But she's only nineteen and has more important things to concern herself with. What really matters is finishing her degree and getting a good job. She's worked hard for what she wants and does what's expected of her. She doesn't need anyone to get in her way. Until he opens up her world.
The publication date of the second book of the TAKE ME series is still to be announced.
————————-
Can they survive their first love? Or will they be left with nothing more than shattered ties?
TIES : THE SERIES
by K.A. Robinson
SHATTERED TIES: With a former supermodel mother and a rock-and-roll legend father, Emma Preston has the best of everything. Quite a the opposite, growing up in a trailer park with his mother, Jesse is used to people looking down on him. When his mother begs him to submit an application for a scholarship to one of Santa Monica's top private schools, he never expects to actually get it. Jesse tries to hate Emma, but he discovers that he can't resist her. Forced to hide their relationship from Emma's mother and everyone else around them, things start to fall apart. When Jesse's friend, Ally, decides to interfere, things go from bad to worse.
BREAKING ALEXANDRIA: Alexandria's drug-dealing boyfriend, Joel, isn't exactly the white knight she's always dreamed of, but she can't deny the crazy connection they have. She would do anything for him, including helping him sell drugs in order to fit perfectly into his world. After catching Alexandria dealing for Joel, Alexandria's mother forces her to move to her grandparents' farm in West Virginia. Spending the summer in the country, away from Joel, is the last thing Alexandria wants to do. But lucky for her, the sexy farmhand, Landon, who helps out around her grandparents' place, is a very nice distraction.



The first book in a charming, sexy new adult series in the vein of Cora Carmack
MAKE IT COUNT
(The Bowler University #1)
by Megan Erickson
William Morrow Impulse June 2014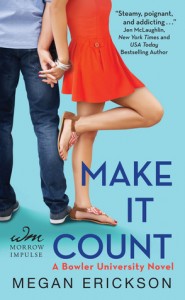 Kat Caruso wishes her brain had a return policy, or at least a complaint hot-line. The defective organ is constantly distracted, terrible at statistics, and absolutely flooded with inappropriate thoughts about her boyfriend's gorgeous best friend, Alec…who just so happens to be her brand new math tutor. Who knew nerd was so hot?
Kat usually goes through tutors like she does boyfriends—both always seem to bail when they realize how hopeless she is. It's safer for her heart to keep everyone at arm's reach. But Alec is always stepping just a little too close.
Alec Stone should not be fantasizing about Kat. She's adorable, unbelievably witty, and completely off limits. He'd never stab his best friend in the back…
But when secrets are revealed, the lines of loyalty are blurred. To make it count, Alec must learn messy human emotions can't be solved like a trigonometry function. And Kat has to trust Alec may be the first guy to want her for who she is, and not in spite of it.
Next title of this series: MAKE IT COUNT (tba)
——————–
A sizzling, funny, and deeply emotional tale of passion and secrets, deception and forgiveness
FORGIVING LIES : THE SERIES
by Molly McAdams
Undercover cop Logan « Kash » Ryan can't afford a distraction like his new neighbor Rachel Masters, even if she's the most beautiful woman he's ever seen. To catch a serial killer, he needs to stay focused, yet all he can think about is the feisty, long-legged coed whose guarded nature intrigues him.
Deceived and hurt before, Rachel would rather be a single, crazy cat lady than trust another guy, especially a gorgeous, tattooed bad boy with a Harley, like Kash. But when his liquid-steel eyes meet hers, it takes all of Rachel's will-power to stop herself from exploring his hot body with her own.
As much as they try to keep it platonic, the friction between them sparks an irresistible heat that soon consumes them. Can Kash keep Rachel's heart and her life safe even as he risks his own? Will she be able to forgive his lies … or will she run when she discovers the dangerous truth?
——————–
New York Times and USA Today bestselling author Molly McAdams's powerful new novel offers one of the most memorable love triangles in fiction since Twilight – perfect for fans of New Adult fiction writers like Jamie McGuire, Abbi Glines, and Tammara Webber
I SEE YOU
by Molly McAdams
William Morrow Paperbacks, November 2016
Futures are uncertain, unpredictable—like ink spilled across the purest surface. Nearly imperceptible ripples move and flow until a unique stain is formed. The ink is permanently embedded in the surface….
During one wild night in college, Jentry Michaels is a tidal wave of ink that brands Aurora Wilde's soul. An unparalleled stain she can't forget, despite the many months that have passed—and despite the distraction she'd hoped she would find in her new relationship with Declan, the charmer who captured her heart soon after. Jentry has irrevocably touched her soul, and he is intertwined in her present and future in ways she never fathomed. Now Aurora is faced with keeping that night hidden, though it feels as if the ink has indelibly etched their story across her skin. When Declan is confronted with his own personal demons, Aurora must decide if she will continue to hold right to their relationship and a safe, reliable future with him, or if she will turn to Jentry—the guy she can't forget no matter how hard she tries.
Molly McAdams is a New York Times bestselling author of several novels.
——————–
New York Times and USA Today bestselling author Jill Shalvis launches a fun, sexy new contemporary romance series featuring a boy, a girl, and one wily wishing well
SWEET LITTLE LIES
(Heartbreaker Bay #1)
by Jill Shalvis
Avon, June 2016
All it takes is one wish to gain your heart's desire, but with this wishing well, you better be ready for the fates to throw you a curveball….Finn is the brains behind the bar he runs with his wild brother, but with the passing of their mother it feels like he's just going through the motions. When the pretty and feisty Pru appears he realizes there might be more to life with this sexy, adventurous girl. Pru made a wish, but not for herself. New to town, she made a wish for Finn…that he might fall in love and find the happiness he deserves. But as she helps him find joy in every fun, quirky way possible, Pru realizes she's in over her head—and her heart.
Like Robyn Carr, Susan Mallery and Kristan Higgins, Jill Shalvis has made a name for herself by writing fan favorite romances set in small, tightly knit communities. With the leap to a fictional West Coast town for the first time ever, this series is sure to open Jill up to even broader appeal.



Welcome to Silicon Valley, where fortune, success – and betrayal – are only a breath away…
THE START-UP SERIES
by Sadie Hayes
In THE SOCIAL CODE, eighteen-year-old twins Adam and Amelia Dory learned the hard way to rely only on each other, growing up in a small town where they understood the meaning of coming from nothing. But everything changes when both are offered scholarships to Stanford University – and catapulted into the dazzling world of Silicon Valley, where anyone with a good enough idea can skyrocket to fame and fortune in the blink of an eye…
In THE NEXT BIG THING, Amelia and Adam's new company, Doreye, may have won over Silicon Valley, but the trouble is far from over. After facing down skepticism, a meddler from their past and a saboteur who makes their app malfunction right when it matters most, drama suddenly seems to be brewing within the ranks. While Adam has money signs in his eyes and enough charm to win over the investors, Amelia decides she wants to give away their app for free, leading to discord and a separation of responsibilities—and power. Can Amelia find a way to save their company before it's too late?
——————–
A breathtaking novel about love, loss, and the experiences of youth that define who we become
THE MAP THAT LEADS TO YOU
by JP Monninger
Summer 2017
« Romantic and Unforgettable »- Nicholas Sparks
A romantic, vivid novel, THE MAP THAT LEADS TO YOU takes place in the tender time of a young woman's life: Heather has just graduated from college and is traveling around Europe for the summer with her two best friends before starting her first job in New York in the fall. It's the time when you've left school responsibility behind, and adult responsibility is looming, but this is your one, ONE last summer to be free. Heather doesn't expect to even meet Jack, let alone fall in love with him. Jack is an enigmatic Vermonter a few years older than she is, who is following his grandfather's journal to various cities around Europe. The journal is near and dear to Jack's heart, as it was something his grandfather also cherished and documented all his travels in Europe, after serving during WWII. Jack is set on seeing the places his grandfather traveled to and sharing his experiences with Heather, and it becomes a shared experience for both of them. But in the same way that forces are bringing Jack and Heather together, life and duty are pushing them apart. And Jack has a secret that is going to change absolutely everything.
——————–
The first book in a sexy, edgy New Adult series perfect for fans of Abbi Glines and Colleen Hoover
BEAUTIFUL ADDICTIONS
by Season Vining
St. Martin's Giffin, June 2014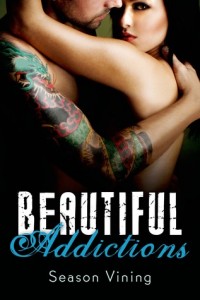 When Josie disappeared years ago, she took a piece of Tristan with her. She's the girl he thought he lost forever—the one he's never been able to forget. Now a twist of fate has brought them back together again, and he never wants to let her out of his arms. But Tristan is haunted by a dark past of his own. On the run from ruthless criminals that shattered Josie's world years ago, reentering her life puts them both in grave danger.
As Josie and Tristan's lives become tangled once again, they find themselves unwilling and unable to escape the relentless pull that draws them together. But will the past leave their love in ruins or bind them together for a lifetime?


Fans of Debbie Macomber and Robyn Carr will love Chase's engaging and accessible writing style
ONE MORE KISS
Band on the Run #1
by Samantha Chase
Sourcebooks Casablanca, February 2017

Matt Reed was living the dream, until a bad career move sends him back to his hometown for much-needed privacy. Instead he finds someone he never expected: the woman whose steamy kiss he remembers like it was yesterday.
Vivienne Forrester finally has her life in order…until Matt moves back to town. She doesn't want to think about the time she threw caution to the wind with him, but running into him everywhere, it's impossible not to…
New York Times and USA Today Bestseller Samantha Chase released her debut novel, "Jordan's Return", in November 2011. "Stay With Me" (Montgomery Brothers book 3) hit the USA Today bestseller list upon its debut. « Catering to the CEO » was included in the romance bundle « Loving the CEO » – a five-book package that made the New York Times and the USA Today Bestseller list. In March 2013, « The Christmas Cottage » was nominated for two Indie Romance Convention Awards – Best Indie Romance Novella and Best Indie Contemporary Romance, while Samantha was nominated for Indie Author of the Year.