BACKLIST

lbla
lorella belli literary agency
How to change your life in your coffee break
EMPOWERED!
by Ann Mulliner
Panoma Press, February 2013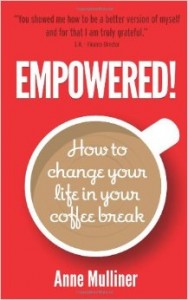 Are you stuck and disillusioned with life but don't know what to do? Are you resisting putting yourself forward for better career opportunities because you are afraid that you may fail? Are you sleepwalking through life, feeling like it is all out of your control? If you answered yes to any of these questions – then you need this book. It is full of stories, exercises and anecdotes to shift you from that stagnant rut you are stuck in and give you the tools, techniques and strategies to find a new zest and zing for life where you can be the authentic Empowered! version of you.
Anne Mulliner is an award winning executive coach and leadership development expert who works with clients all over the world, sharing her passion for getting them to access their full potential and live life at 10 out of 10. She is an accredited master coach, behaviour specialist and image consultant.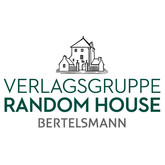 The secret of serene people
DAS GELASSENHEITSTRAINING
(The Composure Training
How we can overcome irritation, frustration, and worry)
by Thomas Hohensee
Kailash, July 2014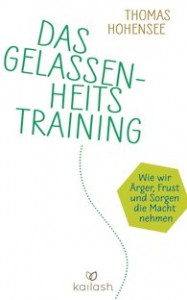 Stress has taken on the characteristic of an addiction in modern society. We go after the thrills – and then are frustrated when we become burned out or need to take medication for high blood pressure. Can composure be learned?
Using the most effective therapeutic methods at our disposal today – attentiveness, cognitive therapy and his special ACT method – Thomas Hohensee has developed an intelligent training program that anyone can easily incorporate into everyday life. Living with more tranquillity will make everything easier.
Thomas Hohensee, born in 1955, worked as a jurist and debt advisor before he trained at the German Institute for Rational-Emotive and Cognitive Behavioural Therapy. He is the author of many successful books and a coach for personality development.
——————————
« Oh, so that's what you meant! »
DER BEZIEHUNGSRETTER
(The Relationship Rescuer
How to simply find surprising solutions)
by Wolfram Zurhorst
Arkana, April 2014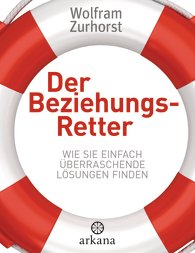 In the joint appearances of the married couple Wolfram and Eva Maria Zurhorst, the popular relationship coaching team, Wolfram has the role of the fast problem-solver. Women and men love his refreshing and pragmatic style of dealing with conflicts in relationships.
In this book he provides solid suggestions applicable in everyday life about how couples can constructively talk with each other in times of crisis. His advice is outstandingly suitable for couples to tear down the walls they have built between themselves to once again be able to encounter each other. A relationship guide with a guaranteed 'Aha' effect, with the potential to save thousands of relationships.
Wolfram Zurhorst was originally trained as a sales representative. As a manager he had made a career in a leading business in textiles before dedicating himself to being a relationship coach.
A book that will teach readers to harness the power of ritual to unlock their unique gifts and create a life of love, wealth, and happiness
YOUR HIDDEN RICHES:
Unleashing the Power of Ritual to Create a Life of Meaning and Purpose
by Janet Bray Attwood, Chris Attwood, Sylva Dvorak
Harmony, October 2014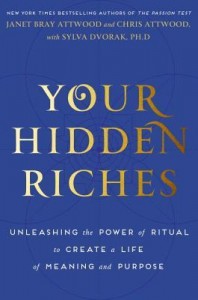 Rituals are the common feature of every ancient culture on Earth. Yet, modern society has lost touch with the power and value of ritual to create a rhythm for daily life, balance, and a connection with others. In the process, many of us have lost touch with ourselves.
YOUR HIDDEN RICHES is a call to reignite the power of personal and community rituals–to sustain us in the midst of an ever-increasing onslaught of information and expectations, and to sustain our world by reawakening the awareness of our interconnection with all life.
Embracing ritual will allow you to finally live the life of health, wisdom, and love that you deserve.
Janet Bray Attwood, Chris Attwood and Sylva Dvorak are the bestselling authors of THE PASSION TEST.
——————————
With the first book on conscious uncoupling, bestselling author and licensed psychotherapist Katherine Woodward Thomas forges a new path for those in the midst of a breakup or divorce
CONSCIOUS UNCOUPLING
Find Freedom from Heartbreak, Reclaim Your Power, and Discover the Joys of Living Happily Ever After
by Katherine Woodward Thomas
Harmony, September 2015
The phrase 'conscious uncoupling ' . . . has academics and social scientists buzzing – USA Today
« =Conscious uncoupling is divorcing without being a jerk. The leader in conscious uncoupling [is] Katherine Woodward Thomas – New York magazine
This five-step plan promises a new way to end a failing relationship that isn't bitter and needlessly painful, but is instead characterized by goodwill, generosity, and respect. Couples will learn how to do minimal damage to themselves, each other, and their children.
When Gwyneth Paltrow announced she and her husband were divorcing and that it was a 'conscious uncoupling' the media and Internet exploded with references to this new way of dissolving relationships. Katherine is a highly respected relationship expert who has worked with more than 200,000 people throughout the world in her live and virtual courses; she also created the five-step program for recovering from a breakup that this book is based upon. Her paid online programs have more than 20,000 graduates (at an average price point of $397), more than 500,000 people from 100 countries have attended her free seminars, and her brand and message are regularly exposed to millions.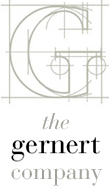 A unique book that will show people from all walks of life the tangible benefits that games can produce
SUPERBETTER
How a Gameful Life Can Make You Stronger, Happier, Braver and More Resilient
by Jane McGonigal
Penguin Press, June 2015
In her New York Times bestseller Reality is Broken, Jane McGonigal, one of the foremost game designers and experts on gaming culture, showed how games could be used on a global scale to fix real world problems like poverty and climate change. In SUPERBETTER, she zooms in on how games, and the engaging, adventurous spirit they foster, can help us on a much more personal level. McGonigal suffered a concussion and battled feelings of depression and helplessness; she devised the game "SuperBetter" to help with her recovery. After extensive research, she found that "SuperBetter" not only helped people deal with traumatic injuries like the one she suffered, but could be beneficial in a range of ways.
The result of years of scientific studies and filled with personal anecdotes, SUPERBETTER is an accessible and engaging guide to bettering your life with profound results. Superbetter is also an app.
Rights sold to: HarperCollins UK (UK & BC) and Herder (Germany)
A renowned personal trainer to Olympic athletes, movie stars, Broadway actors, and supermodels, draws on twenty years of experience to create a powerful three-step fitness approach—combining mindful techniques with effective workouts—to achieve stunning results in only fifteen minutes a day
MIND YOUR BODY
4 Weeks to a Leaner, Slimmer, Healthier YOU in Just 15 Minutes a Day
by Joel Harper
HarperOne, March 2015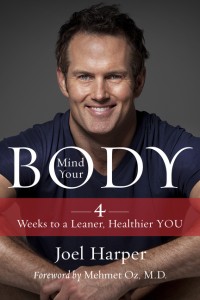 Cutting edge research in the fields of neuroscience and neuropsychology shows that negative thinking prevents people from improving bad health and shedding excess weight. As the research makes clear, your mindset is the crucial factor when it comes to slimming down, toning up, and boosting overall well being.
Joel Harper's MIND YOUR BODY provides simple, effective ways to harness your brainpower to make lasting changes. Utilizing his powerful three-step approach, readers will learn how to quickly and simply access mindful techniques, combine them with effective fifteen minute workouts, and eat simply and deliciously to quickly, efficiently, and effortlessly yield successful weight loss, a leaner and firmer body, reduced stress, improved health, increased happiness, and enhanced energy.
You'll notice improved mood, impulse control, motivation, and energy in just one day. In one week, you will have established new ways of thinking, moving, and eating that will deliver effortless weight loss, energy surges, and more restful sleep. At the end of four weeks, you will have dropped a dress size, lost up to ten pounds or more, shed fat, toned up, doubled your energy levels, and have bulletproof motivation—all thanks to a positive new outlook and fifteen minutes a day. MIND YOUR BODY shows you how.
——————————
Succeeding With Ease in a Fast-Paced World
THE NEW SCIENCE OF SUCCESS
by Emma Seppälä
HarperOne, March 2015
Stanford University Professor Emma Seppälä reveals recent scientific evidence that debunks many of the theories we live by to achieve success. The pace of our lives is increasing at an often overwhelming rate. We believe that in order to be successful we have to be a workaholic; to be productive, stress is inevitable; to be creative, you need angst; to get ahead, you need to sacrifice leisure and family time. Something has to give, and more often than not, the price we pay is our own health and well-being. These theories, says Seppala, are false and counterproductive.  The truth is that the path to achieving what we want, while being happy and healthy enough to enjoy our lives, begins with taking care of ourselves. Using research from a diverse array of psychological and neuroscientific laboratories, THE NEW SCIENCE OF SUCCESS provides compelling evidence that self-care is the key to sustainable, fulfilling and long-term success. 
Dutch rights have been pre-empted by Bruna and Korean rights were sold, at auction, to Korea Economic Daily & Business Publications.
Emma Seppälä, Ph.D., is the Associate Director of the Center for Compassion and Altruism Research and Education at Stanford University. She is the recipient of the James W. Lyons Award from Stanford, where she helped found their first academic class on the psychology of happiness. She is a popular Psychology Today blogger and frequent contributor to Scientific American Mind, The Huffington Post, The Association for Psychological Science Observer, The Greater Good, and Spirituality & Health as well as an invited guest writer for the American Psychological Observer magazine, Mindful, LinkedIn, Blikki, and Care magazines. Originally from Paris, she speaks five languages: English (native), French (native), German (native), Spanish (fluent), and Mandarin Chinese (conversant).
A revolutionary management philosophy
HOLACRACY
The New Way to Achieve Success by Distributing Authority
by Brian J. Robertson
Foreword by David Allen
Henry Holt, June 2015
In the tradition of GETTING THINGS DONE and DELIVERING HAPPINESS, this will be the first book on a revolutionary management philosophy called Holacracy, written by the man who created it, and who first put its principles to use in the founding of a successful software company. Haven't yet heard of Holacracy? You will. It's the most exciting new management philosophy and system since Six Sigma. But unlike Six Sigma and other authoritarian, top-down solutions, Holacracy turns everyone in the organization into a leader. It distributes authority and decision-making throughout an organization, and defines people not by hierarchy and titles, but by roles. In traditional companies, management devises a strategy, which everyone in the organization has to execute. The emphasis is on visionary leaders and loyal workers. When information from the field contradicts the strategy, the people reporting that information are usually told to get with the program or find another place to work. With Holacracy, reports from the field are brought to the people who need to hear them, allowing organizations to evolve in real time, responding to changing markets conditions. There's plenty of management – but no managers. HOLACRACY lays out the groundbreaking philosophy, giving readers the tools they need to adopt this new system at the department level or company-wide. Robertson also gives specific advice for individuals inspired by this philosophy but whose companies won't adopt Holacracy — so that they can make changes in their work life right away.
Is there a way to break through to a new way of thinking and feeling about the profoundly positive things that we conspire with ourselves to overlook? The answer is resoundingly yes : in a word, it's gratitude
THE SUNSHINE DIARIES:
How A Year of Living Gratefully Made Me Happier, Healthier, and Thinner
by Janice Kaplan
Dutton, 2015
THE SUNSHINE DIARIES will be the trend-setting book that makes gratitude a national axiom, the next "big idea" in our evolving conversation about seeking to make our lives more joyful and more satisfying. In these challenging and often difficult times, it's no surprise that a number of books showing the way to happiness have been very successful. However, gratitude is a fresh approach that provides a new pathway to a fuller, more spiritual form of happiness that helps people feel positive, take control of their lives and find new meaning and purpose.
The narrative arc of The Sunshine Diaries will follow Janice's year-long, on-going quest to gain a fresh outlook and transform herself. Her experiences of living gratefully will be anchored by intriguing research findings, as well as interviews with real people, celebrities and neuroscientists and experts in the field. With warmth, humor, and vision, Janice's journey will empower readers to consider psychological and philosophical ideas they may have vaguely understood ("being positive is good") and give them a structure and context. Even small changes can result in deeply significant gains.
Janice Kaplan has enjoyed wide success as a magazine editor, television producer, writer and journalist. As Editor-in-Chief of Parade magazine (which has the highest circulation in the US -35 million copies a week and 72million readers), she earned acclaim for attracting some of the country's best writers and biggest-name celebrities. Her cover stories with public figures ranging from Matt Damon to President Barack Obama drew worldwide attention.
This fully revised 2012 edition of the international best seller, details Ian Gawler's remarkable recovery from cancer in 1975 and his development of an effective self-help program with the key principles of good food, positive attitudes, meditation and loving support
YOU CAN CONQUER CANCER
by Dr Ian Gawler
Amistad, November 2014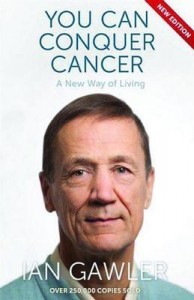 YOU CAN CONQUER CANCER was a revolutionary book when first published in 1984. It has sold more than 250,000 copies worldwide and has been translated into fourteen different languages. This edition is completely updated. It contains whole sections which provide important new information and self – help techniques. The book, remarkable for its clarity enlarges upon what is a truly integrated, holistic approach to cancer; emphasizing nutrition, the power of the mind, meditation, family and social support and the spiritual dimension of life.
.
.
.

Dorie Simmonds
Agency Ltd.
A self-help book crossing multiple generations, offering revolutionary advice – a commercially accessible powerhouse of information
LOOK 30 AT 90
The New Anti-Aging Revolution
by Roxy Dillon
Atria Books/Simon & Schuster, Manuscript due November 2014
Most of us want to live to be very old, but we want to look very young. Most of us would love to be the Queen of Hungary.
Yes, before Kate Middleton and before Pippa, there was a sexy, gorgeous Queen. Her name was Elisabeth and she lived in the fourteenth century. As she grew older she became very sick, wrinkled, and riddled with gout. Then a court alchemist, the nearest thing to an early scientist, made a special herbal preparation based on rosemary for her and within a few years rejuvenated her sick body to the point that the Duke of Lithuania fell hopelessly in love with her and asked for her hand in marriage. The Duke was twenty-five and Elisabeth was seventy! She lived until she was seventy-five, dying in 1380. In the fourteenth century female life expectancy hovered between thirty and forty years, so the herbal preparation appears to have reversed Elisabeth's ill health and aging to an impressive degree. There is no record of how her romance with the Duke progressed, but it must have been quite a boost to attract such a young eligible bachelor! Until very recently modern medical science would have simply dismissed that story as a fairy tale. A childish wish for beauty and long life that all mature, intelligent people leave behind, along with their belief in Santa and the Tooth Fairy.
Now science is daily providing exciting evidence that aging can be reversed to an astonishing degree in real biological terms, something that "realistic", "rational" scientists never before seriously considered to be possible Modern research is proving that rejuvenation, and a long, youthful life, are not fairy tales. They are no longer seen as childish fantasy and foolish dreams. A long life, decades of feeling good and looking young, is scientifically possible, and realistically attainable.
Roxy Dillon is a scientist who has studied at some of the world's most prestigious institutes and universities, including the Burden Neurological Institute. She was the first undergraduate ever chosen to carry out research at this prestigious facility. She was also privileged to carry out research at The Institute of Neurology with Professor Gerald Curzon, a world authority on serotonin, and research on single ionic channels at University College, London, where her supervisor's PhD supervisor was the Nobel Laureate, Sir Bernard Katz. She holds a BSc in Psychology from the University of Bristol, and an MSc in Biochemical Pharmacology from the University of Southampton.
Rights sold in Spain, Portugal, Brazil, Italy and pre-empted in Greece. Offer in from Romania and from Germany



How to solve unsolvable problems
IT'S NOT ABOUT SHARK
The Simple Path from Problem to Answer
by David Niven, Ph. D
St. Martin's Press, November 2014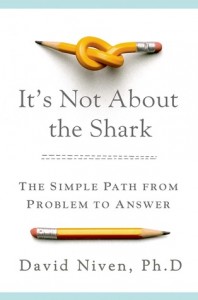 IT'S NOT ABOUT THE SHARK opens the door to the groundbreaking science of solutions by turning problems—and how we solve them—upside down. When we have a problem, most of us zero in, take it apart, and focus until we have it solved. David Niven shows us that focusing on the problem is exactly the wrong way to find an answer. Putting problems at the center of our thoughts shuts down our creative abilities, depletes stamina, and feeds insecurities. It's Not About the Shark shows us how to transform our daily lives, our work lives, and our family lives with a simple, but rock-solid principle: If you start by thinking about your problems, you'll never make it to a solution. If you start by thinking about a solution, you'll never worry about your problems again.
David Niven is known internationally for translating powerful research findings into practical advice anyone can apply to their daily lives. David's THE 100 SIMPLE SECRETS OF HAPPY PEOPLE– and seven other titles in the series – have sold more than 1 million copies in the U.S., and has been translated in 30 languages around the globe.
——————————
A fantastic how-to book that gives readers the tools to accurately read dishonest and dangerous people in their lives and how to remove them
RED FLAGS
How to Spot Frenemies, Underminers, and Toxic People in Every Part of Your Life
by Wendy L. Patrick, Ph. D
St. Martin's Press, February 2015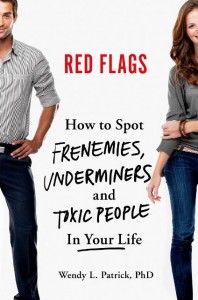 We all need emotional blinders: the etiquette that keeps society smoothly moving depends on it. But when you absolutely must rely on another person, you have to be able to assess them objectively. RED FLAGS shares simple strategies anyone can use to spot deceptive or downright dangerous people who use ingratiation and social convention to draw in and lull victims.
Readers will learn how even the most skeptical of us use rose-colored lenses on those around us, in three sections:
—Blinded by Desire—from the alluring lenses of attraction and positive attention to the blindness of marital « bliss » and the distorted lens of delusion
—Overlooking Red Flags in a Professional Setting—how reassuring proximity and the false security of credibility and similarity can lead to costly mistakes
—Be Afraid of What You Can't See—the ultimate cost of wearing emotional blinders around the truly disturbed/criminal, from sexual predation to domestic abuse, stalking and cyberstalking
DON'T WORRY, BE GRUMPY
Inspiring Stories for Making the Most of Each Moment
by Ajahn Brahm
October 2014
In 108 brief stories with titles like « The Bad Elephant, » « Girlfriend Power, » and « The Happiness License, » Ajahn Brahm offers up more timeless wisdom that will speak to people from all walks of life.
Drawing from his own experiences, stories shared by his students, and old chestnuts that he delivers with a fresh twist, Ajahn Brahm shows he knows his way around the humorous parable, delighting even as he surprises us with unexpected depth and inspiration.
Ajahn Brahm is the bestselling author of WHO ORDERED THIS TRUCKLOAD OF DUNG?
Part manifesto, part revelation, this is the story of an artist struggling with the new rules of exchange in the twenty-first century, both on and off the Internet
THE ART OF ASKING:
How I Learned to Stop Worrying and Let People Help
by Amanda Palmer
Grand Central Publishing, November 2014
This is the kind of book that makes you want to call the author up at midnight to whisper, 'My God. I thought I was the only one.' » – Jenny Lawson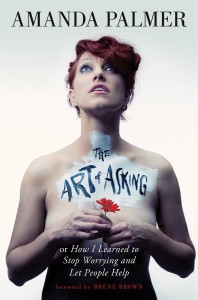 Rock star, crowdfunding pioneer, and TED speaker Amanda Palmer knows all about asking. Performing as a living statue in a wedding dress, she wordlessly asked thousands of passersby for their dollars. When she became a singer, songwriter, and musician, she was not afraid to ask her audience to support her as she surfed the crowd (and slept on their couches while touring). And when she left her record label to strike out on her own, she asked her fans to support her in making an album, leading to the world's most successful music Kickstarter.
Even while Amanda is both celebrated and attacked for her fearlessness in asking for help, she finds that there are important things she cannot ask for—as a musician, as a friend, and as a wife. She learns that she isn't alone in this, that so many people are afraid to ask for help, and it paralyzes their lives and relationships. In this groundbreaking book, she explores these barriers in her own life and in the lives of those around her, and discovers the emotional, philosophical, and practical aspects of THE ART OF ASKING.
Amanda Palmer rose to fame as the lead singer, pianist, and lyricist for the acclaimed band The Dresden Dolls, and performs as a solo artist as well as collaborating with artists including Jonathan Richman and her husband, author Neil Gaiman.