"A glorious tribute to Octavia Butler's masterpiece. Extraordinary"-Junot Diaz, Pulitzer Prize-winning author
Octavia Butler's
KINDRED
A Graphic Novel Adaptation
by Damian Duffy and John Jennings
Abrams Comic Arts, January 2017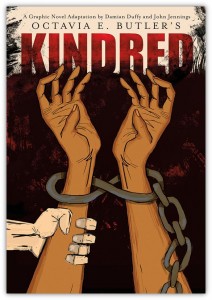 KINDRED, Octavia Butler's literary science-fiction masterpiece first published in 1979, tells the story of Dana, a young black woman who is suddenly and mysteriously transported from her home in 1970s California to the antebellum South. Dana moves between worlds: one in which she is a free woman and another where she is part of a complicated familial history on a southern plantation, forced to interact with and save the life of Rufus, a conflicted white slaveholder and one of her ancestors. Frightening, compelling, and richly detailed, KINDRED takes an imagined yet unstinting look at our complicated social history.
Adapted as a graphic novel by celebrated academics Damian Duffy and John Jennings with the full co-operation of the Butler estate, Kindred explores the violence, sexuality, loss of humanity, and twisted relationships engendered by slavery, in a format that introduces the work to a new generation of readers.
Octavia Estelle Butler (1947–2006), often referred to as the « grand dame of science fiction, » was born in Pasadena, California, on June 22, 1947. She received an Associate of Arts degree in 1968 from Pasadena Community College, and also attended California State University in Los Angeles and the University of California, Los Angeles. Butler was the first science-fiction writer to win a MacArthur Fellowship (« genius » grant). She is widely considered the best science-fiction writer of her generation and is beloved in feminist literary circles, and her many works are widely included in women's studies syllabi. She won the PEN Lifetime Achievement Award and the Nebula and Hugo Awards, among others.
John Jennings is Associate Professor of Visual Studies at SUNY-Buffalo and has written several works on African-American comics creators. His research is concerned with the topics of representation and authenticity, visual culture, visual literacy, social justice, and design pedagogy. He is an accomplished designer, curator, illustrator, cartoonist, and award-winning graphic novelist. His work overlaps into various disciplines including American Studies, African American Studies, Design History, Media Studies, Sociology, Women and Gender Studies, and Literature.
Damian Duffy, cartoonist, writer, and comics letterer, is a PhD student in the University of Illinois at Urbana-Champaign Graduate School of Library and Information Science, and a founder of the Eye Trauma Comix collective (eyetrauma.net). His first published graphic novel, The Hole: Consumer Culture, created with artist John Jennings, was released by Front 40 Press in 2008. Along with Jennings, Duffy has curated several comics art shows, including Other Heroes: African American Comics Creators, Characters, and Archetypes and Out of Sequence: Underrepresented Voices in American Comics, and published the art book Black Comix: African American Independent Comics Art & Culture. Duffy has also published academic essays in comics form about curation, new media, diversity, and critical pedagogy.