L'album de Cori Doerrfeld, dont les droits ont été cédés dans une quinzaine de pays, a été sélectionné comme l'un des meilleurs titres de l'année par Kirkus et le Time.
Les droits pour la langue française sont toujours disponibles.
A tender meditation on loss and a universal, deeply moving exploration of grief and empathy
THE RABBIT LISTENED
by Cori Doerrfeld
Dial Books for Young Readers, February 2018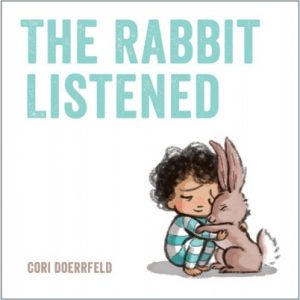 When disaster strikes, Taylor doesn't know where to turn. One by one, the animals try to tell Taylor how to process this loss, and one by one they fail. Then the rabbit arrives. All the rabbit does is listen, which is just what Taylor needs. Whether read in the wake of tragedy or as a primer for comforting others, this is an unforgettable story to soothe heartache of all sizes. The destruction of Taylor's block castle is a wonderfully general metaphor, making THE RABBIT LISTENED a fitting choice for a variety of circumstances be it the death of a pet, the loss of a beloved family member, a pending divorce or move, or even just a bad day at school. Furthermore, it's a sorto of mirror for every child: Taylor's gender and race are intentionally ambiguous so every child can see his or her self in this book.
Cori Doerrfeld is the author-illustrator of "Penny Loves Pink", "Little Bunny Foo Foo", "Matilda in the Middle" and "Maggie and Wendel: Imagine Everything!"