Harpercollins vient d'annoncer la publication d'un nouveau titre de l'auteur des « Cinq Personnes Que J'Ai Rencontré Là-Haut » dans un communiqué de presse. Avec cet ouvrage, Mitch Albom revient à la non fiction après plus de dix ans pour célébrer Chika, une jeune orpheline haïtienne qui lui a changé la vie à jamais…
Told in hindsight, and through illuminating conversations with Chika herself, this is Albom at his most poignant and vulnerable
CHIKA
A Little Girl, an Earthquake, and the Making of a Family
by Mitch Albom
Harper, November 2019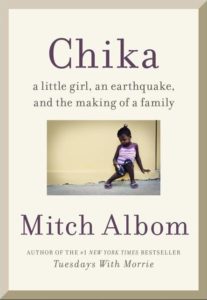 Chika Jeune was born three days before the devastating earthquake that decimated Haiti in 2010. She spent her infancy in a landscape of extreme poverty, and when her mother died giving birth to a baby brother, Chika was brought to the Have Faith Haiti Orphanage that Albom operates in Port Au Prince.
With no children of their own, the forty-plus children who live, play, and go to school at the orphanage have become family to Mitch and his wife, Janine. Chika's arrival makes a quick impression. Brave and self-assured, even as a three-year-old, she delights the other kids and teachers. But at age five, Chika is suddenly diagnosed with something a doctor there says, "No one in Haiti can help you with."
Mitch and Janine bring Chika to Detroit, hopeful that they can get the medical help needed to return her to a healthy life in Haiti. Instead, Chika becomes a permanent part of their household, and their lives, as they embark on a two-year, around-the-world journey to find a cure for an inoperable brain tumor. As Chika's boundless optimism and humor teach Mitch the joys a child brings to their lives, he learns that a relationship built on love, no matter what blows it takes, can never be lost.
Chika is a celebration of a girl, her guardians, and the incredible bond they formed—a devastatingly beautiful portrait of what it means to be a family, regardless of how it is made.
Mitch Albom is a bestselling author, screenwriter, playwright and nationally syndicated columnist. He is the author of seven #1 New York Times bestsellers. "Tuesdays with Morrie", which spent four straight years atop the New York Times list, is now the bestselling memoir of all time. "Morrie", "The Five People You Meet in Heaven", "For One More Day" and "Have a Little Faith" have been made into award-winning television movies. Albom has founded nine charities in Detroit, including the first ever 24-hour medical clinic for homeless children in America. He also operates an orphanage in Port-Au-Prince, Haiti, which he visits monthly.