Imaginative, surprising and utterly absorbing

DOODLEVILLE
by Chad Sell
Knopf, publication Book 1 June 2020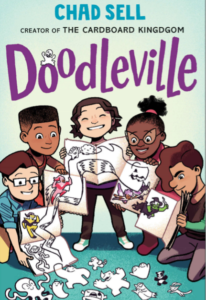 DOODLEVILLE, the new middle-grade graphic novel duology from acclaimed author and illustrator Chad Sell, tells the story of a group of young artists who must work together to save one of their creations in a battle between good and evil. North American rights sold to Knopf in a 2-book deal approaching six figures, with publication of book #1 set for June 2020 as a lead title .
Drew is just a regular artist. But there's nothing ordinary about her art. Her doodles are mischievous… and rarely do they stick to Doodleville, the world she's created in her sketchbook. Instead, Drew's doodles prefer to explore the world outside. But after an inspiring class trip to the Art Institute of Chicago – where the doodles cause a bit too much trouble – Drew decides it's time to take her artistic talents to the next level.
Enter the Leviathan – Levi, for short. He's bigger and better than anything Drew has ever created before. He's a monster, but a friendly one. That is, until Levi begins to wreak havoc on Drew's other doodles – and on the heroes her classmates have dreamt up. Levi won't be easily tamed, and it seems there is a link between the monster's bad behavior and Drew's feelings. With the help of her loyal art club friends, will she be able to save Doodleville – and Levi – before it's too late?
Perfect for fans of Svetlana Chmakova's Awkward and Raina Telgemeier's Smile, DOODLEVILLE has the same irrepressible energy and expressive art style that earned Chad a phenomenal 5 starred reviews for his debut Cardboard Kingdom.