Sold in a major deal following an 8-publisher auction, ITTY-BITTY KITTY-CORN is an irresistible new picture book about friendship of the deepest kind, and about the importance of being seen and understood by ourselves and others, from the author-illustrator duo behind the bestselling Real Friends!
ITTY-BITTY KITTY-CORN
by Shannon Hale, illustrated by LeUyen Pham
Abrams, March 2021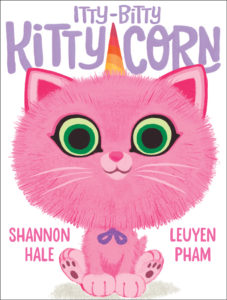 Kitty thinks she might be a unicorn. She feels so perfectly unicorn-y! "Neigh!" says Kitty. But when Unicorn clop clop clops over, sweeping his magnificent tail and neighing a mighty neigh, Kitty feels no bigger than a ball of lint. Can this unlikely pair embrace who they are, and truly see one another?
Shannon Hale is the bestselling author of many books, including Real Friends, the Ever After High series, and Newbery Honor-winner Princess Academy. With her husband Dean Hale she co-wrote Rapunzel's Revenge, Calamity Jack, the Unbeatable Squirrel Girl series, and The Princess in Black series. They live with their four children near Salt Lake City, Utah.
LeUyen Pham is the bestselling illustrator of Real Friends and The Princess in Black series. She wrote and illustrated Big Sister, Little Sister and The Bear Who Wasn't There. She has illustrated many other picture books, including The Boy Who Loved Math. She lives and works in Los Angeles with her husband and her two adorable sons.