A blood-soaked debut about love between men who don't know how to express it: partners and friends, fathers and sons, bullies and scapegoats.
HAWK MOUNTAIN
by Conner Habib
W. W. Norton, Fall 2021
(chez Neon Literary – voir catalogue)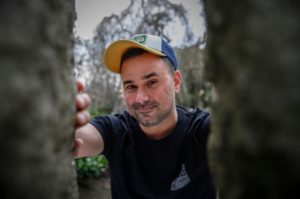 Todd is playing at the beach with his six-year-old son, Anthony, when he sees a man approach them. It is Jack, the man who made his highschool years a living hell. Radiant, repentant, and overjoyed to have « run into » Todd, Jack suggests a meal (to catch up!) and perhaps a night or two's stay at Todd's house (to reconnect!). Todd politely agrees, smile frozen on his face, as a sick feeling begins to grow within him, churning into rot and releasing a repressed darkness. What follows is a tense, fast-paced story of obsession and the grotesque, as disturbing as it is emotionally riveting. A Patricia Highsmith novel for the demented age we're living through, HAWK MOUNTAIN is a compelling look at how love and hate are indissoluble, intertwined until the last breath.
Conner Habib is the host of the popular podcast Against Everyone with Conner Habib and is a writer, lecturer, and a sex workers' rights advocate. He lectures around the world about sexuality, spirituality, pornography, science, and art. His writing has appeared in such publications as The Stranger, Vice, Salon, Slate, and in several anthologies. For ten years, he was an award-winning gay adult performer.