From the bestselling author, media pioneer, and curator of TED Chris Anderson, INFECTIOUS GENEROSITY is an inspiring, revelatory book about the secret, urgent and world-changing potential of one of humankind's defining but overlooked impulses: generosity.
INFECTIOUS GENEROSITY:
The Ultimate Idea Worth Spreading
by Chris Anderson
Crown, January 2024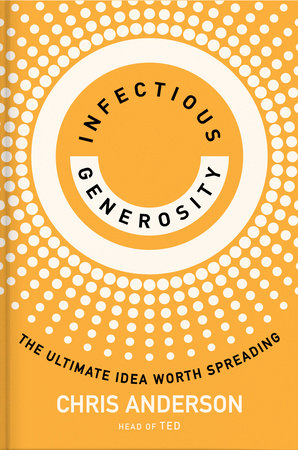 As head of TED for the past 20 years, Chris Anderson has had a ringside view of the world's most significant thinkers sharing their boldest ideas across every imaginable discipline, and he's noticed that generosity is the essential tool that connects everything. It may seem simple, but generosity has played a key role in building the tools, knowledge, and institutions that have allowed civilization to flourish.
In this profound and inspiring book, Anderson shows how the same technologies that have been a catalyst for negativity can be turned into an exponential force for good—to create chain reactions of generous behavior. Gifts of time, talent, connection, and kindness have always been part of what it is to be a good human. What's different today, Anderson reveals, is the power each of us has—if we'd only stop to think about it—to catalyze world-changing, self-replicating impact in a domino effect of generosity. The people, companies, investors and organizations who understand this—who prioritize generosity, and give more to the world than they take from it—are the ones that will own the future and will be happier as a result.
Chris Anderson has been the curator of TED since 2001. His TED mantra—"ideas worth spreading"—continues to blossom on an international with more than one billion TED Talks viewed annually. He lives in New York City and London.