Ella and I have been best friends since grade one. We can spend hours talking about everything and nothing. We know each other's greatest fears, things that irrationally annoy us, and ideal career if money and skill weren't an issue. If there was only one Hartford Bakery brownie left in the whole world and it was somehow in my possession, Ella is the only person I'd consider sharing it with.
LET'S NEVER SPEAK OF THIS AGAIN
by Megan Williams
Text Publishing, September 2023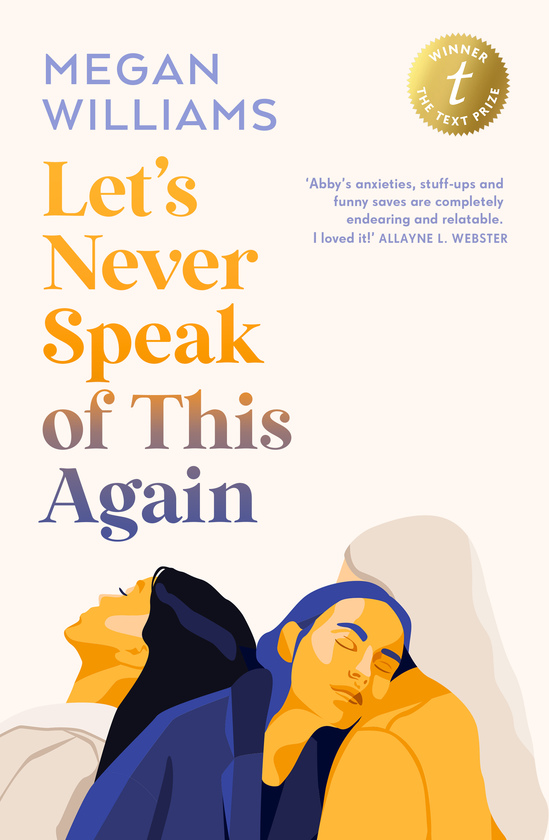 Life is pretty good for sixteen-year-old Abby. Okay, her grandma doesn't remember things anymore, her relationship with her mum is increasingly strained and she accidently kissed her cousin's cousin on the weekend, so things aren't exactly perfect. But everything is manageable with her best friend, Ella, by her side.
And with Ella's brother, Will—interesting and attentive—on the sidelines.
When new girl Chloe arrives, Abby is pleased to be the one to show her around, to welcome her to the group. But Abby doesn't imagine Chloe fitting in so well or quite so quickly. And before long Abby is feeling just a little left out, a little unsure of Ella's friendship. In a moment of anger and confusion she wishes something bad would happen.
When it does—with tragic consequences—everything shifts again. And Abby has to face her own feelings and work out what friendship really means.
Megan Williams' brilliant debut novel is a tender, moving, often funny celebration of female friendship, about the things that test it, and about what matters most.
Megan Williams won the 2022 Text Prize for her debut YA novel, LET'S NEVER SPEAK OF THIS AGAIN. She lives in Brisbane with her husband and their three children.