A literary mystery that stretches back to Victorian times and set on the arid plains of South Africa's Karoo by David Ralph Viviers.
MIRAGE
by David Ralph Viviers
Penguin Random House South Africa, February 2023
(via The Lennon-Ritchie Agency)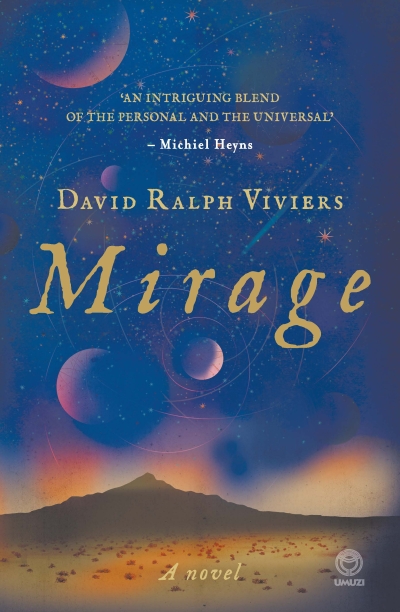 A century-old trunk has been dug up near the railway village of Sterfontein. Inside is the lost journal of Victorian author ElizabethTenant – and what appear to be the remains of a child. Michael, a university student recovering from a broken heart, is intriguedby what the journal describes: a scarlet curtain billowing above the desert, covering the entrance to another world. But thingsbecome even stranger when a line in the journal seems to be connected to Michael and his cosmologist mother, written ahundred years before their time. Without much to go on, Michael travels to the old Karoo hotel where Elizabeth wrote her novelMIRAGE. Amid talk of omens in the sky, ancient prophecies and the end of the world, he tries to decipher the journal's secrets. Asone mystery leads to the next, constellation-like patterns between his own life and Elizabeth's appear, helped along by Renata, aself-proclaimed medium, and Oom Sarel, the local museum curator. But as time starts to dissolve in the mirages of the Karoo, itbecomes more and more difficult to know what is real and what is not. And why can't he shake the feeling that he's been to thevillage before?
David Ralph Viviers is a Cape Town-based writer and film and theatre actor. He holds a BA in Theatre and Performance, as well as a master's degree in Creative Writing, both with distinction, from the University of Cape Town. In 2016, he was the recipient of the Brett Goldin Bursary award, which allowed him to study with the Royal Shakespeare Company for a month in Stratford-upon-Avon. For his work in both English and Afrikaans theatre, he won a Fleur du Cap Award in 2020 and has received several Kanna and Fiësta nominations. His film/TV work includes BINNELANDERS, TALI'S BABYDIARY, KANARIE, NO HIDING HERE, HOME AFFAIRS 1 & 2, RAGE and BLACK SAILS. MIRAGE is his debut novel.