___________________________________________
TOUS LES ÂGES
___________________________________________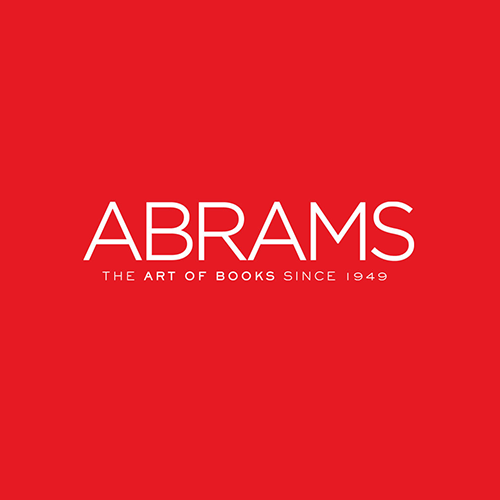 "As striking as it is detailed" — Entertainment Weekly
A FIRE STORY
by Brian Fies
ComicArts, March 2019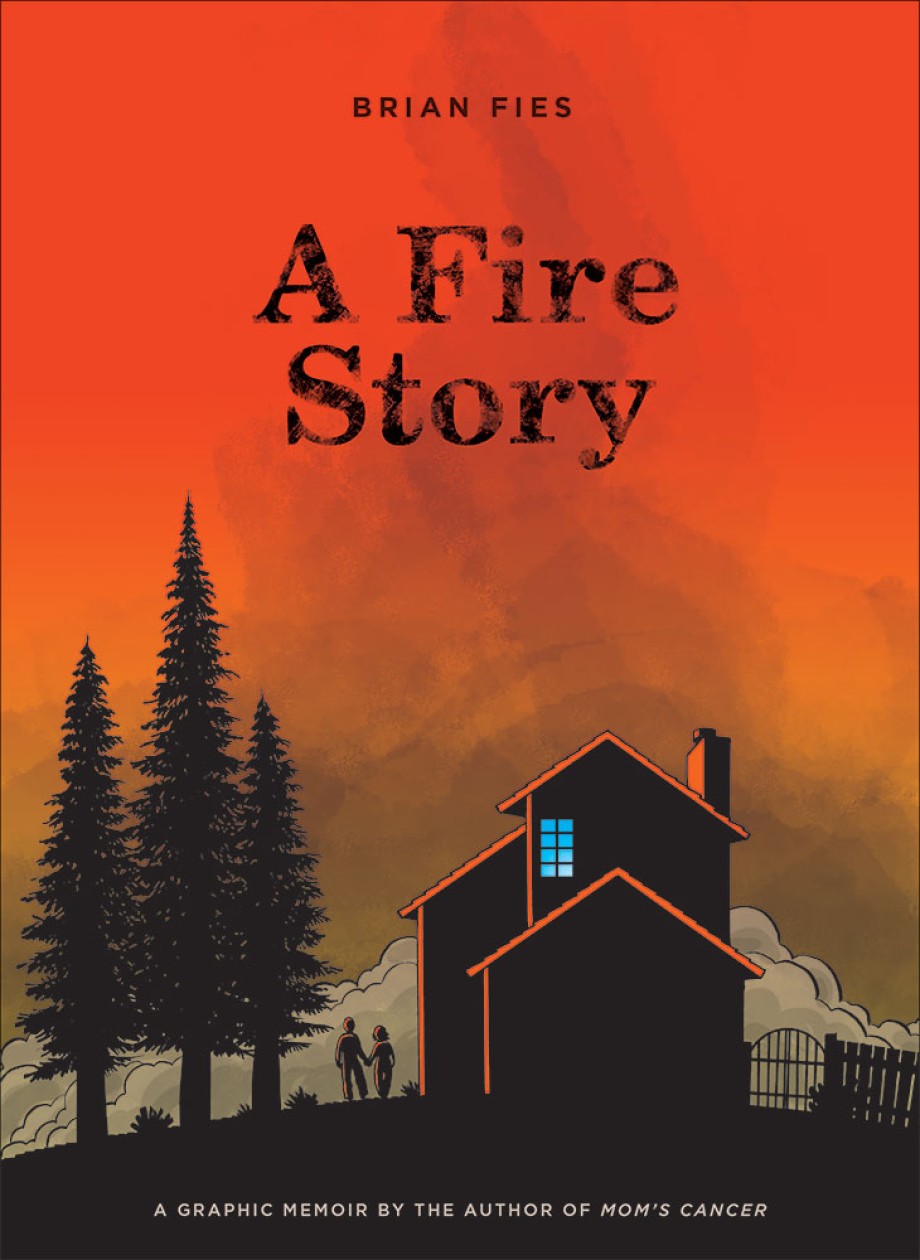 Early morning on Monday, October 9, 2017, wildfires burned through Northern California, resulting in 44 fatalities. In addition, 6,200 homes and 8,900 structures and were destroyed. Author Brian Fies's firsthand account of this tragic event is an honest, unflinching depiction of his personal experiences, including losing his house and every possession he and his wife had that didn't fit into the back of their car. In the days that followed, as the fires continued to burn through the area, Brian hastily pulled together A FIRE STORY and posted it online—it immediately went viral. He is now expanding his original webcomic to include environmental insight and the fire stories of his neighbors and others in his community. A FIRE STORY is an honest account of the wildfires that left homes destroyed, families broken, and a community determined to rebuild.
Brian Fies is a writer and cartoonist of the award-winning graphic novels "Mom's Cancer" and "Whatever Happened to the World of Tomorrow?"

Writer Ted Fox and artist James Otis Smith bring to life Harlem's legendary theater in this graphic novel adaptation of Fox's definitive, critically acclaimed history of the Apollo
SHOWTIME AT THE APOLLO
The Epic Tale of Harlem's Legendary Theater
by Ted Fox and James Otis Smith
ComicArts, January 2019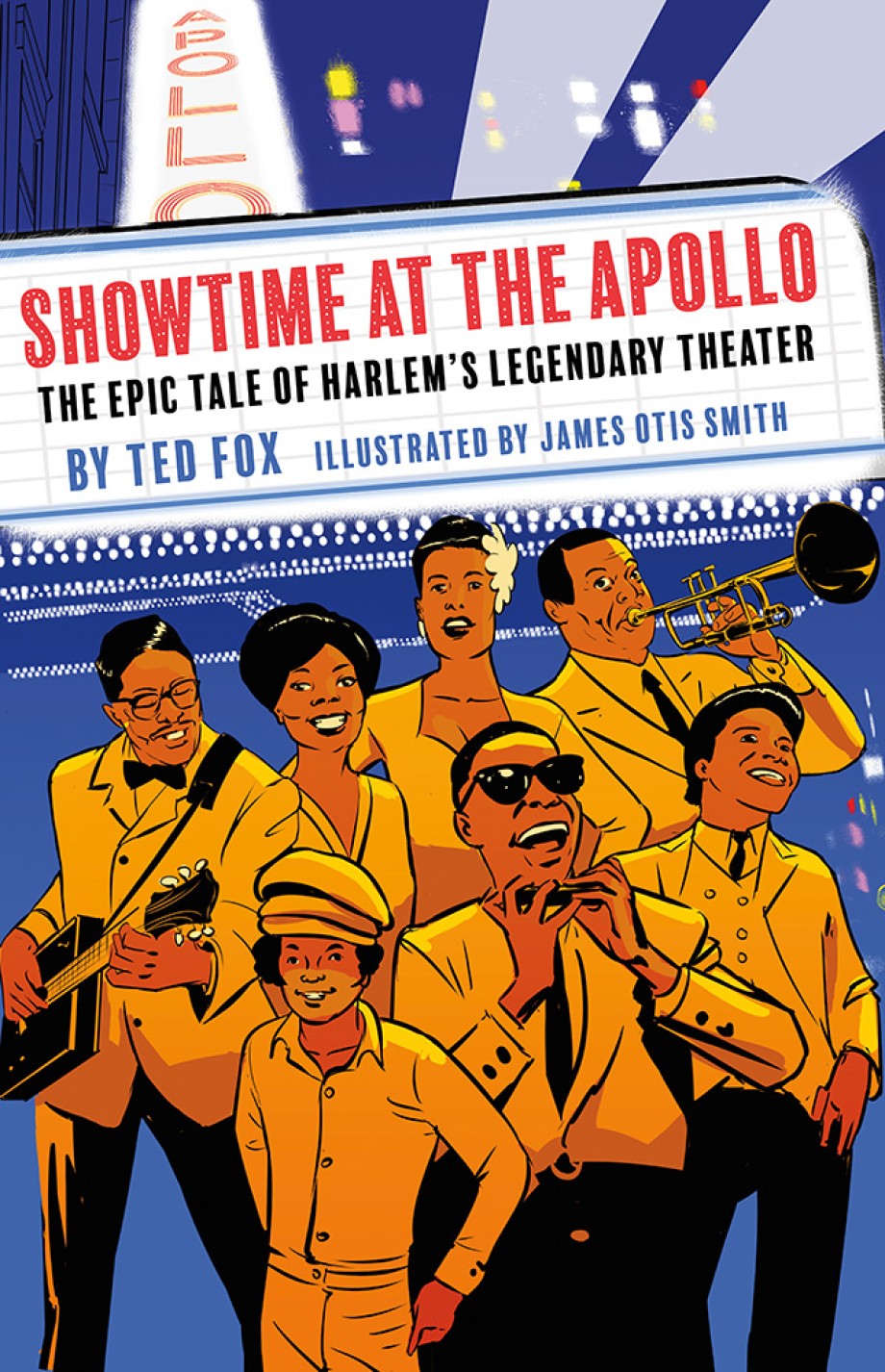 Since its inception as an African-American theater in 1934, the Apollo, and the thousands of entertainers who performed there, have led the way in the presentation of swing, bebop, rhythm and blues, jazz, gospel, soul, funk and hip-hop—along with the latest in dance and comedy. The Apollo has nurtured and featured thousands of artists, many of whom have become legends. The beauty they have given the world—their art—transcends the hatred, ignorance, and intolerance that often made their lives difficult. Today, the Apollo enjoys an almost mythical status. With its breathtaking art, this graphic novel adaptation of Showtime at the Apollo brings to life the theater's legendary significance in music history, African American history, and to the culture of New York City.
Ted Fox is the author of SHOWTIME AT THE APOLLO—the definitive and only full-scale history of Harlem's legendary showplace and the source material for this graphic novel adaptation—and "In the Groove", a collection of interviews with those who have shaped the music industry. He is also a producer and manager, most notably for four-time Grammy nominee Buckwheat Zydeco.
James Otis Smith is a multitalented artist whose work spans illustration, comics, motion graphics, and video. Formerly a member of the Act-i-vate Comics collective, he designed and illustrated the children's book "Madunia: Stories of the Ancient Lands" with writer James McCammon, among other titles. SHOWTIME AT THE APOLLO is his debut graphic novel.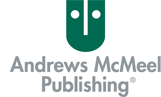 Brian Gordon
The Internet sensation, FOWL LANGUAGE COMICS, is back with its second book, FOWL LANGUAGE: THE STRUGGLE IS REAL, the perfect parenting humor book for anyone who liked "Toddlers Are A**holes"!
FOWL LANGUAGE : THE STRUGGLE IS REAL
Andrews Mc Meel, October 2017
He's back, and he's totally got parenting figured out this time. Kidding. It's another collection of FOWL LANGUAGE COMICS, ripped from the headlines of this author's actual friggin' life. You'll laugh. You'll cry. You'll swear. It's almost exactly like a day of parenting, except without the annoying little people.
---
"This guy's comics hilariously sum up the truth about being a parent." —Buzzfeed
FOWL LANGUAGE: WELCOME TO PARENTING
Andrews Mc Meel, March 2016 
Parenting can be a magical journey full of bliss and wonder . . . if you're on the right meds. For the rest of us, it's another thing altogether. FOWL LANGUAGE COMICS takes an unvarnished look at the tedium and aggravation of parenting, while never forgetting that the reason we put up with those little jerks is that we love them so damn much. By poking fun at the daily struggles parents face, these cartoons help all of us feel less alone in our continual struggle to stay sane.
Brian Gordon, creator of FOWL LANGUAGE COMICS, has two small children of his own and knows well the trials and tribulations that go along with raising them. With more than eighteen years of experience in humorous illustration, writing, and cartooning, Brian's visual point of view is memorable, authentic, and instantly recognizable. From Brian: « They say 'write what you know.' Well, I don't know much, but I do know what it's like to be the father of two brilliant, beautiful, bat-shit-crazy kids. »
Launched in July 2013, the relatable humor of Fowl Language broke out on HuffPost Parents, Pop Sugar Moms, Bored Panda, Awkward Family Photos, and countless other humor and parenting blogs. Thanks to more than 200,000 fans on social media, including Facebook, Tumblr, and Instagram, it continues to grow in popularity at a rapid pace.
Brian Gordon, a million years ago, spent his time staying out late, hitting the clubs and eating at fancy restaurants. And then suddenly … children. While he loved being a dad more than anything else, he also noticed that at times, parenting can be a total crap-fest. In the summer of 2013, Brian began drawing Fowl Language as a fun (and often profane) way to vent his frustrations. After getting laid off from his job as a greeting card artist, he decided to pursue the comic full-time. His work quickly became an Internet viral sensation, and is shared regularly by millions of people all over the world.

From the popular Instagram project, @HiddenHeartbreak, comes a book for anyone who's had to get over an ex, offering honesty, laughter, and a reminder that you're not alone
HIDDEN HEARTBREAK
by Emma Lee
Andrews Mc Meel, January 2019 
HIDDEN HEARTBREAK follows the progression of a doomed relationship from blissful beginning to devastating end, capturing the all-encompassing and blinding euphoria of love as well as the crushing doubt and disappointment that accompany a breakup. In comics that are relatable, vulnerable, and often funny, as well as interactive pieces that invite readers to process their own heartbreak, Emma Lee charts a path forward, reminding us that the heart is a resilient thing.
Emma Lee studied fine arts in college and, since graduating, has worked in the fashion industry for eight years as a designer. After having her heart broken for the second time by a man with an affinity for bird shirts, she decided to share her story with others in the form of brutally honest cartoons.

THE BOOK OF ONIONS is a collection of darkly funny comics from Jake Thompson, creator of the celebrated bi-weekly webcomic « Jake Likes Onions »
THE BOOK OF ONIONS
by Jake Thompson
Andrews Mc Meel, October 2018
Ranging from the relatable to the utterly nonsensical and bizarre, THE BOOK OF ONIONS focuses on themes of loneliness, desperation, and failure. And misplaced optimism. And perverted talking fruit. Sort of like Gary Larson's "The Far Side," if Gary were way less accomplished and suffered from depression.
Jake Thompson is a 29-year-old advertising copywriter. Back in 2015, he created an Instagram feed titled "Jake Likes Onions" to express his strange and depressing sense of humor. Over the course of 2 years, the comic has become one of those viral Internet things that's shared and followed all over the planet. Pretty cool!

Debby Tung
Sweet, funny, and relatable, Debbie Tung's comics reveal the ups and downs of coming of age as an introvert and what it feels like to fall head-over-heels for books
BOOK LOVE
Andrews Mc Meel, January 2019
BOOK LOVE is a gift book of comics tailor-made for tea-sipping, spine-sniffing, book-hoarding bibliophiles. Debbie Tung's comics are humorous and instantly recognizable—making readers laugh while precisely conveying the thoughts and habits of book nerds. Book Love is the ideal gift to let a book lover know they're understood and appreciated. 
---
This illustrated gift book of short comics illuminates author Debbie Tung's experience as an introvert in an extrovert's world
QUIET GIRL IN A NOISY WORLD
An Introvert's Story
by Debbie Tung
November 2017
Presented in a loose narrative style that can be read front to back or dipped into at one's leisure, the book spans three years of Debbie's life, from the end of college to the present day. In these early years of adulthood, Debbie slowly but finally discovers there is a name for her lifelong need to be alone: she's an introvert. The first half of the book traces Debbie's final year in college: socializing with peers, dating, falling in love (with an extrovert!), moving in, getting married, meeting new people, and simply trying to fit in. The second half looks at her life after graduation: finding a job, learning to live with her new husband, trying to understand social obligations when it comes to the in-laws, and navigating office life. Ultimately, Quiet Girl sends a positive, pro-introvert message: our heroine learns to embrace her introversion and finds ways to thrive in the world while fulfilling her need for quiet.
Deborah "Debbie" Tung is a cartoonist and illustrator from Birmingham, England. Her comics are based on simple everyday life moments and her love for books and tea.
A witty, starkly honest, and absolutely on-point book of essays and illustrations on the realities of growing up and finding yourself
AM I THERE YET?
The Loop-de-loop, Zigzagging Journey to Adulthood
by Mari Andrew
Clarkson Potter, March 2018
Organized by universal themes of becoming an adult—loss, adventure, ambition—AM I THERE YET? incorporates on-trend themes such as feminism, self-awareness, and finding meaning. Rather than presenting advice that's been heard before, Mari shares lessons she's learned from personal experience ranging from the benefits of traveling solo, the importance of creating personal space that is comforting and restorative, and the knowledge that being vulnerable about heartache and grief is the only way to move through it. Through never-before-seen essays and spreads of her signature illustrations, 90 percent of which are brand new, Mari offers a relatable perspective from someone whose been there. In addition to the book, Clarkson Potter will release a workbook and planner in February 2019.
Mari Andrew is a writer and illustrator from Washington, D.C. In addition to her widely popular Instagram account, her writing and illustrations have appeared on Paste and HelloGiggles.

I WAS THEIR AMERICAN DREAM is at once a journal of growing up and a reminder of the thousands of immigrants who come to America in search for a better life for themselves and their children
I WAS THEIR AMERICAN DREAM
A Graphic Memoir
by Malaka Gharib
Clarkson Potter, April 2019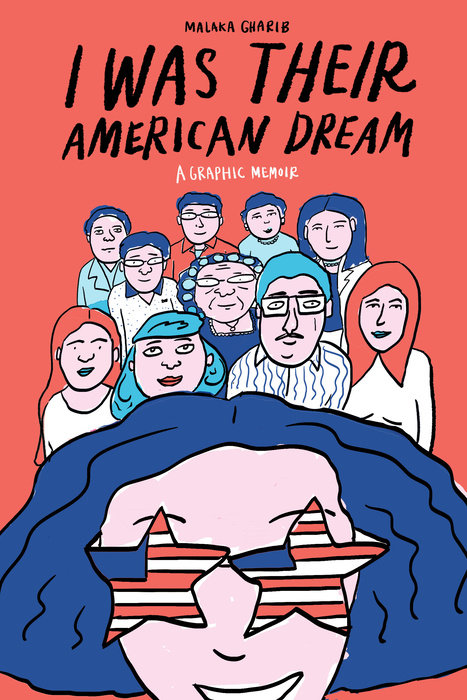 One part Mari Andrew, one part Marjane Satrapi, I WAS THEIR AMERICAN DREAM is a triumphant tale of self-discovery, a celebration of a family's rich heritage, and a love letter to American immigrant freedom. Malaka Gharib's illustrations, infused with teenage antics and earnest questions about identity and culture, provide thoughtful insight into the lives of modern immigrants and the generation of millennial children they raised.
Malaka's upbringing will look familiar to anyone who grew up in the pre-internet era, but her particular story is a heartfelt tribute to the American immigrants who have invested their future in the promise of the American dream.
The daughter of parents with unfulfilled dreams themselves, Malaka navigates her childhood chasing her parents' ideals, learning to code-switch between her family's Filipino and Egyptian customs, adapting to white culture to fit in, crushing on skater boys, and trying to understand the tension between holding onto cultural values and trying to be an all-American kid.
Malaka Gharib is an artist, journalist, and writer based in Washington, D.C. She is the founder of The Runcible Spoon, a food zine, and the co-founder of the D.C. Art Book Fair.
A gripping, literary graphic novel of psychological suspense set in the near future
THE FURNACE
by Prentis Rollins
Tor Books, July 2018
One decision. Thousands of lives ruined. Can someone ever repent for the sins of their past?
When Professor Walton Honderich was a young grad student, he participated in a government prison program and committed an act that led to the death of his friend, the brilliant physicist Marc Lepore, and resulted in unimaginable torment for an entire class of people across the United States. Twenty years later, now an insecure father slipping into alcoholism, Walton struggles against the ghosts that haunt him in a futuristic New York City. A dark, compelling work of psychological suspense and a cutting-edge critique of our increasingly technological world, The Furnace speaks fluently to the terrifying scope of the surveillance state, the dangerous allure of legacy, and the hope of redemption despite our flaws.
Prentis Rollins has over twenty years of experience working as a writer and artist in the comics industry. His previous titles include How to Draw Sci-fi Utopias and Dystopias, The Making of a Graphic Novel, and Survival Machine (Stories). He has also worked for DC Comics between 1993—2013 for titles such as Batman, Superman, Green Lantern, JLA, and dozens more. THE FURNACE is his debut full-length graphic novel. He lives in London with his wife and three children.

____________________________________________________________
JEUNESSE
___________________________________________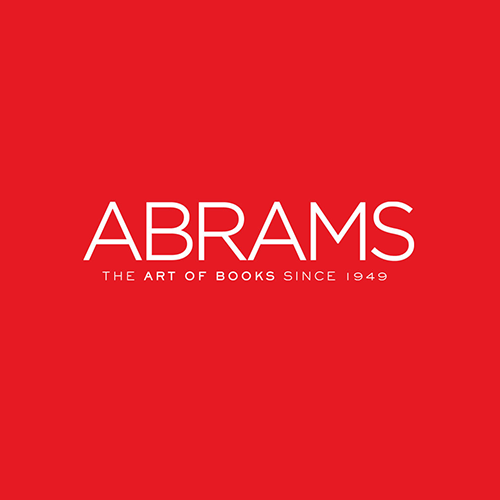 Prepare for blast off!
BIG IDEAS
ROCKET TO THE MOON
by Don Brown
Abrams, March 2019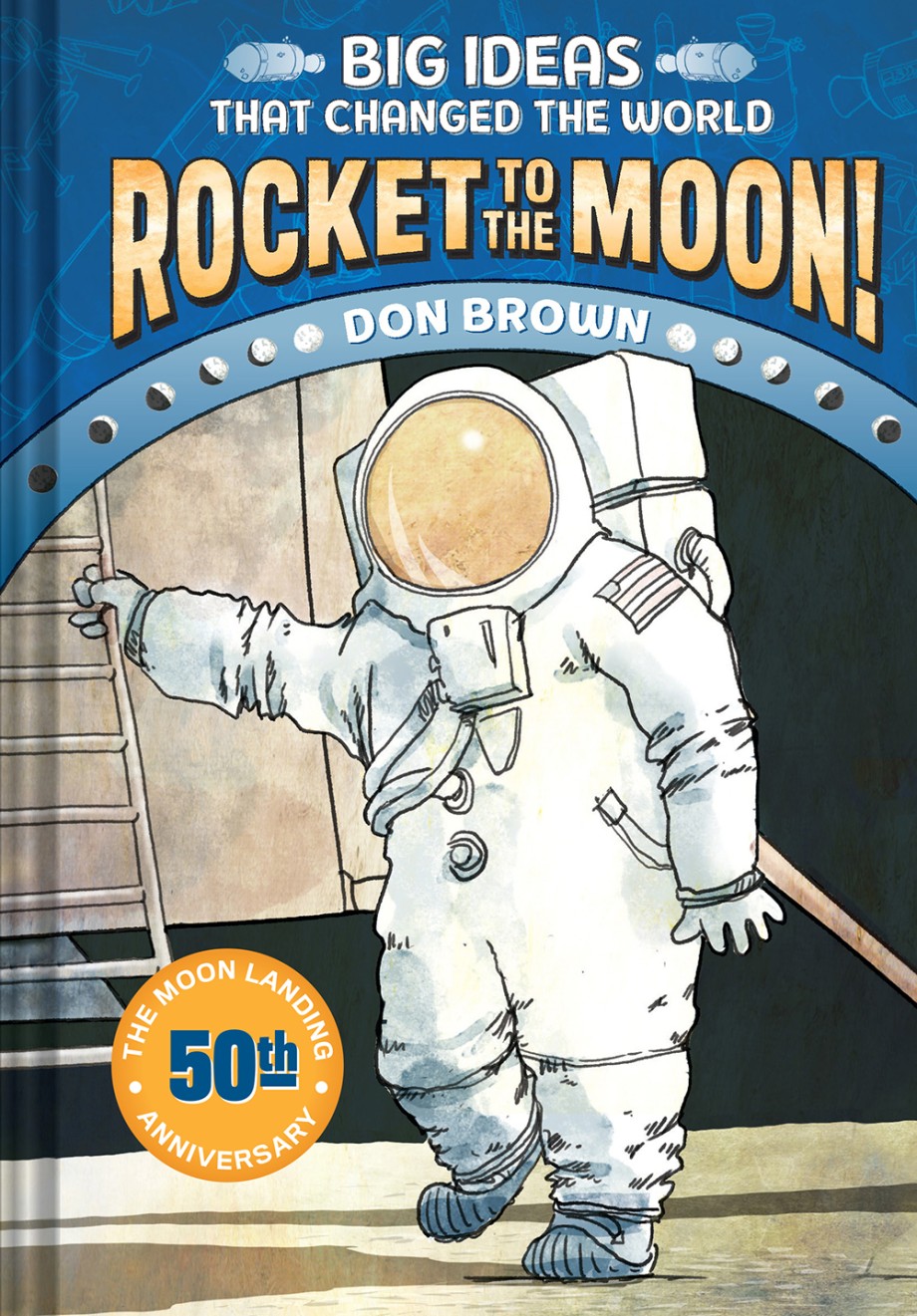 On July 20, 1969, Neil Armstrong took "one small step for man, one giant leap for mankind" when the Apollo 11 landed on the moon. But it wasn't just one man who got us to the moon. ROCKET TO THE MOON explores the people and technology that made the moon landing possible. Instead of examining one person's life, it focuses on the moon landing itself, showing the events leading up to it and how it changed the world. The book takes readers through the history of rocket building: from ancient Chinese rockets, to "bombs bursting in air" during the War of 1812, to Russia's Sputnik program, to the moon landing. Beautifully illustrated and well-researched, this book is the perfect resource for curious readers and tomorrow's scientists. It includes a timeline of space travel, a bibliography, and an index.
Don Brown is the award-winning author and illustrator of many picture book biographies. School Library Journal has called him "a current pacesetter who has put the finishing touches on the standards for storyographies." His books have been given a Sibert Award, an Orbis Pictus Award, named a Horn Book Best Book, and was an Eisner nominee, among other awards and notice.

From bestselling author Nathan Hale, a late night fast food run turns strange when the drive through becomes a portal to a nightmare dimension
APOCALYPSE TACO
by Nathan Hale
Abrams, April 2019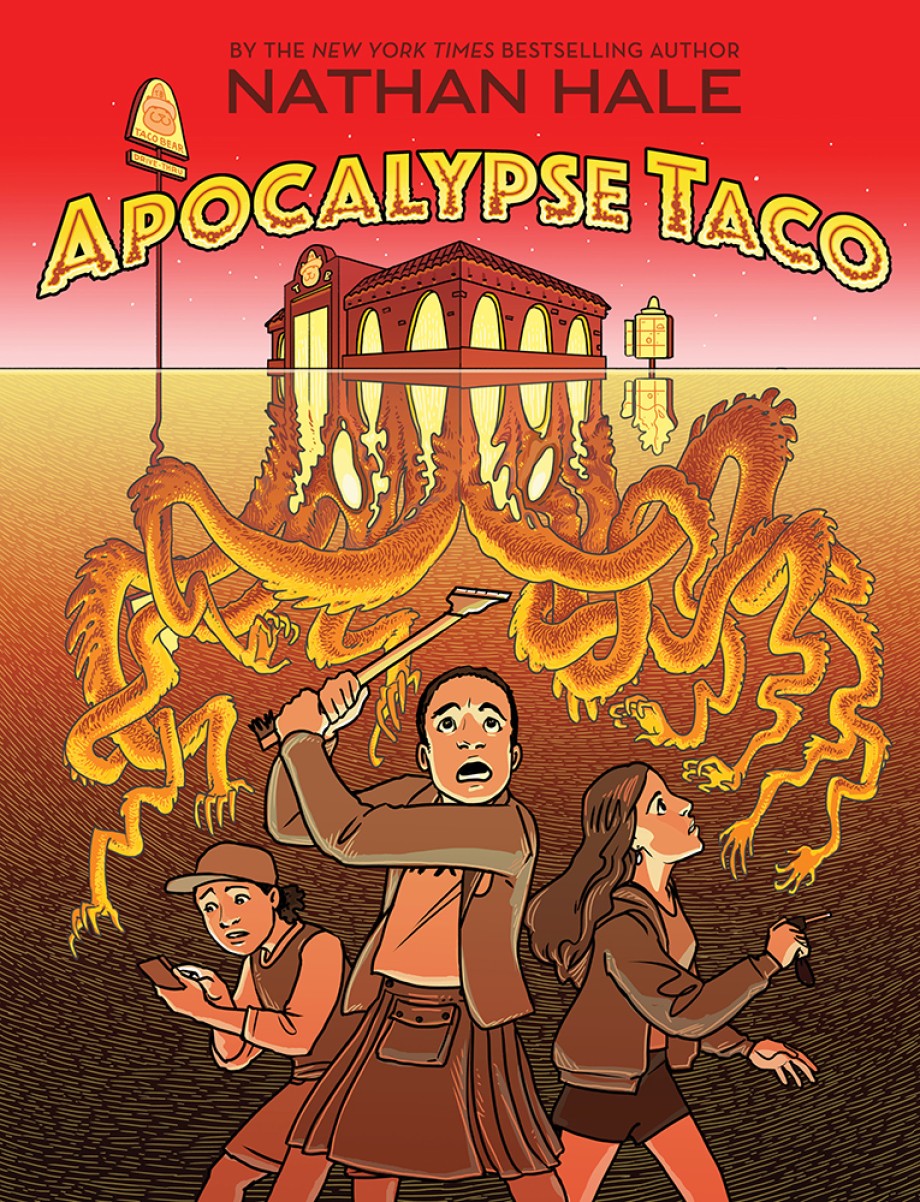 Marko and Candida volunteer to make a late-night fast-food run for their high school theater crew, and when they return, they find themselves. Not in a deep, metaphoric sense: They find copies of themselves onstage. As they look closer, they begin to realize that the world around them isn't quite right. Turns out, when they went to the taco place across town, they actually crossed into an alien dimension that's eerily similar to their world. The aliens have made sinister copies of cars, buildings, and people—and they all want to get Marko and Candida. Now the pair will have to use their wits, their truck, and even their windshield scraper to escape! But they may be too late. They may now be copies themselves…
Nathan Hale is the New York Times bestselling author and illustrator of the Nathan Hale's Hazardous Tales series.

Perfect for fans of Raina Telgemeier and Gene Luen Yang, NEW KID is a timely, honest graphic novel about starting over at a new school where diversity is low and the struggle to fit in is real, from award-winning author-illustrator Jerry Craft
NEW KID
by Jerry Craft
HarperCollins, February 2019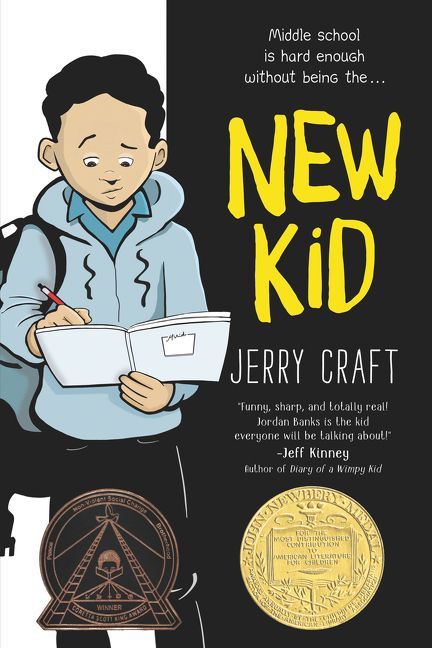 Seventh-grader Jordan Banks loves nothing more than drawing cartoons about his life. But instead of sending him to the art school of his dreams, his parents enroll him into a prestigious private school known for its academics, where Jordan just happens to be one of the few kids of color in his entire grade.
As he makes the daily trip from his Washington Heights apartment to the upscale Riverdale Academy Day School, Jordan soon finds himself torn between two worlds—and not really fitting into either one. Middle school's hard enough without all the unspoken rules and expectations that come with being the new kid! Can Jordan learn to navigate his new school culture while keeping his neighborhood friends and staying true to himself?
Jerry Craft is the author and illustrator of numerous books for young readers and the creator of "Mama's Boyz", an award-winning comic strip that was distributed by King Features Syndicate from 1995–2013. Jerry has won five African American Literary Awards and is a co-founder of the Schomburg's Annual Black Comic Book Festival, which is one of the largest of its kind. He received his BFA from the School of Visual Arts.
A powerfully honest, hopeful and unique new young adult graphic memoir about teenage depression
LOST SOUL, BE AT PEACE
by Maggie Thrash
Candlewick Press, October 2018
Sixteen-year-old Maggie is vanishing day by day. Her dad doesn't know she exists, her mom never stops nitpicking, she's flunking out of her expensive prep school, her classmates were totally oblivious to her coming out… and not one person on earth understands the anguish she's in. The only thing left that makes her smile is her beloved cat Tommi, and when he disappears, Maggie must grapple with being all alone in her empty, cavernous house. That is until she befriends Tommy – supernatural, super strange, and maybe the only thing that can help her step back into the world and into being Maggie…
Maggie Thrash is the author of the graphic memoir "Honor Girl", which is her coming out story. "Strange Truth" and "Strange Lies" were inspired by her experiences at an exclusive prep school in Atlanta, where everyone had secrets.

Droits cédés depuis le 1er janvier 2017 :
THE BEST WE COULD DO (NOUS AVONS FAIT DE NOTRE MIEUX) de Thi Bui à Hachette Comics
KINDRED d'Octavia Butler à Presque Lune
REACTOR et INTERCEPTOR de Donny Cates à Casterman
WHY COMICS? d'Hilary Chute aux Éditions Urban Comics
AMERICAN GODS SERIES de Neil Gaiman aux Éditions Urban Comics
THE CARTOON GUIDE de Larry Gonick à Larousse
NOBODY'S FOOL de Bill Griffith à Presque Lune
COOK KOREAN ! de Robin Ha aux Éditions Glénat
COYOTE DOGGIRL de Lisa Hanawalt à Gallimard Jeunesse
THE FAITHFUL SPY de John Hendrix aux Éditions Stenkis
WALLACE THE BRAVE (WALLACE L'INTREPIDE) de Will Henry aux Éditions Stenkis
PICTURES THAT TICK Vol. 2 (ECHOS GRAPHIQUES VOL.2) de Dave McKean aux Éditions Delcourt
BIG NATE AND FIRENDS (MEILLEURS POTES) et FROM THE TOP (QUEL ARTISTE) de Lincoln Pierce aux Éditions Tourbillon
WHITE SAND SERIES de Brandon Sanderson aux Éditions Graph Zeppelin
HEART AND BRAIN (CŒUR ET CERVEAU) de Nick Seluk aux Éditions Delcourt
RAZZLE DAZZLE UNICORN SERIES (SERIE LUCIE ET SA LICORNE) de Dana Simpson aux Éditions 404
THE SHAPE OF IDEAS (LA FORME DES IDEES) de Grant Snider à Dargaud
ANNE OF GREEN GABLES de Brenna Thummler à Scholastic (Canada)
THE BRIDGE de Peter J. Tomasi aux Éditions Kamiti
YUGE! (ENORME!) de Garretson Beekman Trudeau à Hachette
WE HAVE NO IDEA (TOUT CE QUE NOUS NE SAVONS PAS ENCORE) de Daniel Whiteson à Flammarion