DIY – LIVRES PRATIQUES

Cliquez ici pour accéder à la page de notre backlist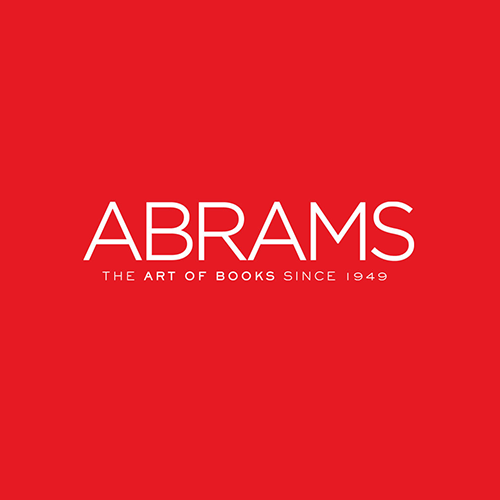 If your mother had superpowers, what would they be? What about your father?  What's your favorite childhood memory of the two of you together? What has your dad accomplished that makes you proud? What about your mom?
50 THINGS ABOUT MY MOTHER
&
50 THINGS ABOUT MY FATHER
Abrams Noterie, February 2018
Thought provoking and celebratory, these fill-in gift books provide 50 prompts that help you capture all the things you love and appreciate about your mother and father: their talents, their quirks, the memories you share, and more. With a fresh illustration style and deluxe production details like a grain-embossed, foil-stamped cover, ribbon markers, and a 4-color interior, these books are the perfect keepsake that your parents will enjoy for years to come.

Develop your green thumb and care for your house plant family
THE NEW PLANT PARENT
by Darryl Cheng
Abrams Image, March 2019
For indoor gardeners everywhere, Darryl Cheng offers a new way to grow healthy house plants. He teaches the art of understanding a plant's needs and giving it a home with the right balance of light, water, and nutrients. After reading Cheng, the indoor gardener will be far less the passive follower of rules for the care of each species, and much more the confident, active grower, relying on observation and insight. In the process, the plant owner becomes a plant lover, bonded to these beautiful living things by a simple love and appreciation of nature.
THE NEW PLANT PARENT (formerly House Plant Journal) covers all of the basics of growing house plants, from everyday care like watering and fertilizing, to containers, to recommended species, to displays and arrangements. Among his many useful ideas, Cheng explains how to measure the amount of light a plant receives, which, more than anything else, determines a plant's quality of life and tells plant parents how they should adjust their care and expectations. Cheng's friendly tone, personal stories, and accessible photographs fill his book with the same generous spirit that has made @houseplantjournal, his Instagram account, a popular source of advice and inspiration for thousands of indoor gardeners.
Darryl Cheng is the creator of the Instagram account @houseplantjournal, a home gardener, photographer, engineer, and business analyst. He lives in Toronto.

A modern guide to stitch-and-wear vintage patterns you can make in a day
GERTIE SEWS JIFFY DRESSES
by Gretchen Hirsch
Abrams, April 2019
In the '50s and '60s, Simplicity released their popular line of Jiffy sewing patterns, which had minimal pattern pieces and simple construction, yet were still chic enough to appeal to a fashion-conscious customer. These ideas appeal now more than ever, when women are struggling to fit their love of sewing into busy lives filled with family, work, school, and other countless obligations. GERTIE SEWS JIFFY DRESSES is a modern take on these easy vintage patterns, focusing on easily-mastered sewing skills, minimal pattern pieces, and fabulous design. And the best part? Readers will end up with a sparkling wardrobe of easy to wear, fun to style dresses that fit busy modern life with retro charm.
Gretchen Hirsch is a sought-after teacher and designer with two highly successful sewing pattern lines and a fabric line with Fabric Traditions.

Your new mantra: rescue, restore, redecorate!
RESCUE, RESTORE, REDECORATE
by Amy Howard
Abrams, May 2018 
Whether you dream of restoring an heirloom to its former beauty, or just want to modernize a flea market treasure, Amy Howard has the design and refinishing secrets you need. Here are all the furniture finishing recipes, techniques, and tips that have made Howard's beloved classes sold-out success stories, and made Howard herself the go-to guru of refinishing and "use what you have" redecorating. Try your hand at unique painted and faux finishes, and experiment with gold leaf, distressing, and marvelous graining effects. Along the way, you will learn a treasure trove of techniques, as Howard shares before-and-after makeovers from her studio and offers impeccable step-by-step instruction in all that is needed to achieve each look.
Presented for the first time in book form, here are all of Amy's secret recipes and refinishing tips for transforming tired furniture into stunning showpieces. You'll never look at a hand-me-downs the same way again. Whether the aim is to bring back a worn beauty or glorify, gild, or modernize an affordable ugly duckling, RESCUE, RESTORE, REDECORATE teaches readers trade secrets Amy Howard gathered in the course of a twenty-year career as the go-to furniture restoration and refinishing expert.
Amy Howard is a designer, teacher, and driving force in the world of home furnishings. Her dedication to the mantra "rescue, restore, redecorate" is evident within the Amy Howard line of products. She is a regular contributor to FamilyCircle and Women's Day magazines, and is also launching a furniture collection with F. Schumacher in 2017.

Learn how to grow wildly abundant edible gardens in your own unique style and in spaces large and small
A GARDEN CAN BE ANYWHERE
Creating Bountiful and Beautiful Edible Gardens
by Lauri Kranz and Dean Kuipers
Abrams, February 2019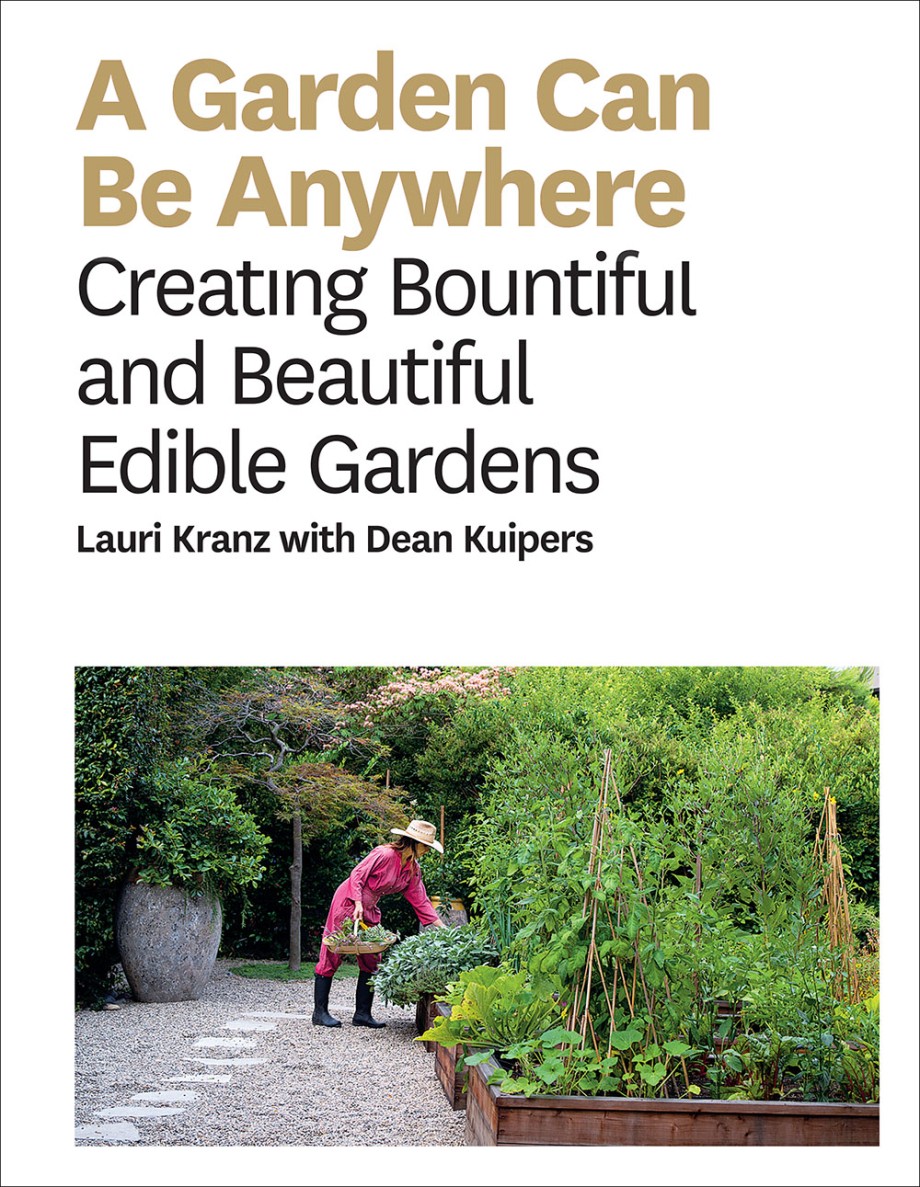 Edible Gardens LA founder Lauri Kranz shares her secrets for planning, planting, growing, and maintaining luscious edible gardens, no matter the setting or size of the plot. Through gorgeous gardens created for her well-known clientele, including James Beard award–winning chefs, celebrities, rock stars, and more, Lauri shares her essential methods for growing abundant organic food. This practical guide is built around Lauri's philosophy that nourishment and beauty are not separate goals. It's also at the forefront of a gardening revolution, where more and more people are craving a patch of land for growing and the trend is toward edible gardens over ornamental gardens. A GARDEN CAN BE ANYWHERE reveals Lauri's knack for providing both beauty and bounty in her clients' outdoor spaces.
Lauri Kranz is a professional garden designer and the founder of Edible Gardens LA (ediblegardensla.com). She has thousands of newsletter subscribers, her daily posts on Instagram reach 9000+, and her Tumblr has 20,000+ followers.

Discover a creative new way to express your style through fiber art
PAINTING WITH WOOL
by Dani Ives
Abrams, March 2019 
PAINTING WITH WOOL is the introductory and must-have text for fiber artists and other crafters looking for a new and exciting art form to explore. Needle felting is a traditional craft with an enthusiastic fan base, and it's not hard to see why. It's at once classic and strikingly modern: an easy-to-learn technique that tempts beginners, while offering myriad artistic possibilities to the skilled. Dani Ives is among the very skilled in this traditional art, and in these pages she instructs readers in the distinct style she calls « painting with wool. » Increasingly popular, Dani Ives's style of needle felting uses wool fibers and a felting needle to layer and "paint" embellishments for pieces that are bursting with texture and depth. For fiber lovers who want to broaden their skills, needle felting is an easy, therapeutic form of self-expression that offers beautiful, unique results.
Each fascinating chapter presents needle felting techniques and essentials, including choosing and using colors, sculpting surface texture, and creating striking detail—even if you have never felted before. Templates and instructions for making 25 fun and fabulous projects are included, with themes ranging from pop culture to nature scenes. There are also creative exercises for improving your "painting" technique, developing your style, and creating beautiful projects of your own design. Whether you want to decorate a tote or garment, or create frameable artwork, PAINTING WITH WOOL is the guide to everything you need to know.
Dani Ives is a self-taught artist whose love of nature and science inspires her work. She teaches needle felting workshops and hosts an online needle felting course.

Discover the secrets of hand dyeing to create colorful, richly patterned items for home and wardrobe
HAND DYED
by Anna Joyce
Abrams, March 2019
HAND DYED is a modern introduction to indigo and fiber-reactive dye that every crafter should have. Exploring traditional techniques like shibori and using organic compounds, this comprehensive how-to guide offers everything you need know to create stylish, richly colored and patterned pieces. Classic techniques and natural materials make these projects beautiful and accessible, even for the beginner. Items such as silk blouses, linen wall hangings, drum lampshades, and even a hammock will invite a new generation of design lovers and style mavens to fall in love with this traditional, magical, and surprisingly straightforward process. Anna Joyce is the perfect instructor to teach the skills needed to create more than 25 masterpieces for the home and wardrobe that readers will want to wear, live with, and most importantly, make by hand.
Anna Joyce regularly teaches sold-out dyeing workshops in person and online. She sells her work on Etsy and through upscale online shops and boutiques around the country.

Learn to create stunning marker art with this 2-in-1 instruction book + guided workbook
MARKER WORKSHOP
by Sasha Prood
Abrams Noterie, February 2019 
Take your drawing, doodling, or lettering to the next level and explore the incredibly diverse medium of fine-tip markers with this two-book set (an instruction book and corresponding workbook). Follow along as artist Sasha Prood teaches all the skills you'll need to create your own beautifully inked art. With dazzling art, clear instructions, and buildable skills, MARKER WORKSHOP is an accessible and inspiring guide for anyone who wants to learn a range of contemporary marker techniques.
In 50 experiments, Sasha Prood teaches fundamental skills, provides beautifully rendered examples, and offers her personal tips and tricks as she demonstrates the many ingenious ways that markers can be used. She starts with the basics—color swatches, simple marks like cross hatching and stippling—and works up to more advanced skills like layering colors and using contrasting textures. By starting with swatch tests and then moving on to more complex studies, you are given the opportunity to hone your techniques before applying them to more intricate compositions.
The unique format only adds to this book's appeal: a full-color instruction book is accompanied by a drawing pad with heavy weight paper so there's no danger of bleed-through as you work your way through the experiments. 
Sasha Prood, author of "Watercolor Workshop", is an illustrator and graphic designer whose work has been featured in ELLE Interiors, Apartment Therapy, and Oh Joy!

Join the Slow Fashion movement and make mending your jeans and other garments an artful, joyful, and empowering act
MENDING MATTERS
Stich, Patch, and Repair your Favorite Denim & More
by Katrina Rodabaugh
Abrams, October 2018 
MENDING MATTERS explores sewing on two levels: First, it includes more than 20 hands-on projects that showcase current trends in visible mending that are edgy, modern, and bold—but draw on traditional stitching. It does all this through just four very simple mending techniques: exterior patches, interior patches, slow stitches, darning, and weaving. In addition, the book addresses the way mending leads to a more mindful relationship to fashion and to overall well-being. In essays that accompany each how-to chapter, Katrina Rodabaugh explores mending as a metaphor for appreciating our own naturally flawed selves, and she examines the ways in which mending teaches us new skills, self-reliance, and confidence, all gained from making things with our own hands. More than a sewing book, this book is part how-to and part call to action for a more mindful relationship with the things we wear.
Katrina Rodabaugh is an award-winning artist and crafter working across disciplines to explore environmental and social issues through traditional craft technique.

BRITTANY WATSON JEPSEN
Express your true colors!
MY LIFE IN COLOR
Abrams Noterie, September 2018
MY LIFE IN COLOR is a unique keepsake journal that guides you to tell your story throughout its color-themed pages. Divided into nine sections (each devoted to a color of the rainbow) the journal is designed to help you express the full spectrum of who you are.
MY LIFE IN COLOR offers a unique way to create a vibrant self-portrait. Conceived by Brittany Watson Jepsen, founder of the beloved blog The House That Lars Built, this guided journal is divided into eight color-themed chapters that are filled with thought-provoking prompts. Uncover your passions in the red section, ponder your personal growth in the green section, and think about what calms and centers you in the blue section. This hardcover journal has a removable jacket and exposed binding that shows off its multicolored signatures. It lies perfectly flat and features space to gather mementos and organize them by color. Within these pages, the random aspects of your life—your memories, current obsessions, and dreams for the future—will fall into harmony, because everything is beautiful when it is arranged in rainbow order!
Bring some color into your life!
CRAFT THE RAINBOW
Abrams, April 2019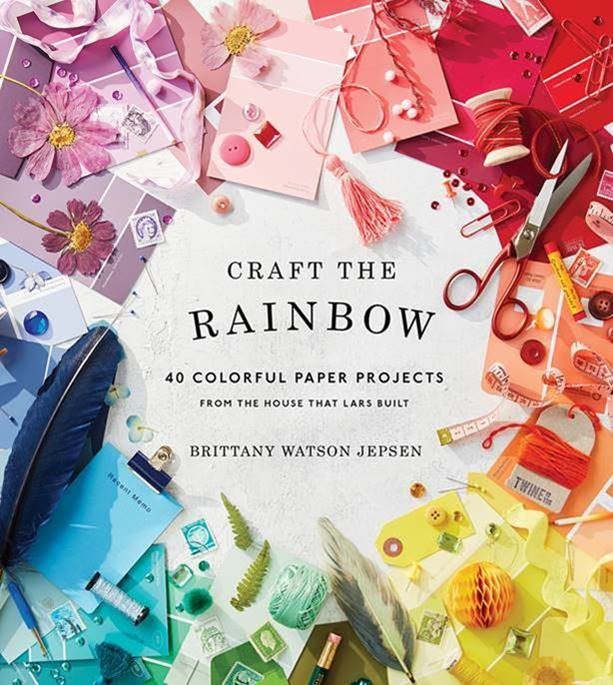 What began as an Instagram hashtag and project collection (#CrafttheRainbow) that quickly went viral has become a showstopping book, offering a rainbow of completely new project ideas. Learn how to make playful party decorations, luscious flowers, amazing cards, and sophisticated wreaths, garlands, centerpieces, and more than you can imagine—all with nothing but the creative power of paper. Sought-after designer Brittany Watson Jepsen is known for the unusually imaginative and amazingly beautiful designs she creates for her website and host of clients (including Anthropologie). In CRAFT THE RAINBOW, Jepsen walks readers through the easy basics of transforming simple paper—including tissue, crepe, cardstock, leaves of books, and vintage and recycled paper—into vibrant, fanciful, handmade projects suitable for every occasion.
Brittany Watson Jepsen is the founder of The House That Lars Built, a lifestyle blog, design studio, and shop with an array of licensed product lines. Her work has been featured on the Today Show; in the New York Times, Uppercase Magazine, and British Vogue; and on CNN.


This lavishly photographed book from Ariella Chezar provides step-by-step instructions for 40 seasonal floral arrangements and projects that celebrate the splendor of flowers, the bounty of the changing seasons, and the wild beauty of nature in your home
SEASONAL FLOWER ARRANGING
Fill Your Home with Blooms, Branches, and Foraged Materials All Year Round
by Ariella Chezar
Ten Speed Press, February 2019
Just as fruits and vegetables taste best when they are harvested locally and seasonally, flowers that are picked close to home and at their peak reflect a true connection to time and place. Nature does not deliver its harvest all at once—each season has its stars and Ariella Chezar shows you how to make the most of them.
SEASONAL FLOWER ARRANGING follows Mother Nature's lead to create dazzling arrangements from the distinctive gifts of the changing seasons, from a bounteous autumn table to a wintery wreath, and from a charming spring bouquet to a bold summer garland for outdoor entertaining. There are arrangements for seasonal holidays, special occasions, or just everyday life featuring tulips, roses, peonies, dahlias, and other flowers that are easily found at farmers' markets, local shops, or grown in one's own backyard. The book includes detailed instructions on how to re-create 40 floral designs, plus the inspiration and techniques to allow you to create your own original art out of nature.
Ariella Chezar is the author of "The Flower Workshop" and "Flowers for the Table" and a master floral designer who has appeared in numerous magazines, including O, Martha Stewart Living, and Real Simple. She is an instructor and artistic director at FlowerSchool New York, and has designed flower arrangements for the White House.
From the best-selling artist and YouTube art instructor (2.9 million subscribers), THE TWO-PENCIL METHOD features step-by-step lessons that show you how to draw professional-quality portraits, landscapes, travel sketches, and animals using only two ordinary pencils

THE TWO-PENCIL METHOD
The Revolutionary Approach to Drawing It All
by Mark Crilley
Watson-Guptill, September 2018
Great art doesn't have to be expensive. For the cost of a regular graphite writing pencil and an equally ordinary black colored pencil, you can create drawings worthy of framing and displaying. In this straightforward, aspiring artist's guide to rendering a variety of popular subjects with only two pencils, artist and art instructor Mark Crilley presents a direct, approachable, and achievable method for drawing just about anything.
THE TWO-PENCIL METHOD breaks down Crilley's techniques across six chapters of five lessons each. In each lesson, you'll learn how the two-pencil method can add depth and shading, allowing you to create bold and distinctive drawings that go beyond mere sketchbook doodles. The book moves from a primer on drawing basics to step-by-step examples of still lifes, landscapes, animals, travel sketches, and portraits. With each chapter, Crilley's confident and encouraging voice and expert insights demonstrate how to achieve stunning artistic results from the simplest of art materials.
Mark Crilley is the author of "Mastering Manga" (more than 100,000 copies sold), "The Realism Challenge", "Manga Art", and the Eisner-nominated "The Drawing Lesson", as well as several manga novels, including the "Akiko", "Miki Falls", "Billy Clikk", and "Brody's Ghost" series. Since being selected for Entertainment Weekly's « It List » in 1998, Crilley has published nearly 20 books and developed a massive Internet following for his drawing demonstration videos. His books have been featured in USA Today, the New York Daily News, and Disney Adventures magazine, as well as on CNN headline news.


THE GIFT OF CALLIGRAPHY is an easy-to-follow guide to learning the art of calligraphy, with 25 gorgeously photographed projects that use calligraphy to make beautiful gifts and home décor
THE GIFT OF CALLIGRAPHY
A Modern Approach to Hand Lettering with 25 Projects to Give and to Keep
 by Maybelle Imasa-Stukuls
Watson-Guptill, September 2018
Calligraphy and hand lettering have surged in popularity as people rediscover traditional handicrafts as a creative outlet and way to relax. Unlike other hand lettering books, this book shows you how to use your calligraphy skills to create invitations, wrapping paper, framed art, decor for nurseries, personalized stationary, book plates, and more.
Maybelle Imasa-Stukuls, who has 30k followers on Instagram and has taught sold-out workshops in the US as well as Australia, Japan, and Singapore, brings her signature modern style to this traditional craft. The first quarter of the book provides a primer for creating a simple alphabet and how to find your own personal style of lettering, followed by wonderful projects that will delight your family, impress your friends, and beautify your home—all accompanied by clear step-by-step photography and inspiring shots of the finished pieces from the photography team of Thuss + Farrell.
Maybelle Imasa-Stukuls is a highly sought after artist, designer, calligrapher, and author of "Belle Calligraphy", a giftable calligraphy kit published by Chronicle Books in 2015. Maybelle teaches sold-out calligraphy workshops in the U.S. and worldwide and her work has been regularly featured in magazines such as Martha Stewart Weddings, Sunset, and Better Homes and Gardens, and on blogs such as Oh Happy Day, The Design Files, and Design*Sponge.

The ultimate guide to creating and styling modern macramé projects in the home from top creative tastemaker and sought-after macramé artist Emily Katz
MODERN MACRAME
33 Stylish Projects for Your Handmade Home
by Emily Katz
Ten Speed Press, May 2018 
Macramé—the fine art of knotting—is an age-old craft that's undergoing a contemporary renaissance. At the heart of this resurgence is Emily Katz, a lifestyle icon and artist who teaches sold out macramé workshops around the world, including in the UK, Japan, Netherlands, Denmark, Germany, Portugal, Spain, Mexico, Turkey, and Scandinavia. She has been featured in international media outlets such as London Daily Mail, Elle Japan, Elle NL, and Elle France as well as several outlets in Korea.
MODERN MACRAME is a stylish, contemporary guide to the traditional art and craft of macramé, including 33 projects, from driftwood wall art and hanging herb gardens to macramé room dividers and headboards. The projects are showcased in easy to follow and photogenic project layouts, guiding both the novice and the more experienced crafter in a highly achievable way. Included with every project are thoughtful lifestyle tips showing how macramé can provide the perfect finishing touch for the modern, well-designed home−whether it's a hundred-year-old farmhouse, a sophisticated loft, or a cozy but stylish rental.
Emily Katz is a creative consultant, interior designer, macramé teacher, artist, and Instagram phenomenon. She is a sought-after artist who has created custom pieces for clients such as Ralph Lauren.

MAKE AND MEND is an exquisite, full-color guide to sashiko, a simple Japanese stitching technique that uses stunning patterns to decorate or repair clothing, accessories, and home textiles— requiring no special equipment other than a sewing needle and thread!
MAKE AND MEND
Sashiko-Inspired Embroidery Projects to Customize and Repair Textiles and Decorate Your Home
by Jessica Marquez
Watson-Guptill, August 2018
Is traditionally used to mend and repair clothing and textiles, but it can just as easily be used to create beautiful, decorative projects for the home. With fifteen projects applying a modern, on-trend aesthetic to this ancient craft, MAKE AND MEND shows readers how to apply sashiko stitching to a variety of craft projects, such as repairing torn jeans, decorating a shower curtain, mending a ripped hem, and making a simple pet bed, throw pillows, napkins, a tablecloth, and a tote bag. Touching on the concepts of beauty in minimalism and resourceful simplicity, as well as a fascination with Japan and Japanese design, this easy and accessible book appeals to both the seasoned maker and total beginner.
Jessica Marquez is an author, photographer, teacher, content creator, and full-time creative maker behind the handmade shop Miniature Rhino. Jessica's work has been featured in dozens of print publications and countless blogs including Style Me Pretty, Design*Sponge, Apartment Therapy, and Refinery29.

EVERYDAY WATERCOLOR FLOWERS is a beautiful step-by-step guide to painting botanicals from lilies to daffodils in a wide variety of styles
EVERYDAY WATERCOLOR FLOWERS
A Modern Guide to Painting Blooms, Leaves, and Stems Step by Step
by Jenna Rainey
Watson-Guptill, June 2019 
Artist Jenna Rainey shares easy-to-follow ways to paint a wide range of botanicals, all in her fresh, modern style that appeals to the next generation of watercolor artists and creatives, from beginners to hobbyists. With gorgeously illustrated instructions for both loose and realistic watercolor depictions of more than 25 flowers, leaves, and plants, organized by form and shape, EVERYDAY WATERCOLOR FLOWERS is every nature-lover's answer to capturing that beauty on paper.
Jenna Rainey is the lead designer of Mon Voir, a California design agency that specializes in watercolor, calligraphy, and other hand-drawn designs for various mediums. Rainey's work has been featured in countless publications and wedding blogs including Nixon, Martha Stewart Weddings, The Knot, The Lane, and BuzzFeed. She is now also sharing her talent and stories in various keynotes throughout the country including Brit+Co's Re:Make Summit, Connecting Things, and more.

This revised 15th anniversary edition of the bestselling beginning drawing book (more than 70k copies sold) updates art and text examples to include new student pieces, up-to-date materials, and additional sections on drawing in 3D and travel sketching, along with refreshed and contemporary design
DRAWING FOR THE ABSOLUTE AND UTTER BEGINNER, REVISED
15th Anniversary Edition
by Claire Watson Garcia
Watson-Guptill, June 2018 
Based on author and art instructor Claire Watson Garcia's successful courses and workshops for beginning and aspiring artists, DRAWING FOR THE ABSOLUTE AND UTTER BEGINNER applies a positive, accepting tone to a progressive series of lessons in sketching and rendering. The book's step-by-step methodology and examples of student works from earliest efforts to completed drawings give novices the tools and techniques needed to make competent and eloquent renderings of still lifes, portraits, and more.
In this revised edition, Garcia covers such in-demand subject matter as drawing-on-the-go, drawing in three dimensions, and drawing the portrait at a three-quarter view. The layout and art selection have also been updated to give the book a more modern sensibility. The reinvigorated art and text ensure that this drawing instruction classic will continue to appeal to new generations of aspiring artists.
Claire Watson Garcia is an instructor at the prestigious Silvermine School of Art in New Canaan, CT, where her « Absolute and Utter Beginner » courses and workshops have been popular for over 20 years. She is also the author of "Painting for the Absolute and Utter Beginner".

Modern weaving projects like you've never seen—within easy reach of anyone
WEAVING WITHIN REACH
Beautiful Woven Projects by Hand or by Loom
by Anne Weil
Potter Craft, August 2018 
The author of "Knitting Without Needles" (nearly 10k copies sold) turns her attention to the upcoming crafting trend of weaving, with 30 equally ingenious and beautiful projects for bracelets, scarfs, baskets, lanyards, textiles, and more. The projects can be woven on looms that are bought (a small inexpensive lap loom), found (a hula hoop or tree branch), or not necessary at all, making this book an exciting introduction to fiber arts.
The resurgence of the '70s in fashion and home decor has brought about a new trend in crafting: weaving. Anne Weil gives macramé, basket weaving, and other weaving skills a makeover with beautiful photography and styling with projects that can be made on various easily sourced looms—and even some that don't require a loom–and with just about any kind of material or fiber (including yarn, leather, and paper). Like "Knitting Without Needles", the photography is light and bright, and just a touch bohemian. Best of all, projects are organized by time commitment (one hour, weeknight, and weeknight projects), so readers can craft at their comfort level.
Anne Weil is the creator of the DIY blog Flax & Twine and a designer of craft, knit, and crochet patterns that have been published on sites such as Design*Sponge, Design Mom, Apartment Therapy, and the Huffington Post. She is also a member of Martha Stewart's small team of craft freelancers, producing monthly projects for the brand.
Use science and engineering to transform your bin of LEGO® bricks into amazing, movable toys, machines and gadgets
GENIUS LEGO INVENTIONS WITH BRICKS YOU ALREADY HAVE
40+ New Robots, Vehicles, Contraptions, Gadgets, Games, and Other STEM Projects with Real Moving Parts
by Sarah Dees
Page Street, November 2018 
Bestselling author Sarah Dees is back with an all-new collection of projects featuring ingenious designs and simple scientific principles that real engineers use every day. Make yourself a robot pal whose legs move as he rolls along, or a drummer who really plays the drums. Build a wind-up car complete with a flywheel that'll send your minifigures zooming. Or challenge your friends to a game of pinball on a LEGO® pinball machine you built from scratch. Each project is cooler than the next!
It's easy and fun to build each of these awesome contraptions and games by following the clear step-by-step instructions and photographs. Think you have a different way to build something? Exercise your inventing muscles and tinker away! You're in charge of your designs, so experiment and tweak to make your inventions personal to you. No matter what you end up creating, you'll learn exciting new things about science, impress your family and have a blast along the way.
Sarah Dees is the author of "Awesome LEGO Creations with Bricks You Already Have" and "Epic LEGO Adventures with Bricks You Already Have". She's also the founder of the blog Frugal Fun for Boys and Girls.

From Bonnets to Bearskin Rugs . . . Sweet Crochet Projects for Baby & Family
BABY & KIDS CROCHET STYLE
30 Patterns for Stunning Heirloom Keepsakes, Adorable Nursery Décor and Boutique-quality Accessories
by Jennifer Dougherty
Page Street Publishing, September 2018 
Create something extra special for the baby, toddler or child in your life with Jennifer Dougherty's new book of better-than-boutique patterns. Find the same gorgeous textures and stylish designs that made her first book, Crochet Style, a hit with makers everywhere, this time for little ones of all ages. If you're looking for a baby shower gift parents will treasure, choose from a selection of chic bonnets, beautiful blankets, creative car seat covers and more. Make baby's first photo shoot over-the-top adorable with Jennifer's original, one-of-a-kind Faux Bearskin Nursery Rug pattern. The whole family can keep warm in style with quick cold weather designs, including sizes through adults.
This versatile collection for intermediate crocheters is one you'll keep returning to for meaningful shower gifts, newborn photo props and cute toddler attire. Jennifer guides you through every step, providing tips, tricks and pointers for a perfect finished product without the guesswork. Each pattern combines sumptuous textures and delicate details with dependable construction for gorgeous, high-quality designs you won't find anywhere else. These 30 timeless patterns, enhanced by your handmade touch, are sure to become one-of-a-kind family heirlooms.
Jennifer Dougherty is a crochet pattern designer, the founder of the online shop Crochet by Jennifer and the author of "Crochet Style".



Create custom perfumes the natural way
HOMEMADE PERFUME
Create Exquisite, Naturally Scented Products to Fill Your Life with Botanical Aromas
by Anya McCoy
Page Street, July 2018 
This unprecedented, comprehensive guide from renowned perfumer Anya McCoy is an inspiring resource for anyone interested in creating artisanal perfume at home. Discover simple step-by-step methods for making perfume without harsh chemicals. Jump right in, using local plants and common household ingredients. Soon you'll be building your own scent collection and creating unforgettable gifts for friends and family.
This book covers a variety of techniques for capturing fragrances from natural materials, making it easy to choose the project that works for your schedule and experience level. Source your own organically grown botanicals, and enjoy the earth-friendly benefits of creating your own essential oils and extractions sustainably. Make your own all-natural perfumes, room and linen sprays, body butters, massage oils, and more. Explore the nuances of scent blending to create delightful fragrances that are unique to you. Packed with easy methods and expert guidance, this book will become an indispensable reference as you grow into a confident scent designer.
Anya McCoy is the founder of Anya's Garden Perfumes and a member of the American Society of Perfumers. She's internationally recognized as a leading force behind the revival of natural perfumery. She established the first online distance-learning course in natural perfumery and has taught, mentored, and guided thousands in the art.

Certified master herbalist and owner of Aquarian Soul, Ally Sands, combines the hot new trend of crystal healing with all-natural and incredibly effective herbalism recipes and crafts
HERBS AND CRYSTALS DIY
Use Plant Medicine and Crystal Energy to Heal the Mind and Body
by Ally Sands
Page Street, April 2018
Ally Sands—master herbalist and founder of Aquarian Soul—shares her expertise on healing herbal properties, as well as how to effectively use over twenty different crystals, including amethyst, opal and rose quartz. When these powerhouses are used together, they form a potent combination to relax, energize and help you live a happier and healthier life. Every project—from a passion flower tincture, to a wild flower and crystals face steam, to building a crystal mandala—focuses on improving mental and physical wellness.
Whether you are looking to alleviate anxiety, practice mindfulness or enhance your beauty routine, Ally's unique recipes and crafts will show you how best to harness the incredible power of herbs and crystals.
Ally Sands is the founder of Aquarian Soul, an organic brand of crystal-infused skincare and ritual bathing products. She is a master herbalist, aromatherapist and Reiki healer. Her company has been featured in Vogue, Women's Health, Allure, ELLE and many others.

Droits cédés depuis le 1er janvier 2017 :
THE EXQUISITE BOOK OF PAPER FLOWERS (FLEURS EN PAPIER) de Livia Cetti aux Éditions de Saxe
KNITTED CABLE SOURCEBOOK (LE GUIDE DES TORSADES) de Norah Gaughan à Eyrolles
SOCKS FROM THE TOE UP (TRICOTER SES CHAUSSETTES) de Wendy D. Johnson à Eyrolles
THE WILD UNKNOWN TAROT DECK AND GUIDEBOOK de Kim Krans aux Éditions de La Maisnie – Guy Trédaniel
EVERYDAY WATERCOLOR (MON COURS D'ACQUARELLE EN 30 JOURS) de Jenna Rainey à Eyrolles
THE MITTEN HANDBOOK (TRICOTER SES MOUFLES) de Mary Scott Huff à Eyrolles
THE MODERN NATURAL DYER (LA TEINTURE AU NATUREL) de Kristine Vejar aux Éditions de Saxe