COOKBOOKS
Cliquez ici pour accéder à la page de notre backlist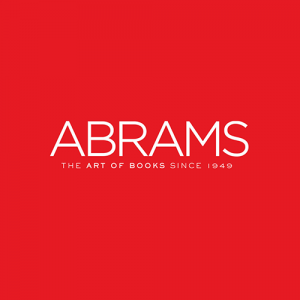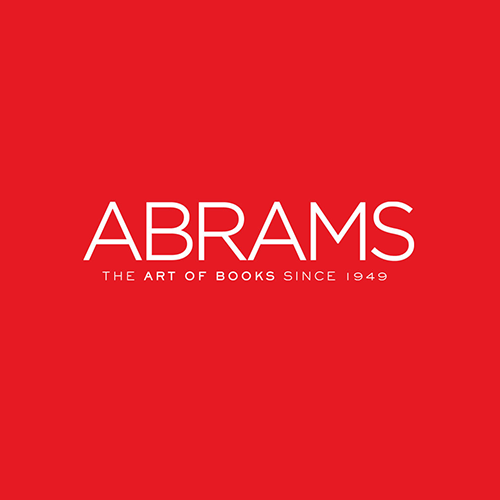 Eat good. Feel good
PESCAN
by Abbie Cornish and Jacqueline King Schiller
Abrams, March 2019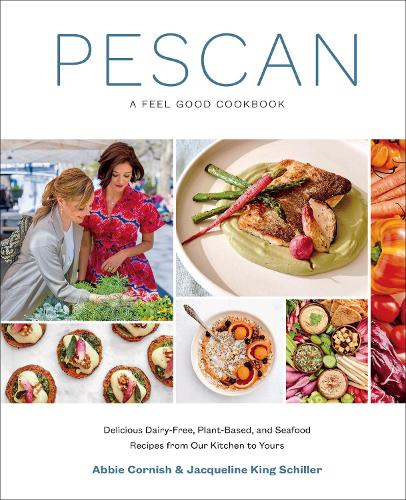 Actress Abbie Cornish and chef Jacqueline King are best friends who bonded over their love of food and an understanding of the importance of self-care. A few years ago, Abbie, a novice cook, asked Jacqueline, a graduate of the culinary program at the Natural Gourmet Institute, for cooking lessons. Every Sunday, Abbie and Jacqueline would take trips together to the local farmers' market, spend all day cooking, and then serve delicious and healthy meals to their family and friends. It became a weekly ritual, and they eventually adopted the term « pescan » to describe their way of cooking.
PESCAN is an extension of this tradition and all the food they explored together. Their way of eating is centered on plant-based, dairy-free dishes, but with high-protein seafood and eggs incorporated. The book opens with their own Cooking School, a chapter that walks you through the basics of cooking and eating this way. You'll learn how to batch cook everything you need for the week: beans, grains, veggies, nut milks, and more. The cookbook is filled with more than 100 recipes, like Veggie Tempeh Bolognese, Artichoke Hummus with Za'atar, and Salmon with Mango Chutney and Crush Pecans, that are highly nutrient dense, incredibly energizing, and very accessible. PESCAN is a collection of healthy recipes, but it's also a story of friendship, healing, and developing a more positive relationship with food.
Abbie Cornish is an actress who most recently starred in Three Billboards Outside Ebbing, Missouri.
Jacqueline King Schiller is a chef and graduate of the Natural Gourmet Institute.

A follow-up to her successful book Layered, which extensively covered the ins and outs of all-things layer cake, Tessa Huff returns with ICING ON THE CAKE to dive deeper into dessert decoration and the presentation of layer cakes and other show-stopping treats for all occasions
ICING ON THE CAKE
by Tessa Huff
Abrams, March 2019 
With a swoop of frosting, a drizzle of decadent chocolate glaze, and a swirl of color, Tessa Huff shares her "wow" worthy desserts and bakery-style cakes that home bakers can make in their own kitchens. ICING ON THE CAKE provides the confidence home bakers need to get creative, guiding us from cake pan, to presentation, to dessert plate. Organized by decorative style, each dessert showcases a different decorative element, artistic pastry technique, or presentation idea. Ranging from classic pastry methods and simple chocolate work to more contemporary buttercream applications, Huff has a recipe or design idea for any event or occasion. Styles include everything from rustic to chic and playful to charming, without being too gimmicky or juvenile. Each is approachable and easily explained while using simple tools and equipment most home bakers already have at home, like various piping tips and an offset spatula.
Tessa Huff strongly believes that any event worth remembering should end on a sweet note—a sky-high layer cake to celebrate a new job, a drool-worthy dessert to end a dinner party, or a towering display of handcrafted pastries to conclude a bridal shower. With hundreds of beautiful photos, ICING ON THE CAKE is a richly illustrated cookbook for creating delicious, beautiful desserts that can be the grand finale of any gathering.


A comprehensive guide to cooking traditional Korean food in your home
KOREAN HOME COOKING
by Sohui Kim
Abrams, October 2018 
Chef Sohui Kim's restaurant Insa has taken the Brooklyn food scene by storm. The New York Times's Pete Wells, in his rave review, describes what sets Insa apart is « a modern chef's sensitivity to technique and ingredients. » From its banchan—the little dishes that appear on the table, which « signal seriousness in a Korean kitchen »—to its soondae and its popular grilled meats, Insa is at once a critical and popular success, largely due to Kim's flavorful food and the restaurant's fun atmosphere.
In KOREAN HOME COOKING, Kim shares the authentic Korean flavors found in the dishes at her restaurant and the recipes from her family. Based on the idea of « Sohn Mat, » which means « taste of the hand, » or someone who has great finesse and a deft hand in seasoning, the book explores the technique and understanding of flavors that are required to cultivate Sohn Mat. With 100 recipes, KOREAN HOME COOKING is a comprehensive look at Korean cuisine, and includes the more familiar recipes for kimchee, crisp mungbean pancakes, seaweed soup, spicy chicken stew, and japchae noodles to the less familiar traditions of soondae (blood sausage) and yuk hwe (beef tartare). With Sohui's guidance, stories from her family, and photographs of her travels in Korea, KOREAN HOME COOKING brings the rich cultural traditions into your home kitchen.
Sohui Kim is the chef and co-owner of Insa and The Good Fork in Brooklyn, New York.
Rachel Wharton is a James Beard Foundation award-winning journalist and the coauthor of "F*ck, That's Delicious" and "The Good Fork Cookbook", among others.

Satisfy your cravings without a single serving of guilt!
CALI'FLOUR KITCHEN
by Amy Lacey
Abrams, January 2019
Cali'Flour Foods offers the tastiest and most popular low-calorie, low-carb, grain-free delicious alternatives to traditional pizza, sandwiches, wraps, and more. They have helped millions of people transform traditional splurge foods into superfoods, and their first cookbook, THE CALI'FLOUR KITCHEN, offers readers the recipes for dishes they haven't been able to enjoy for years—from French Onion Soup and Quiche Lorraine to pizzas, cookies, enchiladas, and lasagna.
Designed for people across the dietary spectrum including Weight Watchers, dairy-free, vegan, paleo, keto, and plant-based lifestyles, THE CALI'FLOUR KITCHEN has the perfect recipes for every carb-heavy craving—without any of the side effects or guilt. For those suffering from health issues like diabetes and autoimmune diseases, THE CALI'FLOUR KITCHEN will reintroduce favorite foods they have long forsaken—now reinvented to include at least a full serving of vegetables. With more than 125 recipes and photographs, plus a detailed how-to section on creating cauliflower crusts, rice, crisps, wraps, and zoodles in home kitchens, THE CALI'FLOUR KITCHEN is all about indulging without compromising health!
Amy Lacey is the founder of Cali'flour Foods, which she developed after being diagnosed with lupus in 2010. Cali'flour Foods and their line of delicious products were featured in Shape Magazine, Food & Beverage Magazine, OK! Magazine, Vegetarian Times, Star Magazine, and more. Lacey's Cali'flour pizza crusts were selected as Clean Eating Magazine's « Coolest New Find of 2017, » and named one of « Whoopi's Favorite Things » on The View. Lacey is a health coach and authored the self-published "The Clean Switch".

Matty Matheson, star of Viceland's It's Suppertime and Dead Set On Life, reveals his favorite recipes and stories in a cookbook that his millions of fans have been waiting for
MATTY MATHESON: A COOKBOOK
by Matty Matheson
Abrams, October 2018
Matty Matheson is known as much for his amazing food as his love for life, positive mental attitude, and epic Instagram account. This debut cookbook is about Matty's memories of the foods that have defined who he is. With a drive to share his zest for life, he creates dishes within these pages that reinterpret the flavors of his youth in Canada, as well as the restaurant fare for which he has become so well-known. Interpretations of classics like Seafood Chowder, Scumbo: Dad's Gumbo, and Rappie Pie appear alongside restaurant recipes like Bavette, Pigtail Tacos, and his infamous P&L Burger.
This is a very personal cookbook, full of essays and headnotes that share Matty's life—from growing up in Fort Erie, exploring the wonders of Prince Edward Island, struggling and learning as a young chef in Toronto, and, eventually, his rise to popularity as one of the world's most recognizable food personalities. His no-nonsense approach to food makes these recipes practical enough for all, while his creativity will entice seasoned cooks. This book is like cooking alongside Matty, sharing stories that are equal parts heartwarming and inappropriate while helping you cook dishes that are full of love. MATTY MATHESON: A COOKBOOK is a new collection of recipes from one of today's most beloved chefs.
Matty Matheson, born in Saint John, New Brunswick and raised in Fort Erie, Ontario, is the host of Viceland's It's Suppertime and Dead Set on Life. This is his first cookbook.


Flip—Watch—Make—Eat…Repeat! In this first-ever cookbook-flip book, learn how fast and easy it is to create hand-shaped pasta by flipping your way through every knead, touch, pinch, and press of the pasta-making process
PASTA: THE FLIPBOOK
by Jennifer Aaronson and Linda Pugliese
Clarkson Potter, February 2019
Each pasta shape—there are 8 shapes to learn—is brought to cinematic motion, as you flip through the pasta shaping process (check out a few GIF videos here to see the magic unfold). These simple pastas require no special equipment, no more than 3 ingredients, and can be hand-shaped in 10 minutes from dough to done. From cavatelli to orecchiette, strozzapreti to pici, once you see how easy it is, you'll soon be making homemade pasta on a Tuesday night.
Recipes include one master dough and eight sauces—half of the sauces are quick and simple (and for many, the pasta cooks in the sauce—no boiling required) and half are more Sunday supper style. With hundreds of cinema verite-style black and white photographs, plus a full color shot of each finished pasta dish, you'll be on your way to creating delicious homemade pasta, such as One-Pan Cavatelli with Herb Butter Sauce; Pici with Saffron, Clams and Lemon; and Capunti with Sunday Sauce.
The tactile, retro appeal of the flipbook package combined with evocative, mesmerizing, and practical how-to imagery of making pasta shapes by hand makes this a gifty, yet sophisticated impulse-buy or the perfect gift for that person who has everything.
Jennifer Aaronson is the Culinary Director of Marley Spoon and the former Editorial Director of Food and Entertaining at Martha Stewart Living. She also owns Boro6 wine bar in Hastings-on-Hudson, New York.
Linda Pugliese is a New York-based photographer who shoots food, still life, lifestyle, and travel. Her clients include Conde Nast Traveler, FoodandWine.com, Martha Stewart Living, People, Southern Living, and the Wall Street Journal. She recently shot the cookbook "Healthyish" by Lindsay Hunt (Abrams 2018).

The first major new work from the man who taught the world "How to Cook Everything" is truly the one book a cook needs for a perfect dinner—easy, fancy, or meatless, as the occasion requires
DINNER FOR EVERYONE
300 Ways to Go Easy, Vegan, or All Out
by Mark Bittman
Clarkson Potter, February 2019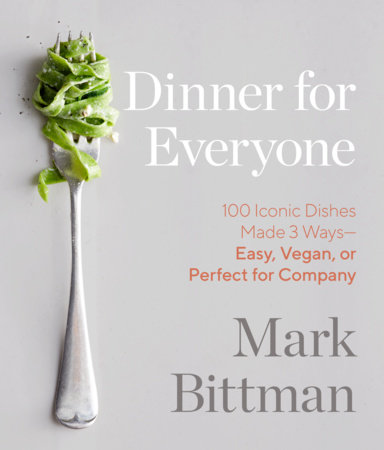 As the author of one of the most popular and well-respected New York Times food columns and with over a million copies of his "How to Cook Everything" cookbook series in print, Mark Bittman is revered for his simple, straightforward, and flexible approach to everyday cooking. In DINNER FOR EVERYONE, he shares 100 essential main dishes with variations to transform each recipe from easy to vegan to all-out depending on your plans for the night. These 300 all-new recipes, accompanied by more than 100 full-color photographs, form a diverse collection that includes quick meals for busy weeknights (hearty soups, tacos, and one-pot pastas), creative plant-based fare that will please both vegans and non-vegans alike (lemon polenta with mushroom ragu, pomegranate-glazed eggplant, or cauliflower tinga tacos), and impressive dishes perfect for entertaining (handmade noodles or vanilla-scented lobster risotto).
Whatever the experience level, craving, or time constraint, home cooks will find exactly what they need to prepare all their favorites with confidence and enthusiasm. Rooted in Mark's philosophy of using efficient cooking techniques, fresh ingredients, and basic kitchen equipment—and written in his signature to-the-point style—DINNER FOR EVERYONE is today's one-stop, indispensable reference for life's ultimate question: What's for dinner?
Mark Bittman writes for the Opinion section of the New York Times on food policy and cooking and is a columnist for the New York Times Magazine. He is regularly featured on the « Today » show in « How To Cook Everything Today » cooking segments. For 13 years he wrote « The Minimalist » column and now a « Minimalist » cooking show is featured on the Cooking Channel. The "How to Cook Everything" series is highly respected: the first edition of the flagship book "How to Cook Everything" won both the IACP and James Beard Awards, and "How to Cook Everything Vegetarian" won the 2008 IACP award. He is also the author of "Food Matters", "Food Matters Cookbook", "Fish", and "Leafy Greens". He currently has 571k Twitter followers, 110k Facebook fans, and 40k Instagram followers.

MARTHA STEWART
Martha Stewart is an American business magnate, author, editor and homemaking advocate. She is also a former stockbroker and fashion model. Over the last two decades Stewart has held a prominent position in the American publishing industry; as the author of several books, hundreds of articles on the domestic arts, editor of a national homekeeping magazine, host for two popular daytime television programs, and commercial spokeswoman for K-Mart. In 2001 she was named the third most powerful woman in America by Ladies Home Journal.
With more than 100 recipes from the trusted editors at Martha Stewart Living, this indispensable guide to grilling has everything you need to create delicious, inviting meals for everyday dinners and backyard feasts.
MARTHA STEWART'S GRILLING
125+ Recipes for Gatherings Large and Small
Clarkson Potter, March 2019
There's nothing like the satisfaction of cooking over a live fire, whether a weeknight meal or outdoor entertaining. MARTHA STEWART'S GRILLING captures this spirit, while providing essential tips and techniques for both experienced outdoor cooks and those brand-new to the grill. Longtime favorites like pulled-pork sandwiches and bacon-and-turkey burgers are alongside foolproof dishes such as Korean short ribs and mojo-marinated shrimp. Crowd-pleasing appetizers, burgers, tacos, and kebabs join colorful cocktails to allow for easy entertaining, while smart strategies make grilled classics like pork chops and butterflied whole chicken a snap. MARTHA STEWART'S GRILLING combines technical know-how with an appealing lifestyle aspect that speaks to the conviviality that's unique to grilling. Recipes include starters like quick kebabs and crostini that are easy to serve guests when they first arrive, crowd-pleasing cocktails like sangria and shandies, big family-style platters of grilled meats and vegetables, and desserts that are either grilled or made ahead of time, along with tips to stay organized.
Friends and family alike will love diving right into beautiful platters of grilled meats and vegetables, followed by grilled or chilled sweet treats—the perfect ending to a simply delectable meal.
——————–
An essential resource for every cook
MARTHA STEWART'S VEGETABLES:
Inspired Recipes and Tips for Choosing, Cooking, and Enjoying the Freshest Seasonal Flavors
Clarkson Potter, September 2016
In this beautiful book, Martha Stewart—one of America's best-known cooks, gardeners, and all-around vegetable lovers—provides home cooks with an indispensable resource for selecting, storing, preparing, and cooking from the garden and the market. The 150 recipes, many of which are vegetarian, highlight the flavors and textures of everyday favorites and uncommon varieties alike. The recipes include:
• Roasted Carrots and Red Quinoa with Miso Dressing
• Swiss Chard Lasagna
• Endive and Fennel Salad with Pomegranate Seeds
• Asparagus and Watercress Pizza
• Smoky Brussels Sprouts Gratin
• Spiced Parsnip Cupcakes with Cream Cheese Frosting
Martha Stewart's Vegetables makes eating your greens (and reds and yellows and oranges) more delicious than ever.
——————–
  Using just one pan, you can stew, steam, sauté, simmer, braise, or roast your way to a fuss-free meal—and minimal cleanup to boot

ONE POT
120+ Easy Meals from Your Skillet, Slow Cooker, Stockpot, and More
Clarckson Potter, September 2014

At the end of a busy day, you want to serve a delicious home-cooked dinner, a complete, all-in-one meal that can be prepared with little effort and few pans to wash. The editors of Martha Stewart Living present a brand-new collection of 120 recipes—organized by vessel—to help you do just that, all while adding savory new dishes to your weekly rotation.
One Pot is an exciting new way to approach everyday cooking: Imagine perfect pasta dishes for which everything goes in the pot at once (yes, that's pasta, tomato, garlic, basil, and water all cooked together), dinner-party ready roasts with tender vegetables, and down-home casseroles, along with wholesome fish, chicken, and vegetarian dishes. You'll get incredible flavor payoff from dishes such as comforting Chicken and Dumplings, easy Baked Risotto with Carrots and Squash, healthy Broiled Striped Bass with Tomatoes, hearty Pork Chops with Bacon and Cabbage, and the delectable Skillet Chocolate-Chip Cookie—each of which takes less than an hour from start to finish. Here, too, are a dozen outstanding recipes for surprising and simple desserts that can be ready when you are.

WINE FOOD is the wine and food lover's playbook, with 75 wine styles and 250 producers to try with 75 recipes that go with them perfectly
WINE FOOD
by Dana Frank and Andrea Slonecker
Lorena Jones Books, November 2018
Today's new breed of wine drinker and cook wants to discover a wider range of wines and match them to the rustic, casual, global food they love to eat. In WINE FOOD, sommelier and urban winery owner Dana Frank partners with professional cook Andrea Slonecker to deliver 75 recipes for brunches, salads, vegetable dishes, picnics, weeknight dinners, and feasts with friends, all inspired by delicious, affordable wines that go with them beautifully.
Each recipe opens with a succinct overview of the wine style that inspired it, describing the grapes and naming the countries the wine comes from, followed by a brief explanation of how it complements the flavors and textures in the recipe. Recommendations for three to eight producers for every wine style highlighted will help cooks find a wide range of bottles in corner wine shops, grocers, and online. Frank and Slonecker also include a wine flavors cheat sheet, a label lexicon lesson, a short course on wine tasting like a pro, and illustrated features on matching wine with types of favorite foods (typical take-out, beloved pasta dishes, and popular sweets).
With more than 75 atmospheric and recipe photos and 20 watercolor illustrations, WINE FOOD makes wine education experiential, fun, and especially delicious for wine drinkers of all knowledge levels.
Dana Frank is the co-owner of Bow & Arrow, an urban winery and wine distributor, and a respected sommelier who has overseen the wine lists for five Portland restaurants, including Ava Gene's (twice named to Wine Enthusiast's « Best 100 Wine Restaurants » list). In 2015 she was named one of Food & Wine's sommeliers of the year and a sommelier to watch by Bon Appétit. She now directs the wine program at Holdfast.
Andrea Slonecker is the coauthor of "Beer Bites" and "The Picnic", which won a 2016 IACP Award, and has worked on more than 15 books as a professional recipe developer and stylist.

FRANKLIN STEAK is the be-all, end-all guide to cooking the perfect steak—from buying top-notch beef, seasoning to perfection, and finding or building the ideal cooking vessel. The authors' first book, "Franklin Barbecue" (Ten Speed Press, Spring 2015), sold over 200k copies and spent 13 weeks on the New York Times best-seller list
FRANKLIN STEAK
Dry-Aged. Love-Fired. Pure Beef.
by Aaron Franklin and Jordan Mackay
Ten Speed Press, April 2019 
Aaron Franklin may be the reigning king of brisket, but in his off-time, what he really loves to cook and eat at home is steak. So, in this follow-up to his first book, the pitmaster extraordinaire teaches readers how to cook his favorite food to absolute perfection. With their trademark rigor and expertise, Franklin and coauthor Jordan Mackay go deeper into the art and science of cooking steak than anyone has gone before.
They travel the world—beyond Franklin's native Texas to Spain, Scotland, California, and Japan—to uncover global steak preparations and traditions. They demystify cattle breeds, explore the technique of dry-aging, and even teach readers how to build custom, backyard grill setups inspired by the best steak chefs in the world. For any meat-lover, backyard grill-master, or fan of Franklin's fun yet authoritative approach, this book is a must-have.
Aaron Franklin is one of the biggest, most recognized names in barbecue and the wider food world. His restaurant has won every major barbecue award and has been in magazines ranging from GQ to Bon Appétit.
Jordan Mackay is a James Beard Award-winning writer who lives in Napa Valley and travels extensively, speaking and writing about wine, spirits, and food. His work has appeared in Food & Wine, New York Times, Los Angeles Times, San Francisco Chronicle, Decanter, the Art of Eating, Wine & Spirits, and many others. He is the author of "Passion for Pinot" and coauthor of James Beard Award-winner "Secrets of the Sommeliers" and "The Sommelier's Atlas of Taste" (both with Rajat Parr), "Two in the Kitchen" (with Christie Dufault), "Knife" (with John Tesar) and New York Times bestseller "Franklin Barbecue" (with Aaron Franklin).

A gateway cookbook for novices and anyone who wants to be a better home cook, WHERE COOKING BEGINS gives readers a modern approach to shopping, simple cooking methods, and more than 70 innately flexible recipes
WHERE COOKING BEGINS
Uncomplicated Recipes to Make You a Great Cook
by Carla Lalli Music
Clarkson Potter, March 2019 
The indispensable recipes and simple cooking methods in WHERE COOKING BEGINS are an open invitation to dive into Carla Lalli Music's intuitive, laid-back cooking style. Carla starts at the beginning by encouraging readers to rethink how they shop for food: instead of tedious trips to the supermarket, Carla calls upon busy cooks to use grocery delivery services for staples and general ingredients thus freeing up time to do the "fun" shopping at farmer's markets. This strategy is carried through to the recipes with ingredients marked as either "market" or "buy from home". By making shopping an enjoyable experience, home cooks will look forward to their weekly shopping list instead of dreading it.
Recipes like Salted Cucumbers with Ginger, Chicken Cutlets with Spicy Coconut Dressing, and Any-Fruit Galette are designed to give readers the ability to make perfect dishes with dead-simple seasonings and endless ingredient swaps, and her food shopping strategy will teach readers how to find inspiration at the market. She also includes clear instructions for 6 foundational cooking techniques with beautiful step-by-step photography by Gentle and Hyers.
Designed for busy lives, WHERE COOKING BEGINS empowers anyone to be a better cook with intuitive solutions for pulling together easy, but sophisticated meals.
Carla Lalli Music is the food director at Bon Appétit, where she oversees the brand's entire food and recipe content and writes frequently for the magazine and its digital platforms—bonappetit.com, Healthyish, and Basicially. A frequent host on the Bon Appétit podcast, she appears frequently in recipe and technique videos on Bon Appétit's YouTube channel, where nearly 2 million subscribers tune in to see what's happening in the test kitchen.

Culinary journalist and author of "Tasting Rome" (Clarkson Potter, Spring 2016), Katie Parla enchants readers with her love letter to the Italian South by pulling back the curtain and showcasing the vibrant, food-centric culture alongside deliciously modernized versions of favorite and forgotten cooking traditions
FOOD OF THE ITALIAN SOUTH
Recipes for Classic, Disappearing, and Lost Dishes
by Katie Parla and Stephen Fried
Clarkson Potter, March 2019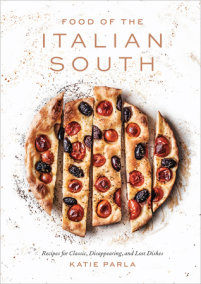 Cooking and eating are both deeply rooted in Italian society, but, like its society, the country's cuisine is wildly diverse. While all of Italy values fresh produce and bright flavors, the Italian South is best known for its rustic and romantic cuisine. After the critical success of her first book "Tasting Rome", Katie Parla travels south to the warm regions of Basilicata, Calabria, Campania, Molise, and Puglia to discover her heritage through food. With 85 original and reimagined recipes that encapsulate the regionally unique dishes and staples, Food touches on what readers might expect (mozzarella, tomatoes, coffee, fish, and of course, pasta), but Parla goes beyond the recipes with stories, cultural insights, and personal discoveries that only someone as intimately familiar with Italy as she is can offer.
Katie Parla has lived in Italy for almost 15 years. Without a doubt, she is an authority with a unique outsider-insider perspective. Parla's first cookbook, "Tasting Rome", won the IACP International Cookbook Award in 2017 and was licensed in German (Sudwest) and Norwegian (Memo). She lives in Rome full-time.
Katie Parla holds a sommelier certificate and a master's degree in Italian gastronomic culture. She is the author of "Tasting Rome", writes for the blog ParlaFood.com, which was named the Reader's Choice for Saveur's « Eat the World » award in 2016, and the website TheRomeDigest.com, and has created three mobile dining apps. Parla is Rome's leading culinary journalist, writing for the New York Times (US), the Sunday Times (UK), and Gourmet Traveller (AUS), among others. Her travel apps have been featured in the LA Times, Departures, the Daily Meal, and Eater.

Peter Reinhart is a best-selling author with over three million books sold and one of the biggest names in bread, as well as being a dedicated pizza enthusiast. His classic bread baking book, "The Bread Baker's Apprentice" has sold nearly 150,000 copies
PERFECT PAN PIZZA
Square Pies to Make at Home, From Roman, Sicilian, and Detroit, to Grandma Pies and Focaccia
by Peter Reinhart
Ten Speed Press, May 2019
PERFECT PAN PIZZA is an in-depth guide to pan pizza, including achievable recipes for making Sicilian-, and Roman-style pan pizzas and focaccias in a home oven.
This new book from bread legend Peter Reinhart is a lushly photographed ode to the pan pizza, a doughy, crispy, crowd-pleasing version of everyone's favorite food that is easy to make in a home oven without specialty equipment like stones and peels. Starting with recipes for three master doughs that can be made with commercial yeast, as well as a brief intro to sourdough starters, PERFECT PAN PIZZA illustrates how to make several styles of pan pizza including « deep pan » pizza, focaccia and schiacciata, and Roman and Sicilian styles through step-by-step photographs.
The pizzas include classic toppings like pepperoni and mushrooms, as well as an exciting variety of recipes like Blue Cheese, Balsamic Onion Marmalade, and Walnut Focaccia and Rosemary Garlic Potato, Baby Kale, and Prosciutto Pizza Al Taglio. With unique recipes, plenty of informative FAQs for beginners, and a permissive and inspiring tone, this book will appeal to both experienced bread bakers and novice home pizza makers alike.
Peter Reinhart is widely acknowledged as one of the world's leading authorities on bread. He is the author of ten books on bread, including the James Beard Award- and IACP cookbook award-winning "The Bread Baker's Apprentice", and "American Pie: My Search for the Perfect Pizza". He appears regularly on television and radio, and he is a full-time baking instructor at Johnson and Wales University, a culinary and keynote presenter at conferences around the world, and the founder and host of the popular video website PizzaQuest.com.

Based on the popular Munchies and Viceland television series Bong Appétit, this cannabis cookbook features 65 « high »-end recipes for sweet and savory dishes as well as cocktails
BONG APPÉTIT
Mastering the Art of Cooking with Weed
by the editors of "Munchies"
Ten Speed Press, October 2018
BONG APPÉTIT the follow up to "Munchies", which we published last fall, and our second title partnering with Vice Media. Vice Media is quickly becoming the go to resource for millennials and their food channel, Munchies, is a fan favorite among in-the-know food connoisseurs.  Munchies has 5 million unique monthly visitors, more than 1 million YouTube subscribers, and their audience is growing by about 30% every month. The Vice site overall has more than 100 million unique monthly visitors and both Vice and Munchies have an impressive international following with translated sites in several countries (see below).
BONG APPÉTIT is the Joy of Cooking for a new generation interested in making serious, upscale food—with weed. BONG APPÉTIT breaks down the science of infusing (oils, butters, milks, alcohol, and more) with cannabis, and offers recipes ranging from weed butter-basted chicken to weed chimichurri to weed brownie sundaes. Along the way, the book hits on marijuana politics, dosage, and pairing strains and flavors, and has tips from MUNCHIES vast network of friends and experts, including « Bong Appétit » stars Ry Prichard and Vanessa Lavorato.



From the IACP Award-winning author of "Twelve Recipes" comes a charming, giftable, vegetable-focused cookbook with recipes that add flavor through three key ingredients − almonds, anchovies, and pancetta
ALMONDS, ANCHOVIES, AND PANCETTA
by Cal Peternell
William Morrow, September 2018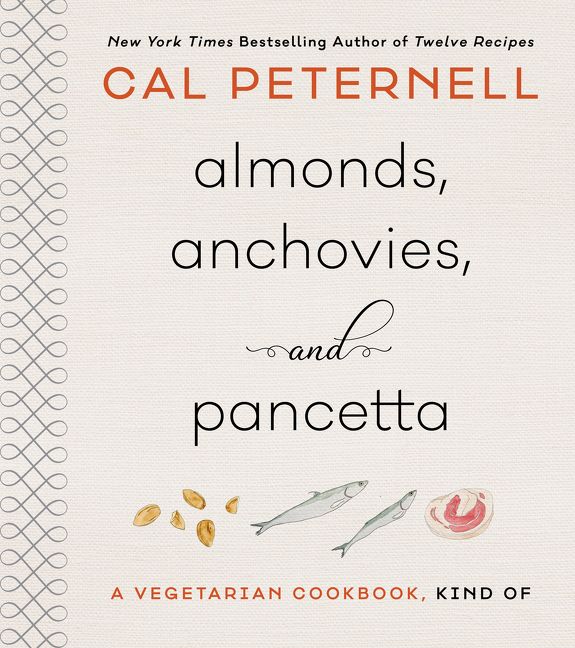 Celebrated chef and home cook Cal Peternell likes to eat today the way people have been eating forever: with vegetables at the center of the plate, seasoned with a little bit of meat or fish to make a meal savory and satisfying. A little of the right kind of meat goes a long way, and in this book, the right ones are anchovies and pancetta, along with almonds, because nuts are the meat of the plant world. Cal uses them first for flavor, but also because it makes sense: taking savory little bites is inarguably better than big meaty mouthfuls. The salt in anchovies and pancetta draws out and enhances flavors, enriching the rest of the dish, and almonds compare favorably fat-wise and can bring a major flavor boost, especially when they're ground up. This kind of cooking is healthy, leans toward sustainability, and is economical in a way that pleases both palate and pocketbook.
The simple, flexible recipes in this book include Baked, Stuffed Vegetables with Almonds, Currents, Saffron, and Breadcrumbs; Steamed Clams with Almond and Parsley Butter; Roasted Sweet Pepper and Egg Salad with Anchovies, Olives, and Capers; Penne alla Tuna-nesca; Bacon-wrapped Potato Gratin; and Creamy Salsa Rustica with Egg and Pancetta. Cal's old-new way with vegetables gives them small gifts of tasty goodness that will inspire readers to their own mealtime creativity.
Cal Peternell, the New York Times bestselling author of "Twelve Recipes", grew up on a small farm in New Jersey and earned a BFA in painting from the School of Visual Arts in New York City. After working at various acclaimed restaurants in Boston and San Francisco, Cal landed happily at Chez Panisse in 1995. He was the chef in the Cafe since 2001, and took over as chef of the downstairs restaurant in 2013.



Take the guesswork and mystery out of cooking and become an improved chef with "Easy Culinary Science for Better Cooking"
EASY CULINARY SCIENCE FOR BETTER COOKING
Recipes for Everyday Meals Made Easier, Faster and More Delicious
by Jessica Gavin
Page Street, May 2018
In this book, the practical science behind great food is broken down in an accessible, digestible way without overwhelming even the greenest of cooks. Jessica Gavin's approachable recipes seamlessly blend together food science and culinary arts, to maximize flavor potential.
Jessica will expand your skill set and confidence in the kitchen, all while creating tasty culinary masterpieces. Learn the science behind how things work, how foods interact from a cooking or baking perspective and how to make flavorful, flawless meals consistently. Whether it's mastering a perfect Pan-Seared Ribeye with Miso Butter or Scallops with Garlic Sauce, accomplishing impeccable Eggs Benedict and Mushroom Risotto, or whipping up a sensational Blender Hollandaise Sauce, this book has it all.
Elevate your favorite recipes to make them phenomenal, faster and more delicious, any night of the week.
Jessica Gavin is a certified culinary scientist and food science industry professional with formal culinary school training. Her work has been featured on Food Network, USA Today, The Kitchn and more.

Learn the Art of Classic Baking with 60 Beginner-Friendly Recipes
FRENCH PASTRY 101
by Betty Hung
Page Street, November 2018
French pastry is often thought of as difficult to master, but Betty Hung—founder of the blog Yummy Workshop and co-owner of Beaucoup Bakery—makes the classic art of French baking more approachable than ever. Most of her recipes only take an hour, which makes it much less daunting for beginners.
Learn basics like pastry cream and pâte sucrée, and create favorites like Lemon Madeleines, Crème Brûlée, Eclairs and Lady Fingers. Readers will be able to take shortcuts like using ready-made puff pastry, or, for the more adventurous baker, Betty demonstrates how to make it from scratch.
Whether you are new to baking or looking to expand your skills, Betty will show you how to make delectable desserts that you will be proud of. This book will have 75 recipes and 75 photos.
Betty Hung is the co-owner of Beaucoup Bakery and also runs the blog Yummy Workshop. Her bakery has been featured in Forbes, Lonely Planet, USA Today, The Wall Street Journal and many others.

Five-time Barbecue World Champion Tuffy Stone's complete guide to barbecue
COOL SMOKE
The Art of Great Barbecue
by Tuffy Stone
St. Martin's Press, May 2018
Flame, smoke, and meat—these simple elements combine to make great barbecue. Creating the perfect bite of tender, spicy, smoky barbecue is a science and an art form, and Tuffy Stone—five time World Champion Pitmaster, co-host and judge of Destination America's BBQ Pitmasters, and co-owner of the award-winning Q Barbecue restaurants—has mastered it.
The recipes include classic barbecue dishes with updated preparations like Smoked Ribs with Cherry Barbecue Sauce, Dove Breasts with Crispy Bacon and Chipotle White Sauce, and even the Holy Grail of barbecue: the Whole Hog. As no plate of cue is complete without a generous helping of sides, there are also recipes for Corn Pudding with Poblano Pepper, Collard Greens with Pepper Relish, and Pineapple Hot Pot, along with delicious desserts like Frozen Coconut Lime Pie.
With mouthwatering recipes, over 200 hundred color photos, essential guides to cookers and equipment, and expert advice, Tuffy Stone's COOL SMOKE is the definitive guide to all things barbecue.
Tuffy Stone is a World Record-breaking champion pitmaster, a former Marine, a classically-trained chef, an acclaimed caterer, and an occasional reality television star. Dubbed "The Professor," Tuffy's legendary precision and obsession with the science of smoke make him one of the most influential people in barbecue. In the 13 years since he founded Cool Smoke Barbecue, the team has won hundreds of trophies including more than 40 Grand Championships and five World Grand Championships. COOL SMOKE is the only team in history to have won the prestigious Jack Daniel's Barbecue World Championship back to back and the only team to have won it three times, doing so in 2013, 2015, and 2016. As a result of his success on the competition circuit and his extensive knowledge of all things barbecue, he was selected to join Destination America's show BBQ Pitmasters, in 2012. Tuffy's life is barbecue has taken him all over the world including cooking for the troops in Kuwait, and heading to Meatstock in Australia to teach his famous Cool Smoke Barbecue Class. Most recently he cooked for sold out crowds at the James Beard House, a rarity for a barbecue pitmaster.


The only vegan cookbook you'll ever need
THE ULTIMATE VEGAN COOKBOOK
The Must-Have Resource for Plant-Based Eaters
by Emily Von Euw and Kathy Hester
Page Street, October 2018
Seven standout authors have joined forces to create this definitive vegan reference book. With more than 600 recipes, this indispensable kitchen staple is perfect for seasoned vegans looking to build their repertoires, cooks new to the basics of plant-based cuisine and curious meat-eaters on the hunt for new flavors. Gluten-free, soy-free and sugar-free options are included, and many recipes come together in 30 minutes or less. Offering unbeatable variety and covering everything from main dishes, sides, soups and salads to breakfasts, beverages, desserts and pantry staples, these experienced and creative vegan authorities have you covered.
Emily von Euw, Kathy Hester, Linda and Alex Meyer, Marie Reginato, Celine Steen and Amber St. Peter are bestselling authors of healthy and delicious plant-based cookbooks. Their work has been featured not only on their own enthusiastically followed blogs but also in numerous magazine and newspaper articles, on food and health blogs, on restaurant menus and on websites such as PETA and BuzzFeed.

Hone your pastry skills with instruction from a master of patisserie who brings her amazing and award-winning recipes right into your kitchen
MODERN FRENCH PASTRY
Innovative Techniques, Tools and Design
by Cheryl Wakerhauser
Page Street, October 2017
The perfect pâte à choux, tart dough or meringue is combined with a unique modern twist that make these desserts unlike anything you've ever seen before. Cheryl Wakerhauser, award-winning chef and owner of Pix Pâtisserie, is known for crafting bold flavors and textures into stunning cakes, tarts, coupes, entremets and petits fours. Now, with Cheryl's professional guidance, you can finally nail the challenging techniques that are the foundations of beautiful French pastry. Every dessert is broken down into easy-to-follow sub-recipes that can be done in advance for convenience, and even interchanged with other recipes to create your own signature dessert.
Whether you're making The Oregon Get Down—sweet tart dough, caramelized pears, hazelnut cream and rosemary ganache—or Miniature Bourbon Éclairs with bourbon pastry cream and cherry jam, each impressive creation will taste just as good as it looks.
Cheryl Wakerhauser is an award-winning chef and owner of Pix Pâtisserie. She trained at the prestigious pâtisserie of Philippe Urraca, who has been president of the Meilleurs Ouvriers de France Pâtissiers since 2003 and was a judge in the documentary Kings of Pastry and the French television series "Qui Sera le Prochain Grand Pâtissier?" Cheryl has been featured in Food & Wine, Elle Décor, Food Network Magazine, Sunset, Wine & Spirits and the New York Times.

From the award-winning bloggers behind HUSBANDS THAT COOK comes a book of original recipes inspired by their shared love of vegetarian food, entertaining, world travel―and each other 
HUSBANDS THAT COOK
by Alvarez Ryan and Adam Merrin
Saint Martin's Press, March 2019
Food has always been a key ingredient in Ryan Alvarez and Adam Merrin's relationship―and this cookbook offer a unique glimpse into their lives beyond their California kitchen. From their signature Coconut Curry with Chickpeas and Cauliflower, which was inspired by their first date at a shopping mall food court, to the Communication Breakdown Carrot Cake (which speaks for itself), these and other recipes reflect the husbands' marriage in all its flavor and variety.
Written with the same endearing, can-do spirit of their blog, the husbands present more than 120 brand-new recipes―plus some greatest hits from the site―that yield delicious results every time. Each entry in HUSBANDS THAT COOK is a reminder of how simple and satisfying vegetarian meal-making can be, from hearty main dishes and sides to healthy snacks and decadent desserts and drinks. Ryan and Adam also outline common pantry items and everyday tools you'll need to fully stock your kitchen. Whether you're cooking for one or feeding the whole family, this book is chock-full of great creative for every day of the week, all year long.
Since its inception in 2015, their Husbands That Cook blog was a finalist for Saveur magazine's Best How-To Cooking Blog award ('16) and a Taste Talks Awards Nominee for Best Food Blog ('17). In addition to their shared culinary career, Adam is one of the founding members of the indie-rock band The 88 and Ryan sings classical music and acts in TV shows and commercials.

Droits cédés depuis le 1er janvier 2017 :
DOMINIQUE ANSEL: THE SECRET RECIPES de Dominique Ansel aux Éditions Marabout
SPRITZ de Talia Baiocchi aux Éditions Marabout
RUN FAST, COOK FAST, EAT SLOW de Shalane Flanagan aux Éditions Amphora
MAGNOLIA TABLE de Joanna Gaines aux Éditions Hachette Pratique
THE FOREST FEAST FOR KIDS (LE LIVRE DE CUISINE QUI FAIT AIMER LES FRUITS ET LES LÉGUMES AUX ENFANTS)  d'Erin Gleeson aux Éditions Hachette Pratique
THE PLANT PARADOX COOKBOOK de Steven R. Gundry  aux Presses polytechniques et universitaires romandes
COOK KOREAN! de Robin Ha aux Éditions Glénat
MARTHA STEWART'S APPETIZERS (LA BIBLE DE L'APERITIF) de Martha Stewart aux Éditions Marabout
TASTY LATEST AND GREATEST (TASTY: LE MEILLEUR A PARTAGER) de Tasty aux Éditions Marabout