A delightful black and white comic that defends the stance that heroes come in all shapes and sizes. Set in a dystopian universe where giant monsters invade the Earth – life seems set for destruction when a sword-wielding hero comes to the rescue.
SOPHIE THE GIANT SLAYER
by Kay Carmichael
Publication TBD
(via The Lennon-Ritchie Agency)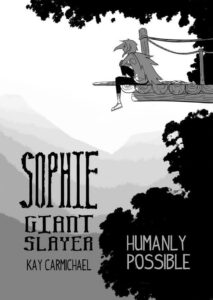 Sophie, an eleven-year-old girl in a post-giant world inherits her grandfather Jack's magical sword and is launched out beyond their island city into a world of treacherous adults and ambitious gods. Driven by the voice inside the sword, she and her companions hunt down the secret of where the giants came from and her own terrible destiny. Sophie finds herself adopted into a group of tree-dwelling refugees, led by a mysterious woman called Rosemara. They capture her and ask her to kill a giant called Ashkeloth, who they claim is a threat. But is everything as it seems? Who exactly is Rosemara? Soon, Sophie finds she also has to stand up for her pursuers and decide whom she can and can't trust when the giant comes knocking.
Kay Carmichael is a story artist specialising in storyboard work. She's worked for five years in the animation and live action industries, and done storyboards for a variety of commercial and advertising clients. She also worked on a number of television series and feature films.