A new science fiction duology from New York Times bestselling author Jack Campbell that blends time travel and space opera in a thrilling adventure.
IN OUR STARS
(The Doomed Earth Duology, #1)
by Jack Campbell
Ace, May 2024
(via JABberwocky)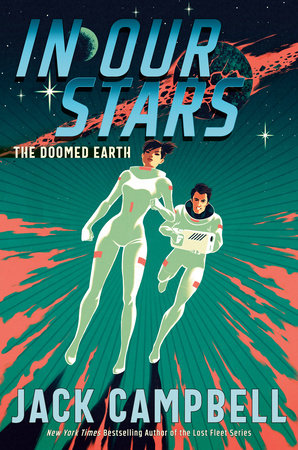 Earth, 2180.
Genetically engineered with partly alien DNA, Lieutenant Selene Genji is different from ordinary humans. And they hate her for it. Still, she's spent her life trying to overcome society's prejudice by serving in the Unified Fleet while Earth's international order collapses into war.
Genji is stationed on a ship in orbit when humanity's factional extremism on the planet reaches a boiling point, and she witnesses the utter annihilation of Earth. When the massive forces unleashed by Earth's death warp space and time to hurl her forty years into the past, Genji is given a chance to try to change the future and save Earth—starting with the alien first contact only she knows will soon occur.
Earth, 2140.
Lieutenant Kayl Owen's ship is on a routine patrol when a piece of spacecraft wreckage appears out of nowhere. To his shock, there is a survivor on board: Selene Genji. Once her strange heritage is discovered, though, it becomes clear that Genji is a problem Earth Guard command wants to dispose of—quietly. After learning the horrifying truth, Owen helps her escape and joins her mission.
Together, they have a chance to change the fate of an Earth doomed to die in 2180. But altering history could put Genji's very existence in danger, and Owen wonders if a world without her is one worth saving…
"Jack Campbell" is the pen name of John G. Hemry, a retired naval officer who graduated from the U.S. Naval Academy in Annapolis before serving with the surface fleet and in a variety of other assignments. He is the New York Times bestselling author of The Lost Fleet series and The Lost Stars series, as well as the Stark's War, Paul Sinclair, and Pillars of Reality series. He lives with his indomitable wife and three children in Maryland.