THE SECOND VERSE
by Onke Mazibuko
Penguin South Africa, June 2022
(via The Lennon-Ritchie Agency)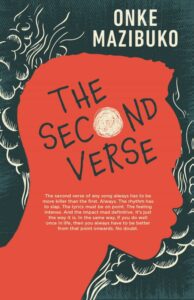 The second verse of any song always has to be more killer than the first. Always. The rhythm has to slap. The lyrics must be on point. The feeling intense. And the impact mad definitive. It's just the way it is. In the same way, if you do well once in life, then you always have to be better from that point onwards. No doubt.
Bokang Damane is a dreamer and an outsider with mad problems in this African CATCHER IN THE RYE. Things go from bad to mad dicey when everyone thinks he wants to off himself just because he wrote an essay on suicide. Really? Talk about D.R.A.M.A. Life at the moment is just a sorry son-of-a-checklist of insolvable problems. Problem #1: Not black enough for the black kids and too black for the white kids. Yep. That's what happens when you attend a mad pompous all boys' college and live in the burbs. Problem #2: Family finances are a joke – they can't even afford Bokang's initiation. Now he can't get props like any decent Xhosa man. Problem #3: An alcoholic, gambling attorney for a father who expects the world to bend to his will. What's a man gotta do? Apart from freak the hell out? Bokang just wants to rap, sketch, and be left alone. Everyone keeps yacking on about Bokang reaching his true potential and then getting in the way. So what happens? Boy meets girl. It wouldn't be much of a story otherwise.
Onke Mazibuko is a psychologist working in private practice. He also dabbles in astrology, palmistry and tarot. He loves learning from young people and does a little writing to secretly fuel his dreams. He is working towards a PhD in Creative Writing at the University of Pretoria.