Pour annoncer le prochain livre du grand pâtissier français Dominique Ansel, the Gernert Company a concocté une initiative très gourmande :
To raise awareness about the incredible cookbook in the works by French pastry chef Dominique Ansel, Rebecca Gardner will be bringing with her to LIBF actual samples of one Dominique's creations.  
In exchange for a business card, the first 75 people who come to table 31K in the LIBF Agents Center on Wednesday, April 9th between 10:00am and 4:00pm will get a delightful goodie to take away.
To be clear, it will not be Dominique's most famous creation – The CronutTM – but it will be something delicious that can be enjoyed on the spot or can be easily transported home.  
Une dégustation à ne pas manquer !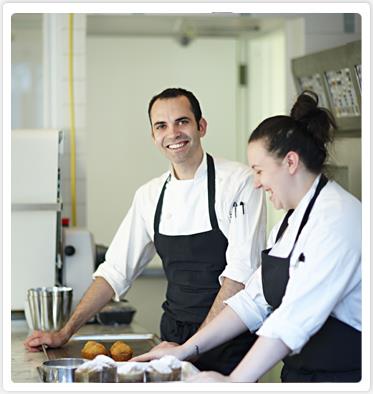 DOMINIQUE ANSEL: THE SECRET RECIPES

Unforgettable Desserts from the World's Most Celebrated Bakery
Photographs by Thomas Schauer
Simon & Schuster – 28 October 2014
Creator of the CronutTM , the Cookie Shot, and proprietor of New York's #1 rated bakery, 
Dominique Ansel and his pastry creations have been commented on 
in more than forty countries and a wide range of major media outlets.
« The most fêted pastry chef in the world. »  -The Daily Mail UK
Coming this autumn from Simon & Schuster is Dominique Ansel's very first cookbook in which he blends his unique and widely-acclaimed philosophy with eye-popping photography and recipes that will enable bakers of many levels to make some of his incredible creations at home. He will share the recipe for The CronutTM – Dominique's unbelievable marriage of a croissant and a donut that drives people to line up for hours outside of his Soho bakery every morning, has spurred dozens of copy cats, and has been covered by the international media, including but not limited to the UK, France, Japan, Spain, Italy, Germany and many more.  Last month Dominique introduced the Cookie Shot – a cookie baked in the form of a glass that is served with a shot of milk inside (photo and link to further news below) – that has become his latest, queue-forming creation.
Specifications for DOMINIQUE ANSEL: THE SECRET RECIPES
208 pages
31 recipes
Four color illustrations and photos throughout on nearly every page
8-3/8″ x 10-7/8″
Hardcover and eBook
US price – $35.00
A full manuscript, photography samples and a comprehensive recipe list will be ready for review in May but in the meantime, you can get a sense of Dominique's style and work here:  http://dominiqueansel.com/.
An incredible and quickly growing young talent in the food world, this should be considered by any serious cookery list.