A feminist comic book history of women's rights, from the ancient world to modern times
AMAZONS, ABOLITIONISTS, AND ACTIVISTS Mikki Kendall and Anna D'Amico
Ten Speed November 2019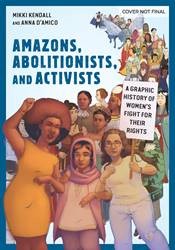 August 26, 2020, marks the 100th anniversary of the passage of the 19th Amendment, which granted American women the right to vote. And while suffrage has been a critical win for women's liberation around the world, the struggle for women's rights has been ongoing for thousands of years, across many cultures, and encompassing an enormous variety of issues. Kendall examines women's history from an intersectional approach that includes more than just women's suffrage—her tone and inclusivity are forward thinking and on trend, which is deeply important to modern feminists.
AMAZONS, ABOLITIONISTS, AND ACTIVISTS is a fun, fascinating, and full-color exploration of that important history, tracing its roots from antiquity to show how 21st-century feminism developed. Along the way, you'll meet a wide range of important historical figures and learn about many political movements across the world, including suffrage, abolition, labor, LGBT liberation, the waves of feminism, and more.
MIKKI KENDALL is a writer, historian, and diversity consultant who writes about intersectionality, policing, gender, sexual assault, and other current events. Kendall's nonfiction can be found at Time.com, the Guardian, Washington Post, Ebony, Essence, Salon, XoJane, Bustle, Islamic Monthly, and a host of other outlets. Her media appearances include BBC, NPR, Al Jazeera, WVON, WBEZ, TWIB, and Showtime. Her comics work can be found in the Swords of Sorrow anthology, the Princeless charity anthology, and in the Columbus College of Art and Design anthology of 2016.
ANNA D'AMICO is a Cincinnati-born illustrator who loves all things tea, costuming, and history. She graduated from the Columbus College of Art and Design with a BFA in illustration in 2016, and has been creating comics, watercolor paintings, and digital illustrations ever since.