A new look at human learning

GENIALE KINDSKÖPFE
(Brilliant Baby Brain)
by Sebastian Berger
Kösel, April 2019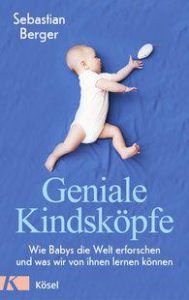 Babies truly are miracles in learning: Sebastian Berger introduces us to the fascinating world of early infant learning, describes the development in the brain areas that enable learning, and gives insights into the respective cognitive research. He shows that babies not only learn much faster than adults, but  similar to scientists  explore the world experimentally, draw their conclusions from statistical information and deduce generally valid regularities from it. From individual observations, the child gains clues to the physical laws of nature and acquires important skills such as trust and the ability to cooperate. Within only a few years, children are able to understand and navigate the physical, psychological and social world perfectly. The book opens our eyes to a new view of the fascinatin world of early infant learning, thus allowing us to better understand and appreciate children.
Professor Sebastian Berger gained his PhD in business and social psychology at the University of Cologne. This was followed by research projects at the universities in Cologne, Stanford and Lausanne, and since 2015 he has been assistant professor for organisation research at the University of Bern. His research work has been discussed globally in such media as the New York Times, Washington Post, FAZ, SZ and NZZ. The birth of his child brought the focus of his research interest to early infant development.