A hilarious and timely illustrated bedtime (fantasy) story for adults (and young adults).
OFF: The Day the Internet Died (A Bedtime Fantasy)
by Chris Colin, illustrated by Rinee Shah
Prestel, Fall 2020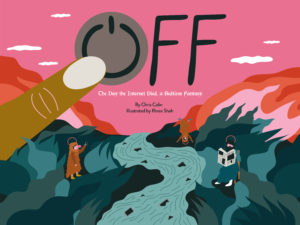 OFF shows us how weird and wonderful it would be if the Internet was banished from existence, in the Biblical sense, as it probably should be. It's GO THE F*CK TO SLEEP for the tech-addicted masses and might possibly save the world!
OFF is for the millions of anxious college kids, parents, and previously functional people touched by the Internet, all around the world, ages 18 to 65. It crosses business, psychology, humor, and lifestyle. Basically, it's a fantasy priced at the low low price of…a book.
Chris Colin contributes to The New York Times Magazine, Outside Magazine, Pop-Up Magazine, Afar Magazine, Wired and many other publications. He has a piece in this year's Best American Science & Nature Writing. He's the co-author of What to Talk About, as well as What Really Happened to the Class of '93 and Blindsight, named one of Amazon's Best Books of 2011, and This Is Camino which was nominated for a James Beard Award. He lives in San Francisco with his family.
Rinee Shah is a former art director (The New York Times, Apple) and illustrator in San Francisco, CA. Her illustration projects have been featured in Dwell, Fast Company, Juxtapoz, Mashable, and the Huffington Post.