The A-Team meets Endling in this middle-grade duology about four animals who decide to take fate into their own paws—by environmentalist, award-winning author, and Xploration Awesome Planet host Philippe Cousteau and TURBO Racers author Austin Aslan.
THE ENDANGEREDS #1
by Philippe Cousteau & Austin Aslan
HarperCollins Children's, September 2020
Ages 8 -12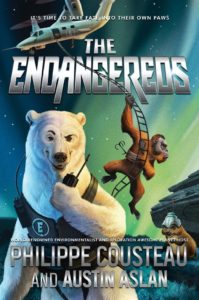 Humans had their chance to be in charge and look where that got us. Temperatures are rising, ice caps are melting, and innocent animals are in trouble. It is time for someone else to take over and fix this mess. It is time for . . . the Endangereds. One super-strong polar bear. One pangolin with a genius for engineering. One extremely sarcastic narwhal. And one orangutan with a dream. What more do you need to save the world? Together, these four unlikely heroes are determined to save endangered species across the globe. But when two of their endangered friends get kidnapped by a villain with a dastardly agenda, the team find themselves up to their snouts in trouble. Can the Endangereds save the day? Or will this villain put humans and animals alike on the extinction list?
Philippe Cousteau is a multi-Emmy-nominated TV host, author, speaker, and social entrepreneur. He has spoken at the United Nations, Harvard University, and across the world about environmental issues, and hosted numerous TV programs for Discovery, BBC, CNN, Travel Channel and more. Currently he is the host of the syndicated television show Xploration Awesome Planet and producer/narrator of a new Virtual Reality experience Drop in the Ocean.
Austin Aslan is the author of the TURBO Racers series and the Islands at the End of the World series. A National Science Foundation Graduate Research Fellow, he can often be found camping in a tent on a punctured air mattress. In other lives, Austin drove ambulances way too fast, served as an ecotourism Peace Corps volunteer in a Honduran cloud forest, and managed a variety of campaigns.