Sadie meets The Glass Castle in this smart, gripping, and twisty YA debut about a girl seeking to reveal the truth about her mother—and herself.
THE HOLLOW INSIDE
by Brooke Lauren Davis
Bloomsbury, Spring 2021
(chez Writers House)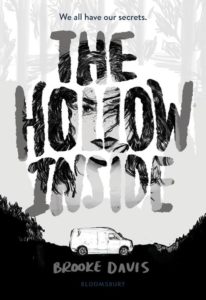 Seventeen-year-old Phoenix has spent much of her life drifting from town to town with her mom Nina, using their charms to swindle and steal to get by. Now they've made it to their ultimate destination, Nina's hometown of Jasper Hollow. The plan: bring down Ellis Bowman, the man who ruined Nina's life. When Phoenix gets caught spying on Ellis, she spins a convincing story that inadvertently gives her full access to the Bowman family. As she digs deeper into their secrets (and begins to fall for daughter Melody), she finds herself entrenched in the tale of a death and a disappearance that doesn't entirely line up with what Mom has told her. But there's even more to this story Phoenix doesn't know. Who, if anyone, is telling the whole truth about what happened? Debut author Brooke Lauren Davis explores the murkiness of right and wrong, of choices and consequences, of heroes and villains, in an eerily compelling and thought-provoking small-town saga.
An unruly child in suburban Virginia, a surly teenager in rural Ohio, and a bewildered college student in small-town Indiana, Brooke Lauren Davis is now a hopelessly book-obsessed adult in Louisville, Kentucky. She loves stories of all kinds, from plays, to ballets, to TV shows, to memories rehashed over the dinner table. When she's not writing, she can usually be found annoying her cats, haunting bookstores, or shouting Jeopardy! answers at the TV.