Sabrina the Teenage Witch meets Roller Girl in this hilarious, one-of-a-kind graphic novel duology about about the weird and wonderful adventures of a witch-in-progress!
THE OKAY WITCH #1
THE OKAY WITCH AND THE HUNGRY SHADOW #2
by Emma Steinkellner
Aladdin/Simon & Schuster, September 2019 | Summer 2021
(chez Writers House)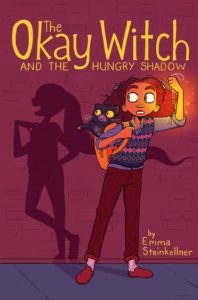 Magic is harder than it looks. Now that Moth has discovered the secret family history at the heart of Founder's Bluff, it's time to adjust to her life as a beginner-level witch. She gets more and more fed-up with her basement-low middle school status and the daily mocking that comes with it, until she discovers a powerful charm that can basically turn her "cool." And it works! But there's a catch. An ancient, demonic catch. The charm releases a cool, but wicked and tricky Shadow Moth who only wants to take over Moth's life. With the help of the Shadow, Moth acquires new, cool friends, totally owns her bullies, and gets a chance at the coveted Founderella crown, the ultimate symbol of Founder's Bluff popularity. Will Moth get everything she thought she ever wanted? Or will Shadow Moth eat her first?
Emma Steinkellner is an illustrator, writer, and cartoonist living in Los Angeles, California. She is a graduate of Stanford University and the illustrator of the Eisner-nominated comic Quince. THE OKAY WITCH is her debut graphic novel as an author.