A librarian returns to her small hometown where a brutal double homicide remains unsolved and unpunished.
EVERYTHING WE DIDN'T SAY
by Nicole Baart
Atria/Simon & Schuster, Fall 2021
(chez Browne & Miller – voir catalogue)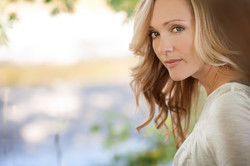 Fan favorite Nicole Baart explores the irresistible question What if you could go back to the one moment that changed everything? in this electrifying dark tale of a woman trying to reconcile her past mistakes while confronting her memories of the savage slayings of her next door neighbors. Juniper's life took an unexpected turn after the murders but now that she's back in town, the possibility that someone in her own family may be guilty of the crimes becomes more apparent than ever. She's willing to risk everything to save her daughter, even when her desperate attempts to unearth the truth turn deadly. Meticulously crafted and tension laden, past and present are on a collision course in this page turner!
Nicole Baart is the mother of five children from four different countries. The co founder of a non profit organization, One Body One Hope, she lives in a small town in Iowa. She is the author of nine novels including You Were Always Mine and Little Broken Things.