In this enthralling historical epic, set in New York City and the Middle East in the years leading to World War I— the long-awaited follow-up to the acclaimed New York Times bestseller The Golem and the Jinni—Helene Wecker revisits her beloved characters Chava and Ahmad as they confront unexpected new challenges in a rapidly changing human world.
THE HIDDEN PALACE:
A Tale of the Golem and the Jinni
by Helene Wecker
HarperCollins, June 2021
(chez Frances Goldin Literary Agency – voir catalogue)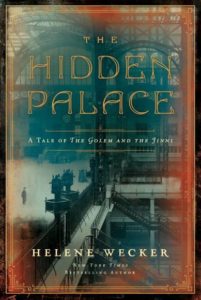 Chava is a golem, a woman made of clay, able to hear the thoughts and longings of the humans around her, and compelled to help them. Ahmad is a jinni, a being of fire now imprisoned in the shape of a man, perpetually restless and free-spirited. Having met as two unlikely immigrants in 1899 Manhattan, their lives have become deeply intertwined, but they must decide what, exactly, they mean to each other—all while living disguised as humans, constantly fearing they'll be exposed as monsters. Meanwhile, Park Avenue heiress Sophia Winston, whose brief encounter with Ahmad has left her with a strange illness that makes her shiver with cold, travels to the Middle East to seek a cure. There she meets a tempestuous female jinni who's been banished from her tribe for her own untreatable condition. And in a tenement on the Lower East Side, a little girl named Kreindel helps her rabbi father build a golem that she names Yossele. When she is sent to an uptown orphanage, the hulking golem will become her only friend and companion. Spanning the tumultuous years from the turn of the 20th century to the beginning of World War I, THE HIDDEN PALACE follows these lives and others as they collide and interleave. Can Chava and Ahmad find their places in the human world while remaining true to each other? Or will their own natures and desires conspire to tear them apart—especially once they encounter, thrillingly, other creatures of their own kinds?
Helene Wecker grew up in Libertyville, Illinois, a small town north of Chicago, and received her Bachelor's in English from Carleton College in Minnesota. After graduating, she worked a number of marketing and communications jobs in Minneapolis and Seattle before deciding to return to her first love, fiction writing. She received her MFA in fiction from Columbia University. She now lives near San Francisco with her husband and two children.