Fans of The Wilder Girls and The Grace Year will devour this stinging feminist horror debut about girls claiming their power.
MY DEAREST DARKEST
by Kayla Cottingham
Sourcebooks Fire, April 2022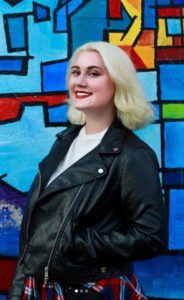 Finch Chamberlain is the newest transfer student to the ultra-competitive Ulalume Academy…but she's also not what she seems. Months before school started, Finch and her parents got into an accident that should have left her dead at the bottom of the ocean. But something monstrous, ancient, and terrifying wouldn't let her drown. Selena St. Claire sees right through Finch, and she knows something is seriously wrong with her newest classmate. But despite Selena's suspicion, she feels inexplicably drawn to Finch, leaving her with a sinking feeling that from now on, the two will be unnaturally linked to each other. Then one night, Finch, Selena, and her friends accidentally summon a carnivorous creature of immense power from the depths of the school. Can Finch and Selena learn to work together to stop the horror they unleashed before it consumes them and the entire island?
Kayla Cottingham is a youth services library assistant at her local library and an MLIS candidate at Simmons University. After receiving her BA in writing, literature, and publishing from Emerson College, Kayla worked as an editorial intern for The Horn Book and Page Street Publishing before switching to librarianship. She currently resides in Brookline, Massachusetts, where she spends most of her free time playing video games, reading in parks, and befriending as many dogs as she can.